By Monk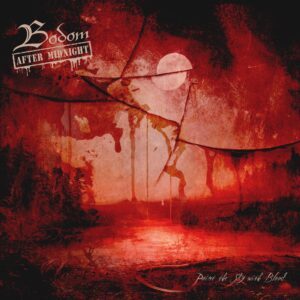 When Alex Laiho passed away at the end of last year, there is no doubt that death metal – and heavy metal in general – lost one of its most innovative, charismatic and respected musicians. Through his time fronting Children of Bodom, Laiho consistently pushed the boundaries of the genre, combining symphonics where few had dared to try so before, but never losing site of the format's basic ethos. He helped take DM out of the mire of the underground and into the spotlight of the mainstream, proving along the way that its performers were some of the most creative and progressive musicians of their generation…
Laiho had spent much of 2020 – a year, of course, characterized by the Covid epidemic, which had such a devastating impact on many aspects of the music business – not only battling the long-term mental and physical health issues which had led to him wardrobing CoB at the end of the previous year, but also looking to the next phase of his career. To this end, he had put together a new "supergroup", the aptly named Bodom After Midnight, which saw him re-unite with CoB's Daniel Freyberg and team up with former (glam rockers) Santa Cruz bassist Mitja Toivonen, Paradise Lost drummer Walterri Väyrynen and CoB's touring keyboard player Lauri Salomaa. Following two highly successful "comeback" shows, the quintet set about laying down their debut album, but only managed to complete three tracks before fate cruelly intervened…
'Paint The Sky With Blood', 'Payback's A Bitch' and a cover of Dissection's 'Where Dead Angels Lie' are those three songs, which understandably constitute this posthumous release. And, to be honest, they are exactly what you would expect from Laiho: brutal, uncompromising DM mixed, expertly, with supreme technical skill, harmonics sweeping in and out of the darkness of the themes like pinpricks of light being shone into a vampire's lair. The title track would have sat easily with anything in CoB's catalogue, while 'Payback…' has a punky, aggressive edge to it which perhaps reflects Laiho's determination to flex his creative muscles to his fullest extent despite the circumstances in which he found himself. The Dissection cover is a worthy effort, stamped with Laiho's distinctive vocal and winding guitar style, with added layers of vocal effect really drawing out some neat nuances within the musical framework.
With Laiho's incomparable work ethic and dedication to his craft, there no doubt is a treasure trove of material (not least any remaining BAM sessions) lying, unheard, on various disc drives and other media, awaiting their time to flicker their light and be finished off… whether or not that is the case, 'Paint The Sky…' is an extremely fitting, if all-too-brief, suffix to an illustrious career and one last reminder of the unequalled contribution Laiho made in terms of bringing wider recognition to an often much maligned and overlooked subgenre.
'Paint The Sky With Blood' is released today (Friday 23 April). You can get your copy HERE.
www.facebook.com/bodomaftermidnightofficial
All content © Über Rock. Not to be reproduced in part or in whole without the express written permission of Über Rock