By Jonny Bakes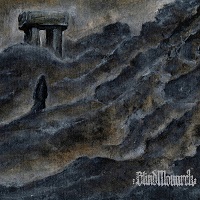 Sometimes an album will come out that just doesn't get the attention it deserves. For whatever reason, there are always some that manage to launch themselves into obscurity from day one to potentially never be seen again. Fortunately, there are labels out there who keep doing the good work of scooping up these little gems and polishing them up to be released on nice shiny vinyl to give them the chance they deserve to win over the masses. The latest band to get this treatment is Sheffield's own Blind Monarch who have had their 2019 debut 'What Is Imposed Must Be Endured' picked up by Dry Cough Records and Heavenly Vault to be pressed to give it the attention they feel it deserves. Considering I missed out on this one the first time round, I couldn't help myself but to dive in and see what all the fuss is about…
Well from first listen, it's pretty clear what I've been missing out on; this is some real nasty sounding heavy doom that'll give your ears a good old pounding. It may only be four tracks long, but each one is a marathon of supreme heaviness with a foreboding atmosphere that'll send tingles down your spine. Naturally things are pretty slow moving, as you would expect with doom metal, but this allows each individual note and drum beat to be emphasised and exaggerated to make the whole album crushingly heavy. The vocals are particularly brutal with a harsh growl delivering the bleak sounding lyrics which becomes the icing on this sludge-tinged doom cake.
There's a pretty clear grim and frostbitten vibe that shines through on 'What Is Imposed Must Be Endured' which seems to capture the environment in which it was recorded. In November 2017, the Blind Monarch lads set out to the derelict 'Penny Red' building to spend four solid days in the bleak darkness to lay down this monster of an album. I can only assume there must have been some sacrifices of some variety, or some form of devilish pact, for 'What Is Imposed Must Be Endured' to come out as heavy and nasty as it did. But overall, it really works for them and I'm glad this gets a rebirth in vinyl form to appeal to those extreme metal record collectors!
Stand out track for me is 'My Mother, My Cradle, My Tomb' which encompasses everything I've already managed about this album. It's the kind of thing that you catch your mate listening to and think to yourself "Phwoar, that's pretty nasty… I want more". About halfway through this track there's a sinister sounding quiet instrumental that provides a bit of respite from the heaviness but builds up some serious suspense before you get absolutely belted in the face with the full force of Blind Monarch that reminds you that this is not something to be taken lightly.
This isn't going to appeal to everyone, but if you like your music to be slow, heavy and brutal then this is an album that needs to find its way into your collection. Obviously, there's a strong appeal for those who live their life on the heavier end of the doom metal spectrum but also something for OSDM fans as well and perhaps those who dabble in black metal too. For me, I really appreciated the sheer weight of it all and has resulted in Blind Monarch ending up on my "want to see live" list, but I'm not sure I could listen to this on a frequent basis as I fear my head will be completely crushed!
'What Is Imposed Must Be Endured' is out now. You can get your copy HERE.
www.facebook.com/blindmonarchband
All content © Über Rock. Not to be reproduced in part or in whole without the express written permission of Über Rock.