By DJ Monk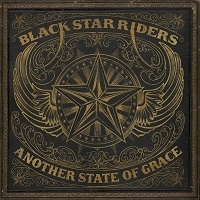 Change always is traumatic. And that is equally true in the music business, especially when a band changes line-up, losing one of its key members who has helped to shape that act's sound into one which is instantly recognizable by fans, and loved for being the same. Fortunately, 'Another Shape Of Grace', the fourth studio album by Black Star Riders and their first since the departure of stalwart guitarist Damon Johnson, shows no sign of such trauma, but instead helps to consolidate the quartet's reputation as one of the hardest rockin' outfits around.
Of course, it could be argued that BSR have struggled to escape the shadow of Thin Lizzy, out of whose ashes they emerged; and it could be further argued that their attempts to do so were not helped by this past summer's 'Black Rose' anniversary shows. And, indeed, it is a shadow which still looms over the band, especially on tracks such as the rambunctious jig of the title track and 'Soldier In The Ghetto', where the influence of Lynott still permeates the BSR vibe.
Elsewhere, 'Another State…' is perhaps also the Riders' most experimental album to date, with the addition of Hammond organ on 'Underneath The Afterglow' and the aforementioned 'Soldier In The Ghetto' – and even a duet with Pearl Aday, who previously had guested on 'Testify Or Say Goodbye' on last album 'Heavy Fire' but here shares lead vocals with frontman Ricky Warwick on the powerful ballad, 'What Will It Take'. In fact, the latter is one of two ballads on the album, the other being 'Why Do You Love Your Guns?', which, somewhat ironically, would fit very neatly onto one of Warwick's solo albums.
Of course, there is also plenty of balls out rockin' 'n' rollin', from the opening swagger of 'Tonight The Moonlight Let Me Down', complete with Michael Monroe's Muscle Shoals-style saxophone interjections, through most recent single 'Ain't The End Of The World' to the challenge of 'Standing In The Line Of Fire', 'In The Shadow Of The War Machine', which suitably sees them stray as close as they ever have to out-and-out heavy metal, and bouncy closer 'Poisoned Heart'.
Once again, Warwick's erudite and passionate lyricism shines through, while former Stone Sour guitarist Christian Martucci has blended in seamlessly, providing both the perfect successor to Johnson and also counterpoint to the veteran Scott Gorham. The result is a mature and accomplished album, one which shows the Riders not so much pushing the boundaries but seeing how much leeway they can garner within them. This means that it does take a bit of getting used to, mainly because of the factors outlined above, and it could be argued that it lacks the immediacy of its predecessors. But, it does reward with repeated listens, and contains some classic BSR moments which no doubt will quickly become fan favourites, especially in the live arena.
'Another State Of Grace' is released on 6 September. You can get your copy HERE.
Black Star Riders tour the ÜK and Ireland in October: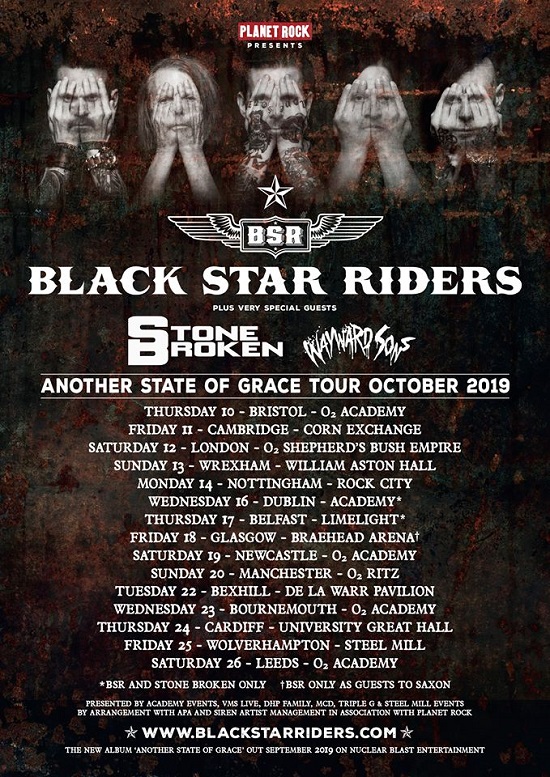 www.facebook.com/BlackStaridersOfficial
All content © Über Rock. Not to be reproduced in part or in whole without the express written permission of Über Rock.