By Jonny Bakes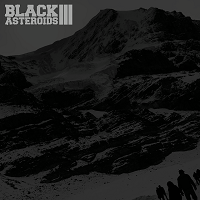 I've often found that when it comes to musicians, your guitarists and vocalists are the ones who seem to flourish in the limelight, while it's the rhythm section who end up taking a back seat (and end up being the butt of most jokes – "have you heard the one about the drummer who…?") But what happens when you remove the limelight hoggers from the equation and just leave the drummer and bass player? Who takes centre stage then? The answer – the music does.
Which brings me nicely onto Black Asteroids, who I was fortunate enough to stumble across a couple of years ago when they supported at Scumface's farewell show in Birmingham. The unassuming pair have two albums and a standalone single under their belts to date with those albums having nice easy names to remember. We've had 'Black Asteroids' and 'Black Asteroids II' so it probably comes of little surprise that the latest album, to be released this coming Friday, will be called 'Black Asteroids III'.
Their sound is something I'd never come across as a standalone sound before. a lot of the elements can be found in many different doom and stoner metal bands, but they are rarely the prominent focus which is what makes Black Asteroids stand out so much for me. Armed with pretty just his bass and effects pedal, Simon manages to make sounds that you wouldn't expect from a bass, in fact sometimes you could be convinced that he's cheating and playing a guitar (he's not, I've seen them perform live to prove it). Coupled with this, you get Chris' varied drum rhythms that set the tone of the different movements within a track. Yes, that's right, I said movements as we're often talking lengthy songs that drift between different moods. So, I suppose the best way to describe this would be "stoner-prog metal" if you were to try and slap a genre label on this.
'Black Asteroids III' is very much more of the same of what we experienced in the first two releases, which is exactly what I wanted to see. This time we only have three tracks, but it still clocks in at just under half an hour of pretty intricate music. Once again, it's quite easy to forget that there are absolutely no vocals on these songs, instead your attention is gripped by the frequent changes of pace and mood. Similar to the rest of Black Asteroids' catalogue, there's still a strong astronomical theme to the songs with 'Earth' and 'Pluto' getting their own songs dedicated to them. I'm pretty sure the guys are only missing Neptune to be able to have completely covered our solar system!
'Earth' is the 15-minute long epic track that opens this album with a fantastic speedy riff that drops into a slow, almost chaotic feeling, section. The mood constantly shifts giving a frantic, borderline schizophrenic feel to the song which I would guess captures the unpredictable nature of the planet. (Or maybe I'm reading too much into it?). This really is something that needs to be listened to fully appreciate exactly what I mean here, it's almost ironic that a song without words is very difficult to put into words to describe!
If you are a musician yourself, especially a rhythm musician like me, I don't see how you wouldn't be able to enjoy what Simon and Chris have created here. Not that you need to be a musician to appreciate this! If you're looking for something that strays away from the norm then you need look no further than this album. Or maybe you're just looking for something that doesn't have any distracting vocals, then this is for you too. Let's face it, at a mere £3 for a digital copy of the album, it's worth a go for less than the price of a pint! Personally I would strongly recommend this album, and if you like the album, I'd recommend going to see Black Asteroids recreate this live!
'Black Asteroids III' is released this Friday (4 October). You can get your copy HERE.
Black Asteroids play an album launch show at Scruffy Murphy's, Birmingham on Saturday (5th October).
All content © Über Rock. Not to be reproduced in part or in whole without the express written permission of Über Rock.