Written by David O'Neill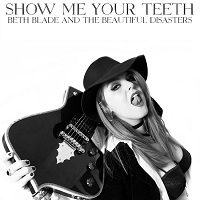 Having seen BBATB several times around South Wales over the past few years and bought the previous album as a fan, it was only right that I had the opportunity to review the new release, 'Show Me Your Teeth', for ÜR.  I have been following last year's journey with interest and highlights such as the Kiss Kruise, hobnobbing with rock royalty such as Marco Mendoza and performing backing vocals on Thunders' 'Miracle Man' have only served to strengthen the band's presence in the current music arena. 
'Secrets' kicks off with an almost acapella vocal for the first verse before the thumping bass and drum section kicks in behind the vocal and then ramps up the song into an almost Joan Jett-esque punky performance which is driven along by solid basslines and guitar work.  Good start!
The title track grabs you by the ears and shakes your brain with a distorted guitar riff and bass/drum section that makes you sit up and take notice before the vocals kick in. The one thing noticeable in this album to this point is the strength in lead and backing vocals and the mixing balances the hard driving sound of the instrumentation just below the vocals, maybe a minor point but it's the way I personally like music.  'Give It All You Got' is a real toe tapper/head nodder of a song which also displays the strength of all the band members.  This is going to be a real crowd pleaser live, although if it gets airplay its going to annoy the presenters with the false ending!
The first track to get airplay, 'On And On' is a catchy little number that is made for radio which has a passing resemblance to sound of the female-fronted rock bands of the '80s and as such is going to get plenty of airtime. This sound carries on through the next track, You And I', which highlights Beth's vocal range among some booming drum sounds.
'Crazy' begins over a mainly acoustic guitar with some subtle electric guitar work before it rises to the crescendo of the electric solo and the sudden end is gonna catch somebody out. 'I Ain't Got Nothing (If I Ain't Got Rock And Roll)' is going to be another hit with the crowds when played live: short sharp and full of energy. 'Lost In You' opens with a solid guitar riff and rhythm section that rumbles along into to vocals which reaches its peak with the final word being left to Ms McDonald – and how!
'Into The Light' is another solid track, opened by guitar and instruments mingling well with the vocals into one more well performed easy to listen to sub four minute rock track. '1974' harps back to some of the previous stars, ("Killer Queens like Suzy Q") on a track built around a bygone era of rock (one I was fortunate to have lived through). 'Who Do You Love Now?' is an upbeat track (not that any of them are ballads!) that reminds me a bit of the pop-punk era of the likes of Green Day etc.
'Jack And Coke' has another instrumental opening that gets your attention quickly and holds it tight from beginning to end.  While there is not one bad (or even mediocre) track in the 12 and all of them in easily digestible size that will make for easy playing live and hold an audience's attention, I think this one has to be my favourite.
Overall a very good second album from Beth and the boys which is about to get an album launch in Fuel on 25 January, and yours truly is hoping to get there.
'Show Me Your Teeth' is released on 25 January. You can get your copy HERE.
www.facebook.com/BBATBDofficial/
All content © Über Rock.  Not to be reproduced in part or in whole without the express written permission of Über Rock.