By Steve Mirsik
After 18 months which felt like an eternity, it was finally time for Starland Ballroom to open their doors back up for one of the most anticipated tours of the year! Originally planned for 2020 and cancelled due to the Covid-19 pandemic, Bayside were finally able to bring their '21 Years of Really Bad Luck' tour to the stage. Promising fans a career-spanning set list, which is quite impressive considering they have eight full-length albums to choose from, there was a lot of buzz about what would be played. With additional support from emo/punk rock heavy hitters Senses Fail, Hawthorne Heights, and The Bombpops, this was certainly a night to remember!
Fans were lined up nice and early outside the venue which quickly wrapped around the side of the building leading up to doors opening. Starland Ballroom has always felt like a second home to me so it was an incredible moment finally returning and being around so many fellow fans. Once inside, fans flocked to the merch tables (each band had lots of cool merch to choose from) or ran right to the barricade to get a prime viewing spot. I enjoyed reconnecting with fellow photographers and venue staff that I hadn't seen in well over a year and I got the pre-show butterflies knowing I was just minutes away from doing something I love.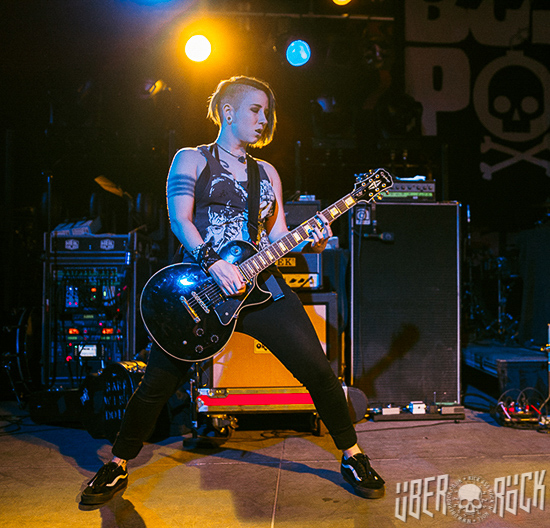 The house lights went out and California based punk rockers, The Bombpops rushed the stage. This was my first time seeing them and I was blown away by the energy they brought with them. Fronted by the incredible Jen Razavi (lead vocals/guitar) the band wasted no time diving right in. Remmington (filling in for guitarist Poli van Dam) hit us with a barrage of fast paced punk rock riffs while Neil Wayne (bass) and Josh Lewis (drums) provided thunderous grooves and beats to get the crowd moving. If you're looking for your new favorite punk band, look no further! Highlights from their set included the songs, 'F.O.M.O', 'Notre Dame', and 'Zero Remorse'. I'm glad Bayside brought them out on tour because it was fun seeing a new band I wasn't familiar with. The Bombpops latest release, 'Death in Venice Beach', is available worldwide on Fat Wreck Chords and is definitely worth checking out!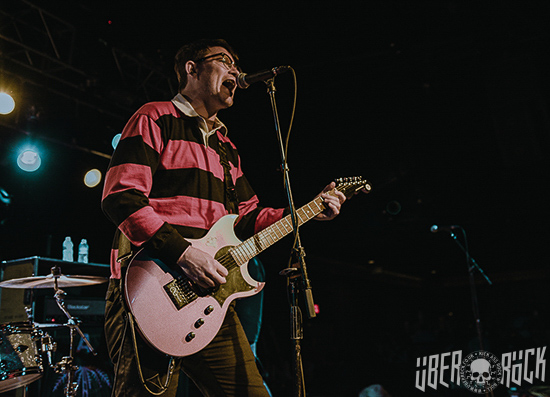 Now that the crowd was energized it was time to bring out one of the biggest emo bands of all time, Hawthorne Heights! JT Woodruff (lead vocals/rhythm guitar) took to the mic saying he promised to play all the 'Emo Bangers' that people love – and they definitely didn't disappoint. The band started off with 'This is Who We Are' and 'Saying Sorry' off their 2006 release 'If Only You Were Lonely' which transported me right back to my high school days. Mark McMillon (lead guitar/screams) along with Chris Popadak (drums) and Matt Ridenour (bass guitar/vocals) were locked in with each other the whole set. There's a reason this band has been around and successful for so long. Other fan favorites included 'Crimson Sand', 'Niki FM', and the emo anthem 'Ohio Is For Lovers'.
Hawthorne Heights have just released their latest album, 'The Rain Just Follows Me', via Pure Noise Records. If you go to the any of the remaining shows on the tour you may just get to hear the new track 'Constant Dread' during the set!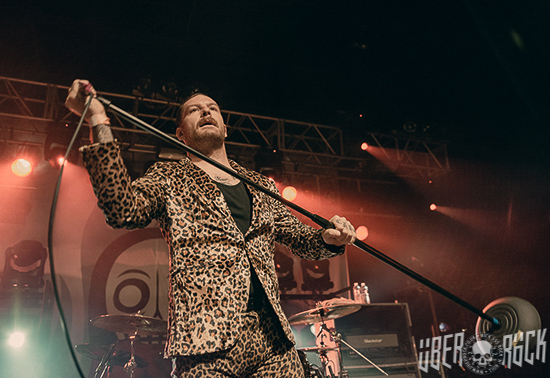 The crowd was fired up after singing along to Hawthorne Heights and it was now time for New Jersey's very own post-hardcore legends – Senses Fail! Founding member, James "Buddy" Nielsen (vocals) came running onto the stage wearing a badass leopard print suit and you could tell he meant business. Going to a Senses Fail show growing up was a rite of passage as a teen in New Jersey and this set was full of nostalgia. Shortly after starting the set with 'Choke on This', fans started giving event security a run for their money as they started flying over the barricade. Watching Buddy jump around the stage while belting out classic tunes like 'Calling All Cars', 'Buried A Lie', and 'Can't Be Saved' was a real treat for the home crowd.
After so many months of having no live entertainment, you could tell that every single member on the tour was here to have a good time and let loose. Fans in attendance also got to hear the band's new single 'Death By Water' which was released on 19 August of this year (available via Pure Noise Records feat. Spencer Charnas of Ice Nine Kills). It's not a Senses Fail show until you hear 'Bite To Break Skin' where the band went seamlessly into 'Chop Suey' (System of a Down) into 'Break Stuff' (Limp Bizkit) into 'Bulls on Parade' (Rage Against The Machine) before closing out their song and blowing the minds of everyone in the room. After Senses Fail cleared the stage, fans finally had a few minutes to catch their breath.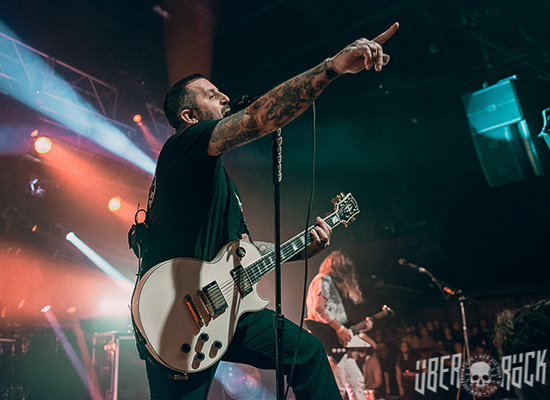 For many, myself included, Bayside is more than just four guys from Queens, New York playing instruments and singing songs. Bayside is a lifestyle and has an incredibly devoted fan base affectionately known as the Cult. They never needed a gimmick to sell tickets or records. Their powerful music has proven itself time and time again over the last two decades solidifying them as one of the greats in the music scene.  It's no surprise that fans were thrilled when this tour was rescheduled for 2021 after several pandemic related cancellations in 2020!
Once again, the house lights went dark, and the crowd erupted into a deafening roar (even with earplugs in while I was in the photo pit!). The band stormed the stage and jumped right into 'Already Gone' from their 2011 release 'Killing Time'. Fans were flying over the barricade faster than I've even seen and this was only the beginning. Anthony Raneri (vocals/guitar) with his iconic vocals and white Gibson Les Paul Custom needs no introduction as they moved swiftly into 'They're Not Horses, They're Unicorns' followed by 'Bury Me' off their heaviest to date 2019 'Interrobang' release.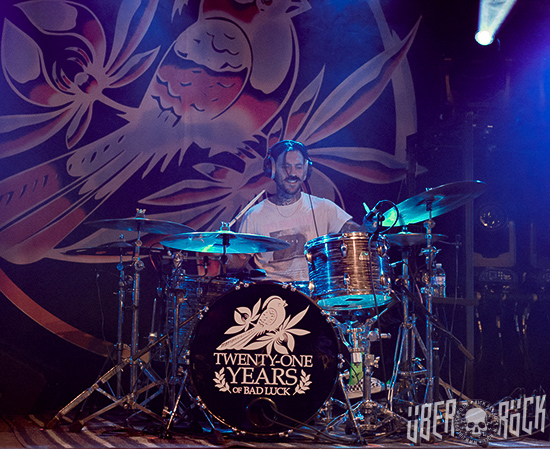 Jack O'Shea (lead guitar) should come with a warning label because his solos will melt your face in a matter of seconds. Nick Ghanbarian (bass) and Chris Guglielmo (drums) were a driving force all night as well with their unbeatable energy. This was one of the most diverse setlists I've even seen spanning their full 20 year catalog. Fans were delighted to hear older songs like 'Boy' (Shudder, 2008) and 'Alcohol and Alter Boys' (Sirens and Condolences, 2004) as well as newer songs like 'Numb' and 'Prayers' (Interrobang, 2019). A big moment for the crowd was when Anthony took to the stage solo to play the heartbreaking tune 'Don't Call Me Peanut' ('Self-Titled', 2005). He was then joined by O'Shea to play 'Winter' ('Acoustic', 2006) for the first time ever on tour. I don't think there was a single dry eye in the room after hearing these songs. I know I needed to wipe a tear away and there's no shame in that!
Don't let the acoustic guitars fool you though. The band continued to hit us with classic tracks all night like 'Blame It On Bad Luck', 'Dear Tragedy', 'Montauk' off their self-titled release. After singing along all night I hardly had any voice left by the time the band got to 'Duality' (The Walking Wounded, 2007) before closing out the night with 'Devotion and Desire'. After so many long depressing months without live music, this was the moment that we all needed. For a few short hours we were able to escape the world around us and focus on the songs we love.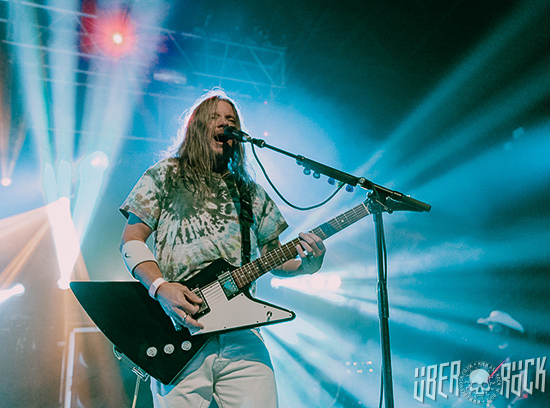 This tour is packed with nostalgia while also showcasing the fact that these bands are here to stay. Tickets for the remaining dates are available at http://www.baysidebayside.com with the option for different levels of VIP upgrades. It's been a difficult time for everyone lately so go out and do what you love. Support your favorite bands, buy a shirt or record (don't forget to tip the merch people!) and enjoy everything the '21 Years of Really Bad Luck' tour has to offer! I know I'm already looking forward to the next time the bands are back in town.
The '21 Years of Really Bad Luck' tour  continues: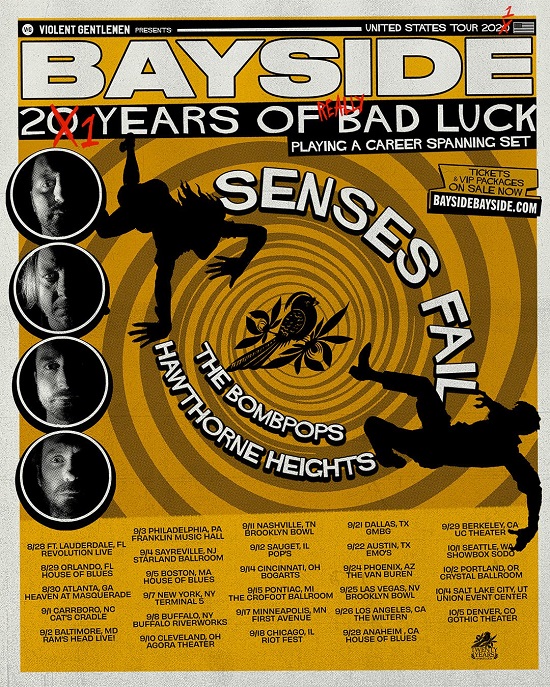 PHOTO CREDIT: All photos © Steve Mirsik/Über Rock. You can view our full gallery of photographs HERE.
All content © of Über Rock. Not to be reproduced in part or in whole without the express written permission of Über Rock.