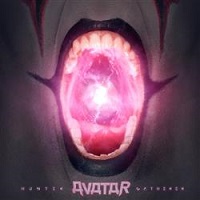 For a band that are now on their eighth album, it doesn't seem so long ago that Avatar actually started coming more into the more mainstream recognition that their releases have deserved. It was probably 2012's 'Black Waltz' that first grabbed my attention, with both the title track and 'Let It Burn' becoming staples in both my DJ work and personal listening. Yet, they have turned the page again, heading in a different direction from their 'Avatar Country' era. Question is, which way would that be?
There seems to be a sense of urgency that I've not necessarily noticed in an Avatar release at times but also a hint of something else, too. Sure, their patented modern take on melodic death metal is still there and I would be surprised if that ever left their sound to a big degree, given how intrinsic it has always been to them, but they are nuances of something a bit more expansive that creep in at various points that certainly catch my ear.
The first two tracks on the album have already been released as singles and it's pretty easy to see why – 'Colossus' (featured in our most recent 'Video Of The Week' section) takes the slower end of their more traditional approach, adding in an almost theatrical sounding tone as Johannes demonstrates the range of his vocals – something that comes to the fore again in 'Justice', later in the album, which even features a 'woahhhhh' sing-along chorus! – while 'Silence in the Age of Apes' focuses more on their much more aggressive side, embracing an almost thrash approach in relentless riffing that has served them so well for so long.
This said, as they've done before, there is something about this release that just sounds much bigger than the sum of its parts, more grandiose, in a way, maybe in the manner that the production has been approached. They still find time to show a vulnerable side in 'Gun', a ballad that is truly worthy of the genre and probably the showcase to date that we have had of vocalist Johannes' real talent, with the focus being squarely on his clean, brilliantly realized approach, which leads to 'When All But Force Has Failed', a track as close to blackened thrash metal as personal favourites Goatwhore – very much a juxtaposition of sound, yet one that sounds neither contrived nor ill-planned.
I could dissect each track on this release and find so much nuances in different places that categorizing them would be all but impossible. It boils down to one simple fact. Avatar have put themselves out there and attained something different once more. Equal parts brooding relentless, they have once again shown that constant reinvention without losing your sense of identity is not just possible, it can sound pretty fucking good. As people half my age would probably say, this really fucking slaps.
'Hunter Gatherer' is released on 7 August. You can get your copy HERE.
Check out my in-depth interview with frontman Johannes Eckerstrom HERE.
All content © Über Rock. Not to be reproduced in part or in whole without the express written permission of Über Rock.