By Monk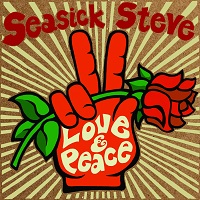 If you were to type the term "force of nature" into a musical lexicon, one of the references which would immediately be flagged in the glossary undoubtedly would be the name of Seasick Steve. No matter the vagaries, contradictions or inaccuracies (or otherwise) of his storied biography, there is no doubt that, over the past decade and a half, he has undoubtedly established himself as one of the most distinctive, honest and respected – not to mention remarkable – voices in the modern blues, a point he emphasizes, with typical alacrity and authority on this, his tenth solo album.
'Love & Peace', an apposite title yet one reflective of Seasick's omnipresent and innate sense of the appropriate use of irony, is something of a juxtaposition, in that it is perhaps his most diverse yet cohesive album to date. It is also perhaps his darkest and most reflective album so far, possessed as it is of a deep sense of gothic noir amidst Wold's usual laconic sense of less-is-more lyricism, the latter a quality exemplified, as ever, in the music as well.
Not that it's all doom and gloom, of course, as the opening title track kicks us off in a proudly upbeat mien, with Steve evoking the singalong spirit of the Woodstock generation with his rallying call for positivity in a world filled with needless mean spiritedness and unnecessary provocation for its own sake. As ever, Seasick sings from his soul, as he reflects on both his past life and current, relatively affluent situation, on the mudhole stomp of 'Regular Man', on which he declares that he's "got plenty of money but it ain't always been that way…". The retrospective mood continues on the haunting 'I Will Do For You', which strangely reminds of The Doors in its almost lascivious laidback groove, before 'Clock Is Running' rounds out the album's first third with a neatly picked swing vibe that is as close to a dancefloor filler as Steve is ever likely to get.
The turning point of the album, and its highlight, is the beautifully complementary contrast evoked by the next pairing of songs: the Delta-style acoustic slide of 'Carni Days', with its evocation of the transitory nature of life on the road, and the ironic, societal-deprecating self-confident 'Church Of Me', its message accentuated by Steve's drawling, restrained vocal as he preaches with more effect than many southern evangelicals could hope to evoke, before the song explodes into a glorious haze of Stones-esque fuzzed-out psychedelia.
Seasick then dips his 'Toes In The Mud' and stomps it dry with a tasty slice of foot-tapping distempered blues that neither pulls any punches or asks for the same in return, its staccato riff precise and accurate in its delivery. 'My Woman' is another "traditional" blues number that once again sees him both stay inside and step outside the "traditional" boundaries of the blues, pushing them in the direction of Americana and folk with its sparse delivery combined with incisive social commentary.
'Love & Peace' is everything you would expect from Seasick Steve. Simple, understated blues yet with a deeply complex and vibrant undercurrent that makes you think about the depth of what its progenitor is saying while at the same time revelling in the deceptive simplicity of its delivery. The result is a thoroughly enjoyable listen, and one which continues to reward with its riches every time you press that there 'Play' button. After all, there 'Ain't Nothing Like The Boogie', is there now?
'Love & Peace' is out now. You can get your copy HERE.
All content © Über Rock. Not to be reproduced in part or in whole without the express written permission of Über Rock.