By Jonny Bakes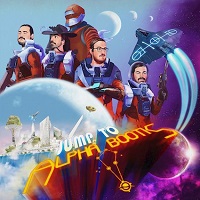 Alpha Boötis are a band who caught my attention last year with their great EP, 'Stowaway Ants' about a colony of ants sneaking aboard a human spaceship and making their way to be the first creatures to set foot on Mars. In fact, I proudly declared ever since then, I've been keeping a bit of an eye on them ever since to see where this mysterious mix of space themes, synthwave, saxophone and rock would lead. And, in this instance, it's led to a bit of a journey into the past for a re-imagining of their debut EP.
The EP started out life as a soundtrack to a fictitious space exploration video game but has morphed into a backdrop for a stunning science fiction movie, albeit still a fictitious one! So I had no other choice than to 'Jump to Alpha Boötis' and let these Canadians take me on a wild adventure through this sci-fi fantasy adventure through which I would experience a planet-sized city, a bustling nightclub orbiting a wormhole, the horrors of subspace and much more. Much like the previous EP, Alpha Boötis really do put a significant amount of effort into the imagery that their music portrays and, as always, they really pull it off here!
The overall sound is what I've come to expect from the aptly dubbed "space disco synth metal", there's still that mix of guitars, synths, drums and saxophone that meld together to form a suitably space-like sound. Each track brings something different which makes it easier to distinguish the different scenes as you flow through this little piece of sci-fi magic. You'll often notice some seriously funky grooves being busted out by the rhythm section which turns this musical journey into something you could probably get down to on the dance floor too!
There's quite a lot to get stuck into in this sub-30 minute musical adventure, but it makes sense to start with the pretty epic opening title track 'Jump to Alpha Boötis' which flits between being a catchy opening epic and a funky disco track that is reminiscent of Electric Six. It sets the mood for the rest of the album and sucks you right into the science fiction story that is being woven through the music in a seriously effective way. The funkiness is a theme that is continued in my other favourite track, 'Wormhole Gas Bar', which I guess you could loosely describe as the Alpha Boötis equivalent of the Cantina Band from Star Wars, but that would be selling it pretty short. It really invokes images of a seedy dive bar orbiting in space where the riff raff from across galaxies gather together to consume substances and set up illicit deals. In fact, for those who may have seen it, my mind's eye casts something akin to the 'Boobies' chain from the anime Space Dandy.
Again, following the same trend as the last EP release, Alpha Boötis closes things out with a relatively unexpected cover. This time, the chosen song fits very well with the theme, however it's a big stretch to take it and mould it into the Alpha Boötis style… the song in question is 'Another World' by the mighty Gojira. Now let me tell you, I never expected a space disco synth metal cover of Gojira to work, but I was proven wrong as the guys have put a really interesting spin on the track and it makes for a pretty fitting end to 'Jump to Alpha Boötis'.
So, all in all, I think this reimagining of the debut EP to become 'Jump to Alpha Boötis' is a bit of a masterstroke! The album brings something unique to the music scene and is an absolute must for anyone who has a powerful imagination and a fondness for sci-fi. 'Jump to Alpha Boötis' is the perfect partner for a chilled-out evening getting lost in the story with the accompaniment of a rather large whiskey, which is exactly what I intend to be doing to celebrate its release!
'Jump to Alpha Boötis' is released on released 24 September. You can get your copy HERE.
www.facebook.com/Alphabootisband
All content © Über Rock. Not to be reproduced in part or in whole without the express written permission of Über Rock.