By DJ Astrocreep
There are much worse things you can do on your birthday than have a short hop across on a train to catch MC50, The Stranglers and Alice Cooper live. So, with that kind of opportunity on the cards, plans get changed and the same old journey taken across to Manchester for the gig. Some sacrifices are worth making!
As their slightly modified name suggests, MC50 are celebrating their own 50th anniversary this year and it is great to see there is definite life left in the old dog yet. I'm a touch confused that 'Kick Out The Jams' is second on the setlist – arguably their biggest song so early on – but I feel somewhat remiss in having forgotten how much of their releases I do know and enjoy. The band are still up their old tricks, though their political leanings are mainly left until introducing the last song in the set, 'Looking At You', showing plenty of energy with guest Billy Gould of Faith No More taking on those duties. Each are still excellent at their roles, long known as they now are, and their mix of proto-punk, garage rock and rhythm 'n blues is well appreciated by a surprisingly busy crowd, considering the time. A very good set, showing why they have had such longevity with their careers.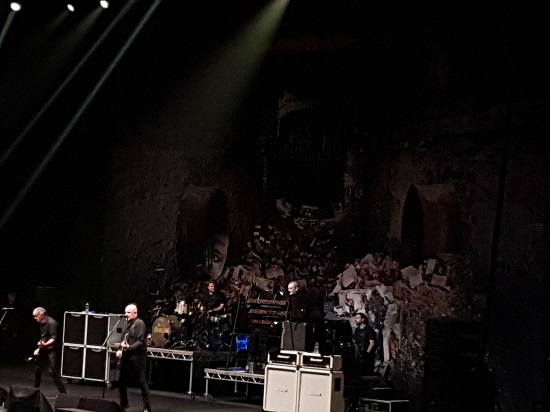 Dressed all in black, they're celebrating their own 45th anniversary as a band this year and have a ridiculously good back catalogue of their own, which shows as The Stranglers take to the stage and it's straight into hits like 'Toiler In The Sea', 'Get A Grip' and 'Nice n Sleazy' – a hell of a way to start any set. JJ, Baz and all are on as fine a form is ever, though the atmosphere, bar a couple, is noticeably flat – one of the perils of an all seated concert – which Baz makes comment on upon a couple of occasions. There isn't time for tracks like 'Strange Little Girl', even, with their having an hour for the set, but the majority of other big songs are included, referencing again just how good their works have been across the years. The atmosphere apart, an excellent set, as would be expected from such veterans.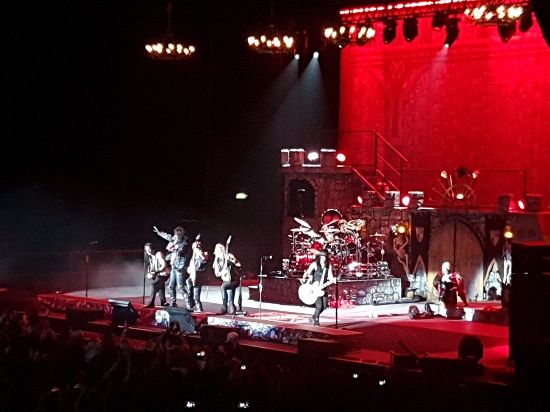 A change from recent years, 'Feed My Frankenstein' is the first live track of Alice's Nightmare Castle, in a set that refers a lot to the earlier career, a nice change to see in what is a decently changed setlist from previous tours. We still get the theatrics, the whole show that has become a staple of Alice's over the years and no doubt inspired many other bands in to doing what seems to come almost naturally to him. The pace is relentless throughout, driven by the extended sets of the support acts, leaving us with less time than we may normally get from our headliner, but also probably driving at least a level of the change we get. 'Bed Of Nails' and 'He's Back (The Man Behind The Mask)' are very welcome additions into the first third of the set, as the theatrics are kept to a minimum at first to allow the set to develop and progress,  again demonstrating the level of thought and planning that goes into the songs chosen for an Alice Cooper tour. The majority of the big tracks are in the opening half, with 'Poison' being followed by Nita Strauss' guitar solo marking the midway point of the set and the restart of the theatrics.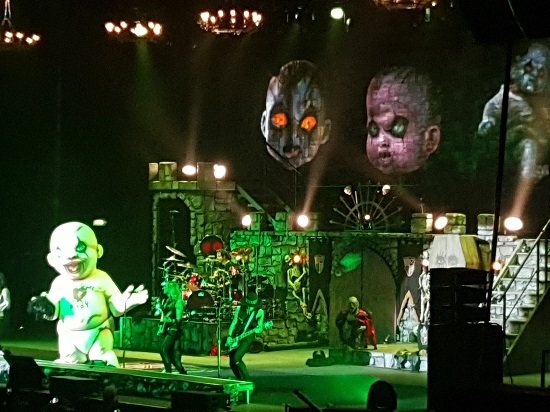 A band rendition of 'Devil's Food' and 'The Black Widow', with added drum solo gives our host for the evening the time to prepare for the forthcoming stage antics, as the concept goes to 'Steven' leading us on to the guillotine part of the act, with the performance becoming one of a rock n roll macabre vaudeville, before Steven's reincarnation escapes to play with the band for a bit – well, even 'Dead Babies' need playtime too! Big Alice gets to come out and play for main set closer 'Teenage Frankenstein'. They don't stay off stage for long, with curfew closing rapidly in, returning for a dual encore of 'Under My Wheels' and 'School's Out' to finish off a well orchestrated and performed set. There's little need to comment on the quality of musicianship when it comes to Alice, given his demand for perfection and the ability of anyone that he would pick to play in his touring band – they are all immaculate and more than adept at their individual instruments. A fantastic show with the kind of supports you would only normally see at a festival.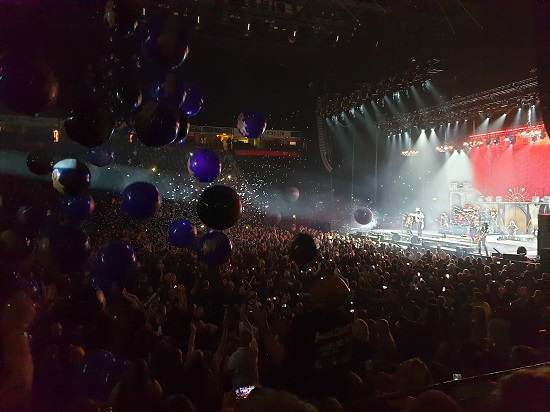 The tour continues in Aberdeen tonight (Saturday 5 October) and then at the First Direct Arena in Leeds on Monday (7 October), the Brighton Centre on Tuesday, the O2 Arena in London on Thursday, the Birmingham Arena on Friday, finishing at the Motorpoint Arena in Cardiff next Saturday (12 October).
PHOTO CREDIT: Photos by the author.
All content © Über Rock. Not to be reproduced in part or in whole without the express written permission of Über Rock.