By Monk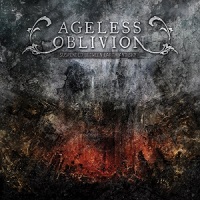 Death metal may, arguably, have had its roots in the Ünited States, as the darker and faster bastard offspring of the NWoBHM invasion of the Eighties, but that doesn't mean that British bands weren't far behind in embracing this new subgenre and adding their own unique twist to it, to make it identifiable as a slightly different breed from that which had emerged from the darkened underbelly of the West Coast… Unfortunately, with a few notable exceptions, UKDM acts have never really enjoyed the same degree on international acclamation and notoriety as many of their trans-Atlantic cousins, they nevertheless have produced some extremely (sic) worthy additions to the generic canon – and now, after a hiatus of five years, Ageless Oblivion have once again emerged from their shadows to stake their claim as flagbearers with this, their third album…
It seems that some of the best bands on the extreme metal scene, especially here in the Über Kingdom, are emerging triumphant from periods away from the public spotlight – and Ageless Oblivion are certainly no exception, having come storming out of the musical hotbed that is Hampshire with a defiant and uncompromising slice of DM that appeals on every aspect, from its combination of speed and brutality with technicality and melody, through to its thought-provoking and surprisingly timely (I say that because the album was actually written and recorded before the pandemic hit) lyrical content, which is turn is delivered with abrasive acidity melded with a sense of restraint which just hints at the massive explosion to come when AO finally manage to deliver this material on stage.
As intimated, 'Suspended…' is a beautifully crafted album, and the sign of a band who have taken a considered approach to their art, having bided their time to ensure that they have the best possible body of work with which to come storming back… and that is the operative phrase here, because it is an album that simply explodes out of the blocks and doesn't let up until it has strained every muscle in your neck and back to breaking point and left you licking up the blood from your entrails, which have been ripped up and splattered all over the walls of your previously nicely decorated living room.
Another example of the veracity and strength of the UK extreme metal scene at the moment, whatever subgenre in which its producers operate. Which leaves only one question: have the guys at Bloodstock made that call yet?
'Suspended Between Earth And Sky' is released on Friday (30 April). You can get your copy HERE.
www.facebook.com/agelessoblivion
All content © Über Rock. Not to be reproduced in part or in whole without the express written permission of Über Rock.