By Tim Bolitho-Jones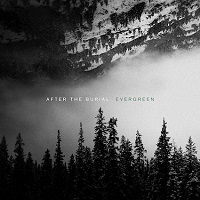 According to Wikipedia, Minnesota four-piece After The Burial are a "progressive metal" band. It's not an inaccurate tag, but we need to get this out of the way; they're unlikely to ever be invited on tour with bands like Porcupine Tree or Opeth. Their brand of prog is rooted less in the Classic Rock definition of the term and more in the hardcore scene, combining off-kilter melodies and weird time signatures with a bass-heavy, mosh inducing stomp. It's a style that's been done plenty of times before and by a lot of bands they share their label with, but they've become remarkably adept at making what the kids call "Sumerian Metal."
'Evergreen' is their sixth full-length and second since the tragic loss of founding guitarist Justin Lowe. If their previous effort 'Dig Deep' was the sound of them finding their feet again, 'Evergreen' is the next logical step. It's a confident, brutish album, swaggering with both intellectual depth and beefed-up machismo. In fact it's almost the musical equivalent of chess-boxing, except the clever bits and the punchy bits all come at the same time.
'Behold The Crown' for instance is a perfect opening salvo. It's one of those tracks that demands attention right from the first note and about as pissed off as a drill instructor who just found a doughnut in a lock box. Vocalist Anthony Notamarso barks like a straight-edge pitbull against a backdrop of stuttering, angular guitar riffs and monstrous breakdowns. Just when you think it's about to launch into a clean chorus, it only gets heavier, yet this sledgehammer start is only the tip of the iceberg.
'In Flux' meanwhile is perhaps their most prog moment. It's equally pulverising and showcases their Meshuggah/Hatebreed hybrid admirably, but also features an extended outro which works as a serene and surprisingly moving breather. 'Respire' on the other hand is more straightforward, boasting a breakdown that could have featured on a Throwdown record, gang chants, an anthemic chorus and a brief guitar solo.
Elsewhere, '11/26' walks the tightrope of emotional resonance and hard-hitting chug, while 'Quicksand' is an eerily atmospheric, mid-paced number. 'To Challenge Existence' could divide a crowd in half and trigger a game of Street Countdown in place of a mosh pit, while closer 'A Pulse Exchanged' is a frenetic four minutes of riff juggling. Imagine Hatebreed with a PhD (PHatebreeD?) and you won't be far off.
All of which serves to make one accomplished and well-executed tech-metal record. At exactly forty minutes run time it does feel marginally shorter than it should have been, but that's our only real quibble here. Queen takes Bishop, Rook takes Queen, uppercut to the jaw and that's checkmate motherfucker.
'Evergreen' is released on 19 April. You can get your copy HERE.
www.facebook.com/aftertheburial/
All content © Über Rock. Not to be reproduced in part or in whole without the express written permission of Über Rock.