By Monk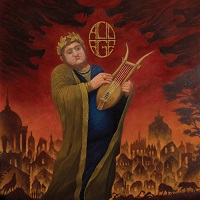 Regular ÜR readers may well be aware that this website, and myself in particular, have had something of a storied relationship with Acid Age over the years. You could call it something of a love/hate thing: they love the fact that we hate them, and we hate to, deep down, love them. I mean, at one stage we placed them at one pinnacle of the unholy trinity of the three worst thrash bands on the island of Ireland; but, unlike some of their counterparts, they have always taken that mock adulation fairly and squarely on the chin, and in recent years have emphatically risen to the challenge of proving me wrong… something which is exemplified further on this, their fourth album (and their first in five years) – and their most ambitious to date…
Clocking in at just under an hour, it is one of those dreaded of musical offerings – a concept album. Not that AA are any strangers to such an approach to their recordings, having previously done so on their debut, the rather quaint (in retrospect) 'Enter The Zomberg'. But, whereas that first outing took us deep into the realms of B-movie envisaged outer space, this hugely ambitious work – it may be just ten songs but it clocks in at just short of an hour in playing time – plunges us back into the mists of history and the story of the infamous Roman emperor Nero and his tumultuous reign of incest, destruction and eternal ignomy.
Now, fair play to them, the Lisburn-based trio have made massive strides forward, both in confidence and, more importantly, in musical ability since my initial, and perhaps, in retrospect, rather pat and offhand, lumping of them into the aforementioned triangle of awfulness – something I have openly confronted in frequent live reviews, in which I have seen the band take those massive strides forward. One thing that has undoubtedly helped has been the consolidation of a consistent line-up, with the current trio having now been together for almost the entire time since the release of their last album. And this has undoubtedly helped to make 'Semper Pessimus' sound like a much more cohesive and consistent offering than their three previous full-lengthers, which had a tendency to sound like somewhat scrappy affairs.
But, to coin a paraphrase, five years is a long time in the music business, and especially in the development of a band, and Acid Age obviously have spent that time extremely productively, both in terms of their increasingly impressive live performances but also, as proven here, on creating their own twist on what has always been in danger of becoming a rather staid and out-dated genre. Not that AA are content with the generic "thrash" tag, as they describe their sound as "war jazz"; and, certainly, there are plenty of jazz elements, particularly in Aran's drum patterns and Jake's bass work, which not only add an extra layer of interest to the band's overall sound (and making it hard to remember, sometimes, that there's only three of 'em) but doing so with an ease that defies, yet also defines, the complexity of what they are doing, while simultaneously making you listen much more closely that you might your average thrash album.
Having said that, I think it would be fair to say that 'Semper Pessimus' is by no means a classic thrash album, and neither will it come to be regard as such in future times. It is a highly accomplished and competent one, which demonstrates, as I've intimated above, a band confident in their individual and collective abilities, and one which creates plenty of interest in terms of what is actually happening within it. Yes, it is tangential in places, and that could be construed as confusing, but when everything is placed into context, this helps raise it above the norm of what one might expect from a thrash band. In fact, if you're looking for a more comfortable bracket into which to pigeonhole, their own "war jazz" descriptive is perhaps the most apt.. or maybe even deathprog!
www.facebook.com/acidagethrash
All content © Über Rock. Not to be reproduced in part or in whole without the express written permission of Über Rock.