By DJ Monk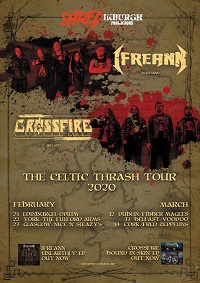 Little could anyone involved have realized the importance of the timing of this gig, the second date on the second leg of the 'Celtic Thrash' tour featuring Edinburgh shredders Ifreann and their Dublin counterparts Crossfire. OK, it was Friday the 13th – but, then, that's probably the most appropriate date possible for a metal show. But then the world was thrown into chaos with the coronavirus outbreak, and Irfeann arrived on the island of Ireland on the very day that the government south of the border decreed a ban on gatherings of 100 or more people… somehow, however, the visitors got away with bringing their party to Dublin's fair city – although the third and final date in Cork ultimately fell victim to the new restrictions.
Tasked with opening proceedings for the Belfast leg were Acid Age, once one of the unholy triumvirate of "Ireland's worst thrash" bands but, as I wrote of their recent support slot with Acid Reign, a trio who have taken enormous strides forward in recent years, stepping out of that triangle and turning into a neat little heavy metal machine in the process. This evening, they deliver another high energy performance, underpinned by taut rhythms and coupled with a decent line in solid thrash toons. Jude's stage banter is still a little disjointed, but, overall, it is a solid performance from a band who I look forward to seeing develop still further.
Talking of bands taking things to the next stage of their development, next up we have veterans Sinocence, newly re-invigorated with a new line-up after a traumatic period in their decade-plus career. And they come out angry and hungry, in a way which they had not done for quite some time. Starting to build a new momentum with this, only their third gig as a five-piece, they are on fire in every department, with the addition of a dedicated vocalist, in Duane Watson, definitely, and defiantly, helping to take them to the next level.
Ifreann take the crowd a little by surprise, as there only about a dozen people gathered in front of stage as they kick off their set: fortunately, there's double that by the end of the first song, with the paucity of the crowd easily explained by the uncertain circumstances pervading in the world outside. The small numbers do not put the band off in the slightest, as they rattle through a hard and tight set of big-ass thrash grooves built on taut rhythms and an acute song writing acumen. Vocalist Ian Gill thankfully eschews much of the death growl style that has plagued the genre in recent years, adding to the overall clarity and depth of the band's sound. Despite the lack of stage movement (well, it is a small space), there is plenty of musical energy and the five lads are obviously having a lot of fun with their combination of old school thrash, classic metal and more modern progressive miens. They may have been a new name to me before this gig was announced, but Ifreann are definitely a band from whom I look forward to hearing much more…
Closing out tonight's fraught proceedings, Crossfire concentrate on delivering old school thrash – and they do so in a way that is as taut as you could want, tight and aggressive without being boldly so. Their massive crescendos of sound are coupled with fierce some riffs played faster than Jonny Rea with the finishing line in sight. It's manic, fast and unrelenting in its pace, with the size of its attitude more than matched by that of its delivery which, once again, defies the small turnout. A superb set and the perfect way to round out what may well be the last live gig in this, or any other, corner of the Überverse for quite some time…
All content © Über Rock. Not to be reproduced in part or in whole without the express written permission of Über Rock.