By DJ Monk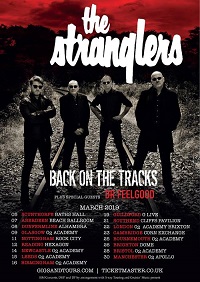 It's hard to believe that it's only a week until The Stranglers head out on their annual trek around the highways and by-ways of the Über Kingdom of Rock 'n' Roll…
The 'Back On The Tracks' tour features a total of 19 gigs covering Northern Ireland, the Republic of Ireland, Scotland and England (unfortunately, there are no Welsh shows on this run – although they are playing Caerphilly Castle in July).
The first gig sees the band returning to the Ulster Hall in ÜR's home city of Belfast next Thursday (28 February) for the second time in less than a year, and then heading south of the Irish border for a pre-Brexit appearance at Dublin's historic Olympia Theatre the next evening (Friday 1 March). After a few days for travel, the next gig is in Scunthorpe in Lincolnshire – which no one can be sure if the band have ever played until now!
The itinerary then sees them heads north of the border for a trio of Scottish gigs, visiting Aberdeen, Dunfermline and Glasgow. The tour then visits a further 13 cities in England, including a hometown Guildford show on the Tuesday 19 March and the Brixton O2 Academy on Friday 22 March. Brighton is back on the itinerary for 2019, and there is also a visit to Bournemouth before the customary tour finale at O2 Apollo in Manchester on Saturday 30 March.
Special guests for all dates are Dr Feelgood.
Further dates are planned for July and August – including that Caerphilly Castle show and their first ever appearance at the Rebellion festival on 2 August – followed by a run of arena shows supporting Alice Cooper in October.
In a recent interview with the Belfast-based Irish News, bassist JJ Brunel revealed that a new Stranglers album is in the pipeline for 2019. The first hints were dropped during last year's 'The Definitive' tour, when new song 'Water' was performed at several shows:
"We've been working on new material for a while now," Brunel told interviewer David Roy.
"I think before we record it properly, we're going to play some of it live. It's cheaper when you actually do come to record [because] you know the pieces better. The problem with modern recording is that you've got so many different options that you lose a bit of discipline – you can put loads of different guitar or keyboard parts on, but when you come to play it live everyone only has two hands."
You can read the full interview, in which Brunel also talks of his relationship with former frontman Hugh Cornwell and hits out at "punk nostalgia", HERE.