Words by DJ Monk. Photos by The Dark Queen.
It's hard to know where to start with reflecting on this particular gig, which came in the middle of a run of Irish dates by the French-born South African-raised feminist punk duo by the name of The SoapGirls. But we'll leave aside the (perceived) confrontationalist attitude of the headliners and start with the promotion of the show – or rather, the distinct lack of it! From what I could see, outside of a few posters in the venue itself, and a Facebook event page which was merely posted when the gig was announced, with the scantest of information, and then never updated, zero effort had been putting into attracting a crowd. Perhaps it should have come as no surprise, therefore, that the numbers who did turn up were distinctly on the equally sparse side, with only a handful more than a dozen paying punters making the effort on this otherwise balmy Sunday evening.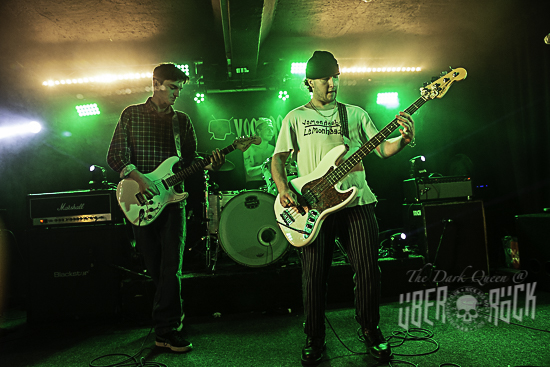 Having headlined the same venue a few weeks previously, local punk crüe Belwood take to the stage for their generous 45-minute support slot with what seems to be just their entourage in front of it… Things don't start well for them, as their guitarist suffers early technical problems, but once these are sorted they jump quickly into their tight, old school pop punk with a metal edge, the latter particularly evident in the thick bass riffs. The end result is a thoroughly entertaining set, precise and taut in its delivery yet possessed of plenty of energy, verve and vim… and thankfully the crowd numbers have grown slightly by its conclusion, and the reception is suitably appreciative.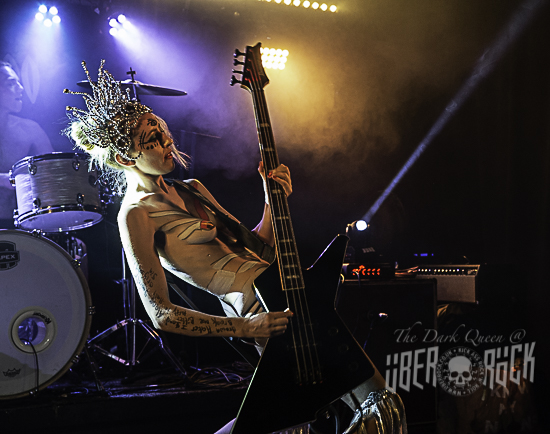 "It you're offended by skin, bad language and violence, now might be the time to get the fuck out… if not, rock on" declare the Debray sisters, standing on either side of the stage in nothing but body paint, G-strings and high heels, before launching into their rebellious punk anthems such as 'Society's Rejects' (the title track from their last album, for those unfamiliar with their back catalogue). This particular track is preceded by the second verbal sermon of the night, as they pontificate about personal freedom, freedom of speech, the importance of expressing opinions and standing up for yourself…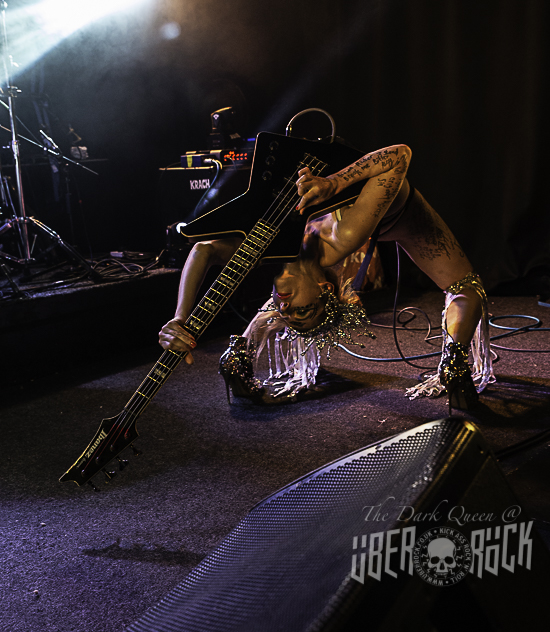 This pattern of preaching between songs continues for the rest of the night, with each diatribe liberally splattered with swearing: to be honest, while they make worthy points, it becomes extremely boring and trying, grating in its repetition – so much so that even DQ turns off and turns to playing Space Invaders on her 'phone instead!
When they do concentrate on playing – and they definitely could have squeezed a few more songs in if it hadn't been for all the preaching – they deliver an impressive line in dense, grungy power pop, very much in the vein of Hole and their ilk. The choruses are catchy and the girls definitely can play and pen a good tune or three, while Millie literally bends over backwards to entertain the small knot of diehard fans who have made the effort to turn out and support them.
Leave aside all the manufactured "controversy" and the deliberate confrontationalism, The SoapGirls are a damn entertaining punk band and definitely worth checking out if they are playing near you, which they probably will be some time soon, given their virtually non-stop touring schedule.
www.facebook.com/thesoapgirls/
The SoapGirls play The Poor Relation in Cork tonight (Thursday 8 August), Monroe's in Galway tomorrow (Friday 9 August) and Fibber Magee's in Dublin on Saturday (10 August). They then head across the Irish Sea for a series of dates starting in Bideford on Friday 16 August and ending in Kingston Upon Hull on Thursday 5 September. Full details are HERE.
PHOTO CREDIT: All photos © The Dark Queen/Über You can view our full gallery of photographs HERE.
All content © Über Rock. Not to be reproduced in part or in whole without the express written permission of Über Rock.