By John Bedard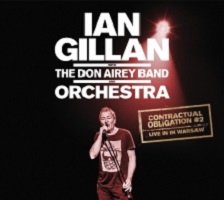 Normally, I am not a big fan of live albums. Due to the non-ideal situation for recording, I find that many of them tend to have harsh highs and a mix that allows some performers to be overpowered by others. Not to mention how the audience can be loud enough to overpower the band, taking away from the performance. We have none of that here. Not only is everything recorded well and mixed well but there is also no sound of a struggle in the performance from the band getting tired. From start to finish everyone sounds very relaxed and comfortable.
I have said this in other reviews but it really applies here. The band sounds so effortless. At no point does it sound like anyone is pushing above their talent or trying to show off. Instead, they just sound like they are a group of friends sitting around and jamming for fun. The whole performance has this very relaxed intimate vibe to it. There is the quaintness of a small venue with the production value of a large venue. It is hard to catch the best of both those worlds and Ian and his band do it well here.
There was a lot more variety here than I expected. I am admittedly not all that familiar with Ian work so I was going into this rather blind. Every song has an obvious old school feel but there is a modern influence as well. A few of the songs even had a little bit of a symphonic influence that I really did not see coming at all. This is particularly noticeable with a day late and a dollar short. While most of the album is rather bluesy rock it is nice to hear other influences in there too. It shows that the band has a lot of range and has a developed creative sense to mix multiple styles so well.
This is a great live album that, if you are an Ian Gillan fan, you will love. It is very immersive and really captures a lot of the emotion that being at a live even has. I don't think you will be disappointed. I would imagine that actually being there was amazing. If Ian ever comes to my town I intend to see the show for myself. If there is a DVD of this concert, I definitely want it.
'Contractual Obligation #2 Live in Warsaw' is out now. You can get your copy HERE.
www.facebook.com/iangillanofficial/
All content © Über Rock. Not to be reproduced in part or in whole without the express written permission of Über