By DJ Monk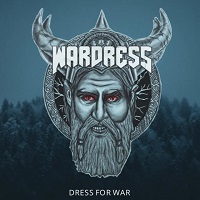 They say that good things come to those who wait… well, Wardress founders Alex Gor (guitars) and Erich Eysn (vocals) have waited no fewer than 35 years to release their debut album, after originally getting together 'way back in 1984, writing a bunch of tunes, recording a demo and subsequently going their separate ways… So, it perhaps understandable that now, having re-united and recruited a few additional band members, this album sounds very firmly rooted in the era in which these brothers in metal originally came together.
'Dressed For War' ploughs the same sort of furrow as the likes of Anvil, OverKill, Raven and their ilk, with a sound that crosses between NWOBHM and pubescent thrash, paying homage to the genre's roots yet still sounding fresh and up-to-date, especially in the clarity of the production. Yes, some of the song titles ('Metal Melodies', 'Metal League') and lyrics are somewhat passé, and you do sort of know what is coming next – i.e. the genteel intro to 'Dark Lord' is not going to last past the first 45 seconds before being replaced with a sub-thrash riff-fest – but that is part of the album's charm.
Now and again, you just want a slice of good old-fashioned, no nonsense, pretentionless heavy fuckin' metal. Wardress do just that. And may the gods of metal bless their denim cut-offs and leather jeans for doing so.
'Dress For War' is out now. You can get your copy HERE.
www.facebook.com/wardressmetal
All content © Über Rock. Not to be reproduced in part or in whole without the express written permission of Über Rock.