By DJ Monk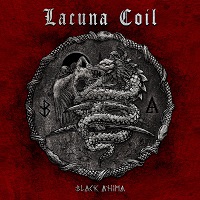 With their eighth studio album, Lacuna Coil have proven that, despite arguably treading water with their last two releases, they most definitely, and defiantly, know how to push the boundaries between  the symphonic and death metal genres as far as it is possible to do while still remaining true to the basic, underlying ethos of both sub-genres. But, once again, as they last displayed on the fantastic 'Dark Adrenaline', seven long years ago, they also display the fact that they are prepared to push the envelope as far as they can without it falling off the edge of the table…
A case in point is opening track 'Anima Nera', which is almost trance-like in its EDM-infused delivery, gently luring you in with Christina Scabbia's elfin vocal, before the album truly explodes as Andrea Ferro pierces you through the heart with his ultra-violent vocal introduction to 'Sword Of Anger', which delivers absolutely no mercy with its venomous aural assault. Then, just as you think you're starting to get to grips, they totally change direction again, with the catchy-as-fuck power pop of 'Reckless' which sounds like something Lady Gaga might produce in her darkest, most metallic nightmares.
'Black Anima' is an album which twists and turns, delivering unexpected hits left, right and centre, moving seamlessly from the industrial beatdown of first single 'Layers Of Town', with Scabbia adding valuable light with her soaring vocal, perfectly counterpointing the brutality of both the instrumental backdrop and Ferro's aggressive growling, to the almost nu-metal grunt of 'Apocalypse', which sweeps over you with a combination of gentility and natural fury which few bands manage to achieve but Lacuna Coil manage to do with ease. Add in the Slipknot battering of 'Now Or Never', the sweeping Gothicism of 'Veneficium', the self-destructive 'Save Me' and the pure dark passion of the closing title track and you have an album that is as diverse as it is consistent, as satisfying as it is challenging.
With its constant mood swings, 'Black Anima' is, initially, quite a difficult album to listen to. But that also adds to its attraction. There is an immediacy which grabs you right away, coupled with a sense of confusion that leaves you wondering what is actually going on, both combined with stunning riffs and that mixture of symphonics, electronica and pure metal intensity that have helped to establish Lacuna Coil as one of the most exciting and innovative acts of their generation.
'Black Anima' is released on Friday (11 October). You can get your copy HERE.
Lacuna Coil play the following dates in November:
Tuesday 12– Manchester, O2 Ritz
Wednesday 13– Glasgow, Garage
Thursday 14 – Dublin, Academy
Friday 15 – Bristol, SWX
Saturday 16 London, O2 Forum Kentish Town
Support on all dates will come from Eluveitie and Infested Rain, and tickets are on sale from all usual outlets.
All content © Über Rock. Not to be reproduced in part or in whole without the express written permission of Über Rock.