By DJ Astrocreep
Volbeat are on tour for 'Rewind, Replay, Rebound', their latest album, the last of the mainland UK dates of which just happens to be in my second home of Manchester. Having enjoyed their gig so much at the Ritz just over a year ago, a chance to catch them with Danko Jones and Baroness was something I couldn't pass up. 
Canadian power trio Danko Jones have a reasonable audience to open up to and take decent advantage of this. They find the time for seven songs, including 'I Gotta Rock' and 'Burn In Hell', which they perform well and to a good reception from the audience and while it's not as long as our main support Baroness get, it's long enough for them to make a sufficient impression on those that have arrived early. Pretty good set to open the evening.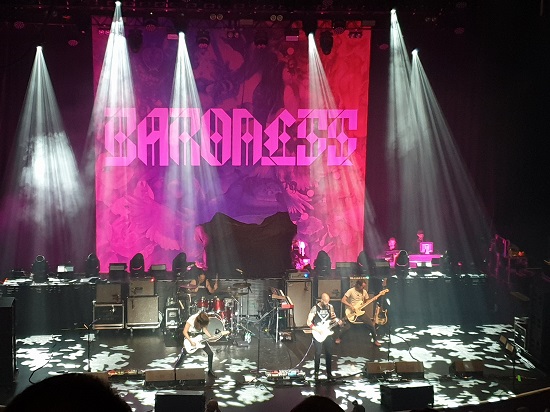 Baroness come on to not much fanfare but to a stronger crowd still and do themselves justice, demonstrating both a good level of technical skill on each of their instruments in turn and real ability in general throughout their set. It's my first time seeing these guys live, despite following them for a few years and it's refreshing to see that they still perform to such a level live. 11 songs is not too far from a headline slot length set, which pleases me, with the likes of 'March To The Sea', 'Front Toward Enemy' and 'Take My Bones Away' included within, with the crowd in the main enjoying what they put out. From my own point of view, I enjoy the set and am quite happy to have finally caught them live, with their melodies and harmonies proving a good way to prepare the crowd for our headliners.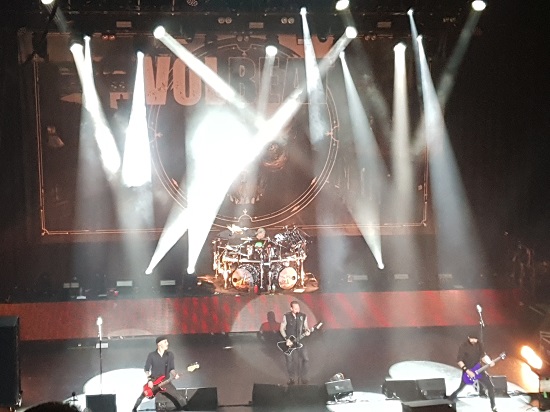 The lights drop and Motorhead's 'Born To Raise Hell' rings out, the audience singing along to the chorus, before switching to Nick Cave's 'Red Right Hand' to properly welcome Volbeat to the stage. While the atmosphere had been pretty good for our supports, it almost feel like the rood being raised off could be a bit more literal than usual with the sheer volume from the crowd singing along. This ridiculously good atmosphere, all of Volbeat and, in particular, Michael Poulsen, knowing exactly what to say and do to keep the crowd singing, cheering and clapping along. Danko Jones rejoins us for a track, helping Michael out, bringing forth even more screams, before they launch into 'When We Were Kids' from their latest album.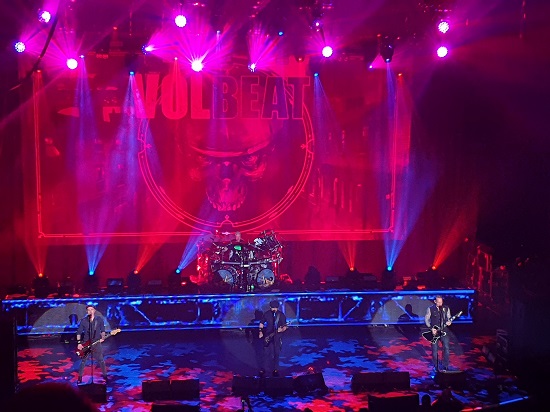 Even on their newer tracks, Volbeat hold true to their career long ethos of strong melodies and harmonies, something that shines through in the live set strongly. While the audience participation is obviously not as strong on the songs from their latest album, it gives us a chance to let them soak in properly in this setting, working well judging by the post track reaction. Michael's admirable frontman skills are showcased in their full, as he teases us with a piece of Slayer's 'South Of Heaven' to introduce 'Slaytan' and other similar little bits to hold the interest of us all. The low video wall, positioned right across the stage below the drummer, provides something a bit extra, whether used with colours or images as the set progresses, in turn giving us something else to glance at and making more of a show than simply standing on the stage with a backdrop.
The interspersing of the better known tracks and singalongs through the set keeps us all enthralled and entertained – it's pretty hard not to be when you're not more than a song or two from something you want to lose your voice shouting along to, showing the care in the curating of the set that has long been another staple of the band. It's yet again another fantastic showing from the Volbeat guys.
The tour concludes with dates at the Ulster Hall in Belfast tomorrow (Thursday 3 October) and the Olympia Theatre in Dublin on Friday (4 October).
PHOTO CREDIT: Photos by the author.
All content © Über Rock. Not to be reproduced in part or in whole without the express written permission of Über Rock.