By Johnny Bakes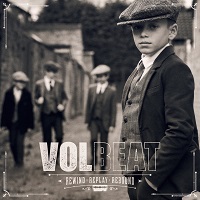 With their unique blend of psychobilly and punk-Infused rock 'n' roll, Volbeat quickly became a favourite in rock clubs up and down the country when they crashed into the scene in the mid-2000s and they've continued to go from strength to strength from there. Let's not forget their Grammy award nomination for Best Metal Performance in 2014 for 'Room 24' as well as opening for the likes of Metallica, Motorhead and Slipknot!
In 2016, their last studio album 'Seal the Deal & Let's Boogie' debuted at number one in seven European countries, number two in Canada, and number four in the USA which is no small feat… The question is, can they go even further with their seventh album release this summer?
In rolls 'Rewind, Replay, Rebound' which has been produced by long-time collaborator Jacob Hensen and is the first to feature Kasper Note Larson in bass. You might also be surprised to see some other pretty big names stepping in to collaborate on this album, take Neil Fallon (Clutch) for example – He makes his mark on 'Die to Live' with his trademark gruff vocals. There's also guest spots from the Harlem Gospel Choir and even a guitar solo from Gary Holt (Exodus, Slayer) thrown into the mix for good measure!
Overall, this album has a great amount of variety, from the upbeat summery sounds, through to powerful emotional tunes, with a healthy helping of balls out Rock 'n' Roll. Volbeat are really showing that they can cover all bases with this release, and each shift of pace will keep you hooked from start to finish. Obviously, Michael Poulsen's instantly recognisable voice is prominent throughout the album, I'm not sure if would be Volbeat any other way!
The album kicks off with the second single to be released, 'Last Day Under the Sun' which is gloriously 80s. The riff sounds very much like something INXS would have kicked out in their heyday, and I'm totally fine with it. The lyrics were influenced by a book about Johnny Cash, where during his struggles with various substances he took himself off to a cave to lay down and die. Yet the next morning he woke up again and felt a new lease of life at this apparent second chance. The inclusion of the Harlem Gospel Choir on this track really adds some extra depth as well. I can see why this was chosen as one of the pre-release tracks!
Another stand out track has to be the balls out rock 'n' roll number that is 'Die to Live'. I could be a little biased here because I'm a huge fan of Clutch, however I am really impressed with the way Neil Fallon manages to bring a little extra something to the song without drawing too much attention to himself. This is a fantastic speedy track that's definitely making its way into my driving playlist. Just to really add to that Rock 'n' Roll feel, there's a healthy helping of piano and saxophone just to top it off.
'Sorry Sack of Bones' also managed to grab my attention while playing through the album. It's another pretty fast paced number, but without being quite as upbeat as 'Die to Live' which given the fact that it deals with those feelings of inadequacy, it's perfectly apt. It almost manages to capture the essence of anxiety, it's fast paced and a little erratic but also a little despondent.
Another of the advance singles to be released in support of this album is the upbeat 'Leviathan'. I guess you could describe this as a heavy ballad: it seems to have all those hallmarks of a power ballad but also managing to pack some balls into it as well. For me, this is exactly everything I'd expect from Volbeat and if listening to this hasn't made you want to check out the whole album, then I'm not sure why you're reading this review!
So, to sum things up, this is another strong release from Volbeat. There's plenty of variety from track to track to give an overall very balanced album that slots in nicely with the rest of their catalogue. Anne to top things off, they will be hitting our shores at the end of September in support of the album, so that gives you a good month or so to get really familiar with it!
'Rewind, Replay, Rebound' is released today (Friday 2 August). You can get your copy HERE.
Volbeat play the following dates later this year:
Monday 23 September – Newcastle-Upon-Tyne, O2 Academy
Tuesday 24 September – Glasgow, O2 Academy
Thursday 26 September – London, O2 Academy Brixton
Saturday 28 September – Bristol, O2 Academy
Monday 30 September – Birmingham, O2 Academy
Tuesday 1 October – Manchester, O2 Apollo
Thursday 3 October – Belfast, Ulster Hall
Friday 4 October – Dublin, Olympia Theatre
Support on all dates comes from Baroness and Danko Jones, and tickets are on sale now from all usual outlets.
All content © Über Rock. Not to be reproduced in part or in whole without the express written permission of Über Rock.