By Monk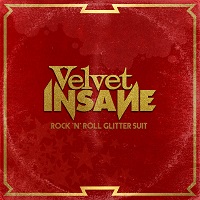 As you should probably be able to tell by now, we love a bit of rock 'n' roll nostalgia here at ÜRHQ. We often get slagged off for harking back to the "good old days" and championing movements such as the New Wave Of Classic Rock. But, there two key words in there, the first being "good" and the second being "classic". Good music will always stand the test of time, and its own right quite possibly become regarded as classic. So, there is nothing really that wrong with casting a glance over your shoulder and recalling the glory days of yore, remembering them with affection and, even, trying to recreate them in a modern era characterized by sanitized, reality show-friendly pop sugariness which itself will not remembered in 50 years' time… unlike the great rock songs of the '50s, '60s, '70s, which still manage to fill dancefloors the Überverse over after half a decade or more…
On this, their second album, Swedish retro rockers Velvet Insane live up to their moniker, with their high-heeled boots very firmly planted in the early Seventies sound of T-Rex, Mott The Hoople, The Faces and pre-TOTP Slade, as well as their homeland's glunk-infused garage rock scene, as evidenced by collaborations with the likes of Backyard Babies/Hellacopters mainman Dregen, who appears on lead single 'Backstreet Liberace', which in itself is one of the catchiest slices of glunk/power pop you'll hear this side of a pie fight at a Wildhearts gig!
Guitar riffs frolic and rollick back and forth, interspersed with tastefully soaring organ sweeps, which punctuate with effective alacrity, helping drive the songs forward with the sort of subtlety that only a band who really know what they are doing, especially in terms of less is more, can truly manage – and Velvet Insane manage it very well indeed. They're not also afraid to mix up the retro styles, with touches of folksiness ('Sailing On A Thunderstorm') and psychedelia ('Midnight Sunshine Serenade') thrown in to ensure plenty of colourful playfulness on this beautifully mapped out musical adventure.
This is the sort of album that makes me want to take one of my lockdown neglected suits out of the wardrobe, dust it down, cover it in glitter and strut my cowboy-booted feet down to my local rock 'n' roll club (when it's eventually allowed to re-open) to boogie the night away to some seriously sleazy gutter punk sounds
'Rock 'n' Roll Glitter Suit' is released today Friday (16 July). You can get your copy HERE.
All content © Über Rock. Not to be reproduced in part or in whole without the express written permission of Über Rock.