By Monk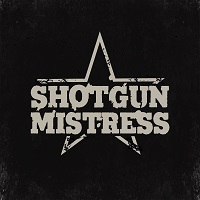 I've said it before, and I'll probably say it again (and again – DQ), but they must be putting something in the beer in the Melbourne bars, as the city is producing some feckin' fine rock 'n' roll bands. And damn fine exemplars of this assertion are Shotgun Mistress, who have been (virtually) circumnavigating the globe to (again, virtually) prop up the bar of the ÜR Singles Club for the past two years, to provide us with a consistently tasty selection of appetizers from this, their debut album…
Right from the off it is clear that these Aussies were 'Born 'n' Raised' to play hell-raisin' rawk 'n'f'n' roll, as the lead track kicks with a big, ballsy, crunch riff from Matt Wilcock (YES – he of The Berzerker/Akercocke fame) that will take your head off at 500 paces, before Glenn Patrick's lascivious, leering vocal transports you straight back to the back alleys and dives of the Strip of the mid- to late-Eighties… fuck, how appropriate is it that they have a guy called "Diamond" Dave on drums?
In case you're mistaken, this is no mere recreation of the glory days of the hair/sleaze metal scene. In fact, nothing could be further from the truth. While Shotgun Mistress have their cowboy boots firmly planted in the mire and muck of those LA back alleys, this a thoroughly fresh and modern take on the sound, characterized by a density of sound that is much heavier than you might expect – but perhaps not surprisingly so, given the pedigree of those involved. All of the tropes are faithfully referenced, but this is no pat throwback: this is a re-invigoration, a re-invention for a new generation. A reminder of the glory daze (sic) but given more than a Laurence Llewellyn-Bowen style lick of pastel paint or flowery wallpapering: rather, Shotgun Mistress have bulldozed their way through the whole renovation and replaced it with their own grand design and vision of how things should be in the modern era.
So, whether you'd rather meet the 'Devil In Disguise' or a 'Pretty Little Thing', prepare to 'Collide' with the 'Glorious Machine' that is this stonking debut… but make sure you've got your seatbelt tightly buckled, as it's one helluva ride \m/
'Shotgun Mistress' is released today (Friday 16 July). You can get your copy HERE.
www.facebook.com/shotgunmistress
All content © Über Rock. Not to be reproduced in part or in whole without the express written permission of Über Rock.