By Monk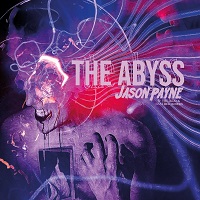 Despite the guitarist/singer having been kicking around the London metal scene for quite some time, Jason Payne only really came to the attention of ÜRHQ very recently, when the clip to accompany the lead single for this, his debut EP with his new bunch of Black Leather Riders, crawled out of 'The Dark' (sic) and deservedly won our coveted 'Video Of The Week' award back at the beginning of June. Well, guess what, here we are just six short weeks later finding out if that was just a flash in the pan…
Well, the answer couldn't be further from the truth as, despite its brevity, 'The Abyss' is a defiant statement, a collection of dark, broiling heavy metal anthems which exude vicious excitement and energy, both of which encompass the sense of rage which you feel is about to explode from the speakers at any moment and wrap you in their fury. It's a feeling summarized in the title of the second track, 'Breathing Rage', which neatly encapsulates the aural experience to which this EP treats you.
Sonically edging between classic metal and the groove/sub-thrash genres, with the occasional heavy nod to the likes of Megadeth ('Vicious') and Trivium ('The Purge'), Payne and his band mates have that neat trick, often overlooked by so many metal bands, of balancing heaviness with technicality, density with melody, and above not sacrificing the ability to craft a catchy-as-fuck hook which draws you deeper and deeper into the songs, both collectively and individually. Massive riffs build the momentum for each song, but at the same time the band are not afraid to, almost immediately, pull back on the throttle to add to the overall emphasis and final effect.
A hugely impressive debut. I look forward to hearing more.
'The Abyss' is released tomorrow (Friday 16 July). You can get your copy HERE.
www.facebook.com/therealjasonpayne
All content © Über Rock. Not to be reproduced in part or in whole without the express written permission of Über Rock.