By Monk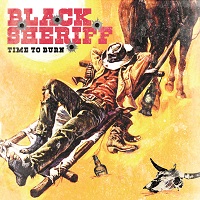 I suppose I should stick my hand in the air and declare an albeit distant connection to German-based cowpunk 'n' rollers Black Sheriff, and state that I have worked with the band in the past, promoting a couple of their "homecoming" tours with frontman Glen, who hails from a small market town some 20 or so miles from ÜRHQ. But the man in the snakeskin cowboy hat, black leather trousers and a penchant for playing guitar solos while standing on the bar top knows all about my reputation for not pulling any punches and, as we say in this corner of the Überverse, calling a spade a spade, so it was with perhaps understandable trepidation that he sent this, the first album from the band's new-look line-up, my way…
It's also the band's first recorded material in six years, so the big question has to be: has it been worth the wait? Well, the answer is the exact opposite of the album's opening track, 'No No No!' in that it is most definitely, and defiantly yes, yes and, indeed HELL yes! 'Time To Burn' is exactly what I have come to expect from this Norn Iron émigré and his Cologne cohorts: rambunctious, rowdy, energetic, punky, full of bravado and confident swagger (so much so that's there's a punked-up barroom boogie interpretation of Therapy?'s 'Diane' – song which it definitely takes balls to even consider covering), snarling and spitting like a cornered pitbull with the smell of blood in its nostrils.
Like its lead single suggests, 'Time To Burn' is by-and-large delivered at a frenetic, pedal-to-the-medal 'Supersonic' pace, one that is going to make you unable to resist the urge to 'Dance Dance Dance' around your living room – although be careful you don't spill that whiskey over the rug, or there'll be hell to pay from the missus! Actually, I tell you what: why don't we crank up that 'Generator', start 'Drinkin' Out Loud' and annoy the neighbours as we turn the volume up to wall-shaking levels? Yes, this is the sort of power pop-infused punk 'n' roll that provides the perfect soundtrack to all-day all-night partying, so let's get drunk with Glen and the bais and "get fucked anywho"… now, pass that there bottle of Bushmills and hit the repeat button, Mr Clarke…
'Time To Burn' is out now. You can get your copy HERE.
www.facebook.com/blacksheriffrock
All content © Über Rock. Not to be reproduced in part or in whole without the express written permission of Über Rock.