By Monk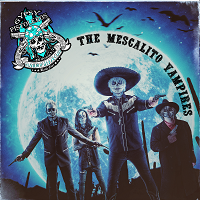 A telephone rings. A long, bony hand reaches forward and lifts the receiver. "Hello," drawls a tequila-soaked voice. "Hi, is that Gypsy Lee?" comes back that on the other end of the line. "Yep," comes the rattle from deep inside an undead throat. "This is Robert Rodriquez. I have a vacancy for a house band at my bar. It's called La Tetilla del Diablo. The only catch is you gotta be able to play from dusk 'til dawn…" The line goes dead, 'cos Gypsy Lee has already packed his guitar, his corpse paint and, of course, his sombrero…
That sort of tells you what to expect from this, the latest studio offering from the latest incarnation of the self-styled "greatest flamenco sleaze glam rock band in the world" (which coincidentally was the title of last year's career-spanning retrospective compilation, issued to mark their brief union with the Golden Robot/RIOT! Records stable): and, for once, the Pistoleros are a band who live up to their own hype, as they tick all of the boxes they attribute to themselves, and then some, with some of the most infectious, sleaziest, dirtiest, rock 'n' roll vibes around, all mixed with enough dust to bury a spaghetti western set several times over.
Regular readers should already be familiar with the declarative lead single, and opening track, 'Lost In A Town Called Nowhere', as it has been floating around the Überverse for a couple of months now, with its catchier than a dose exhumation of the spirit of Joe Strummer, dusts him down, places a Rickenbacker around his still leather jacket clad shoulders and places him at the front of the Dia de la Muerte parade, where he struts and swaggers with all the cool ease of a true troubadour. A party anthem for the undead generation, without a doubt.
The dancing continues, and you hear the click of stilettos and cowboy heels as Gypsy Lee proudly declares 'Viva La Revolution, Viva Zapata' with a whirling dervish of a mescal-fuelled punk 'n' roll with a suitably mariachi twist. He then introduces us to the 'Mescalito Vampires' themselves, and it's not hard to tell what liquid these guys enjoying necking when they're not sucking on the necks of unsuspecting travellers. The doors to the Hotel de la Muerte are open, the bar is fully stocked, and volume is turned up to maximum… and, then some: hell, we'll even forgive Gypsy Lee for the cheap but affectionate tribute to a certain other hotel buried deep in another desert…
This may be the perfect soundtrack for a night of blood-drenched debauchery but it also that for glorious summer afternoons, packed to the brim with rambunctious riffs, mellifluous melodies and choruses that will rest in your aural cortexes for days afterwards, a combination which will have you risking burning those precious burgers as you dance around the barbecue with a cold beer in one hand while you air-pick your imaginary acoustic guitar with the other, occasionally grabbing your missus for an impromptu rumba or samba – or maybe even a spot of al fresco dirty dancing, if you're that way inclined.
'The Mescalito Vampires' is released on 14 August. You can get your copy HERE.
Gypsy Pistoleros are scheduled to make their live debut at Hard Rock Hell in Great Yarmouth on Sunday 7 November.
All content © Über Rock. Not to be reproduced in part or in whole without the express written permission of Über Rock.