By Jim Rowland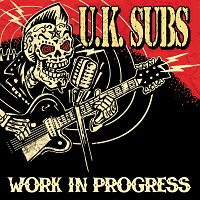 To this day, UK Subs remain one of the most authentic, enduring and beloved of all the original punk bands, with main man Charlie Harper considered a 'godfather' and national treasure of the punk movement these days. They still play great shows, and still put out great records. Of course, one of the things they were known for is going through the alphabet with the album titles, and by 2011 they had got to the letter 'W', with 'Work In Progress'. The album has not been available on vinyl since its original release, so the good people at Cherry Red have rectified that with a welcome vinyl reissue on double 10" gold and silver vinyl.
By 2011, the UK Subs had been in the business for 35 years, and as 'Work In Progress' proves, were still capable of knocking out top quality new material when many of their punk contemporaries were happy touring the nostalgia circuit. In fact 'Work In Progress' kicked off another rich vein of form for the band, who would go on to complete the alphabet with 'XXIV', 'Yellow Leader' and 'Ziezo', all top quality albums, within the following five years.
The likes of 'Creation', 'Hell Is Other People', 'Radio Unfriendly', 'This Chaos' (co-written with Rancid guitarist Lars Frederickson) and 'Blood' are all full throttle punk rock belters, whilst 'Tokyo Rose', 'The Axe', 'Guru', 'Children of the Flood' and the sleazy 'Rock'n'Roll Whore' are top quality anthemic, catchy rockers. The Subs have always been able to add an extra twist outside of the pure punk envelope, and that's the case here with the rockabilly twang of 'Eighteen Wheels' and the excellent 'All Blurs Into One' which shifts between subtle melodic groove and punk rock fury to great effect.
There's even time for a cover of The Sonics' classic 'Strychnine', a song that's been covered a fair few times over the years, and whilst this is probably not the best version you've ever heard, it's solid enough.
Whilst albums like 'Another Kind of Blues', 'Brand New Age', 'Diminished Responsibility' and 'Endangered Species' will grace the collections of most punk fans, the albums the Subs released over the past ten or so years may not grace as many collections, but certainly deserve to. This vinyl reissue is the perfect opportunity to discover the quality of one of the best of the UK Subs more recent albums, with another one, 2013's 'XXIV', set for a similar vinyl re-issue in June.
'Work In Progress' is released tomorrow (Friday 29 April). You can get your copy HERE.
UK Subs play Sub 89 in Reading tonight (Thursday 28 April), Hat Factory in Luton tomorrow (Friday 29), the 100 Club in London on Saturday and the 1865 Venue on Sunday (1 May). They then tour with Bad Religion in June.
All content © Über Rock. Not to be reproduced in part or in whole without the express written permission of Über Rock.