Introduced by Monk
Belgian sleaze-infused hard rockers Rebel's End are about to release their second album, 'Sing To The Devil', via the German-based Pure Steel imprint. The band are a new one to us here at ÜRHQ, so we thought there was no better time to catch up with them and introduce them to the wider ÜR massive, and thus I found myself chatting to band founder Jef Wouters…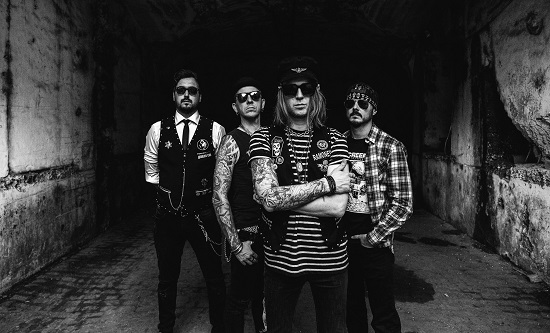 As this feature is called 'Über Rock Introduces…', I started by asking Jef to tell us who all is in the band, where they're from and how they came together as a group?
Rebel's End is a four-piece with Dol on drums, Stijn on bass, Rutger on lead guitar and me, Jeff, on rhythm guitar and vocals. We are a Belgian band from the Kempen. Dol and me have been playing together for more than ten years, having played in glam outfit Psycho Virginteen and black metal band Panchrysia. Stijn joined around 2015 to play bass and the band became Rebel's End as we know it today. More recently Rutger joined to play lead guitar. Since then, we've been paving the road as Rebel's End.
Music is categorized into various genres and sub-genres. How do you feel about being categorized into such pigeonholes, and how would you yourselves define your sound?
We try not to tie ourselves down to a specific subgenre. We think Rebel's End is foremost a rock band, with sleaze, metal and punk influences.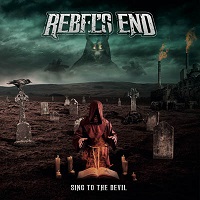 Following on from that, what individual and collective influences do you draw on for your sound?
Having played genres like black metal, heavy metal, rock, hardcore and punk we all carry some baggage where we always can draw some influences out. We also listen to all kinds of music these days. Adding all that up creates our 'sound".
Personally, as a historian, I have an interest in etymology, so I feel have to ask about where the band name came from and if it has any special significance… I read somewhere that it's something to do with the story of Lucifer?
The name Rebel's End comes from the fact that most of us have some kind of rebelious nature, which at first starts really strong, but over time, gets less and less. Also, there is a link to the story of lucifer, the fallen angel, cast down from heaven. The name sounds cool too, so that always helps.
The reason we're doing this feature is because you're about to release a new album, 'Sing To The Devil'. Is there any particular significance in the title? Is it connected to the band's name?
The album title was derived from a lyric line in the song 'Death & Destruction'. This song deals with religion and atheism. The line goes as follows: 'I'd rather sing to the devil than kneel for the lord." So, no direct link to the band's name in this case.
Can you talk us through some of the songs on the album? Are they addressing any particular subjects/themes?
We always were fans of old horror movies so there are some horror-themed songs on the new record. Songs such as 'Rawhead', which has a link with 1986's B -film 'Rawhead Rex'. There's also 'Wayward', which is based on 'The Crow', and last but not least we have 'End of Me', which hints at horror classic 'The Exorcist'.
As far as I can see, this is only your second album, and the first in five years: what took you so long to get around to recording it?
After we released the first one, we started with the writing process of the second album.  Due to a line-up change, which saw Rutger enter the band, we took our time to first teach him the songs off the first album and songs in the live set. After that we proceeded with the new songs. And then we got some Covid misery, which led us to 2021 to finally release this record. In fact, the new record finished at the end of 2019.
We obviously need to address what, unfortunately, continues to be the biggest elephant in every room in the Überverse, and that is Covid… Did it change the way in which you approached writing, recording and generally working together?
It made us take our time in the always hurried process of recording, promoting and releasing. We took our time to find a record label, which surely wasn't easy in these trying times. We succeeded when signing a good deal with German label Pure Steel Records. So far they have been really great for us, and we feel blessed to be a part of the Pure Steel family. Rehearsals were put on hold which was a bummer, of course. But it also gave us some time to write new and other music.
The circumstances of the past 18 months have made it extremely difficult for bands to get themselves noticed. One side effect of the pandemic has been that social media has played a much bigger role than maybe it had before things got Covidicated…. How important are tools like Facebook, Instagram, etc., to you in terms of reaching out to, and interacting with, fans and winning over new ones?
They are, of course, great tools to reach out to existing and potential fans. We saw many live streams and live rehearsals, a good thing to keep us busy, but nowhere near the fun of a live gig, of course. Live music is where the real friendships and fans are made.
Streaming media, such as Spotify, has also a lot more important to many bands in terms of getting their music out there. However, the financial returns for streaming can mean a band doing a lot of work for relatively little reward – i.e., you earn very small percentage returns, with the services themselves taking large chunks of your potential income. Is it worth the effort, or is it a fact of the business that you just have to accept?
Accepting and bending over, I'm afraid. The rewards are small, but it always helps that fans can find your music easily on their preferred streaming platform. I still prefer the actual record over any digital platform.
And now that live gigs are starting to get back to some form of normality, any more gigs coming up that you'd like to plug?
Yes, more gigs will follow, of course. Two were already confirmed, and we got some more coming as well. We're playing the Belgian Metal Attack festival on 27 November and supporting Ostrogoth in January.
OK, now a bit of fun, and a couple of quickfire 'out there" questions to give us a wee bit of an insight into your personalities (and apologies if there are any teetotallers/veggies in the band):
Why do Belgians put mayonnaise on chips? It's great dip.
Instagram or Tik Tok? Instagram.
Duvel or Stella? Both.
Salted or sweet popcorn? Salted.
Favourite flavour of ice cream? Limone or Melone.Pineapple on pizza? Get out of here!!! No way ?.
A couple of final questions: when live gigs are finally fully up and running again, with no social distancing in place, and you have your choice of a bill to be a part of, who would be the three other bands (signed or otherwise) you would choose?
Hardcore Superstar, The Cruel Intentions, Hellacopters.
Finally, imagine you're headlining somewhere like the Olympic Staium: what is the most OTT thing you would put on your rider?
Just the ordinary chocolate fountain will do J.
'Sing To The Devil' is released on 24 September. You can get your copy HERE.
All content © Über Rock. Not to be reproduced in part or in whole without the express written permission of Über Rock.