By Jonny Bakes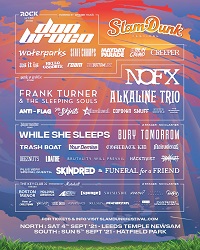 The summer hasn't quite left us yet, I mused, as I made my way down to Hatfield in glorious sunshine for one of the last events of the summer season, Slam Dunk Festival. Although I've pretty extensively covered the festival circuit over the years, it was my first time at Slam Dunk so I was pretty excited to get down there and see what the hype was all about. Having meticulously studied the lineup in the run up to the event, I knew I was going to be in trouble as this year was clash central with several of the bands I wanted to see overlapping each other. So I was going to have to face the question of should I stay, or should I go at several points throughout the day. But regardless, I set off through those gates with the sun blaring overhead to get my fix of punk, ska and heavy shit.
Starting my day off with Snuff on the Punk in Drublic Stage was the most fitting way to kick off my day because to me there is no better combination than ska, beer and sunshine… unless you perhaps throw pizza into the mix too. Snuff wasted no time messing around and launched straight into 'Caught in Session', some energetic ska punk with plenty of horns. It's exactly what I came to this event to see, and I was hooked from the very outset and determined to get a bit of a bounce on! There's plenty of people getting well into the swing of things too, certainly the part of the crowd closer to the stage was bouncing and littered with Hawaiian shirts. The band closed with the tongue-in-cheek and raucous 'Arsehole' which I'm tempted to adopt as my own personal anthem and set me in the right mood for the rest of the day. With myself sufficiently warmed up, I made my way over to the Jägermeister Stage where I would spend a fair portion of my day.
I managed to catch the back end of a pretty impressive set from Deez Nuts who were successfully whipping the crowd into a frenzy with a hefty dose of sheer heaviness. There were circle pits aplenty in the packed half of the tent when I arrived, which was one hell of a change of pace from where I'd come from but I was all over it. The guys successfully got me in the mood for Malevolence, who I was making sure to see, and when Deez Nuts finished I simply had to do an about-turn to where they were getting set up on the second Jägermeister Stage. I've got to admit, I was a big fan of the seamless transitions on both the Jager and Key Club Stages as it helped pack more into the day, but it certainly didn't help my clash problem!
Malevolence stepped up the game and blew the previous band out of the water with their crushing heaviness. Vocalist Alex Taylor was bouncing all over the stage as the band dished out some deep and nasty beatdowns that drew in a decent sized crowd for this early afternoon set. I thought I'd got myself safely perched by the soundstage in the centre of the stage, but I could not have been further from the truth… Part way through the set, the crowd formed a massive circle pit around the soundstage with me caught firmly in the middle but, fuck it, that's what we're there for! This crowd simply did not stop moving for the entire set and when the band launched into their final song, 'Keep Your Distance', the whole tent erupted as everyone belted along with everything they had.
The heavy theme continued on the Jägermeister Stage as Comeback Kid took to the stage to pick up where Malevolence let off, but my attention was drawn back to the Punk in Drublic stage to catch Zebrahead. Now, I'll admit that the last time I saw Zebrahead back in 2007 I wasn't hugely impressed but that opinion was challenged from the moment they announced their arrival with 'Sound of da Police'. The ensuing set was everything I could have wanted; it was chock full of Califronian skate vibes that whisked me all the way back to those days playing Tony Hawks. Honestly, it made me kick myself that I had written them off 14 years ago, oh how young and stupid I was at the time! Determined to capitalise on the energy of the crowd, the band attempted to entice as many crowd surfers as possible during 'Hello Tomorrow' and were certainly pretty successful as a sea of bodies threatened to overwhelm the poor security guards down at the front of the stage. The set closed with a clear crowd favourite, 'Anthem', which firmly sealed my opinion that it had been a fucking great set. They even managed to squeeze a new track into the set, 'Lay Me To Rest', which has ended up on my regular plays ever since, and I think my only gripe is that they didn't bust out 'All My Friends are Nobodies' as it's the only song I knew well in advance!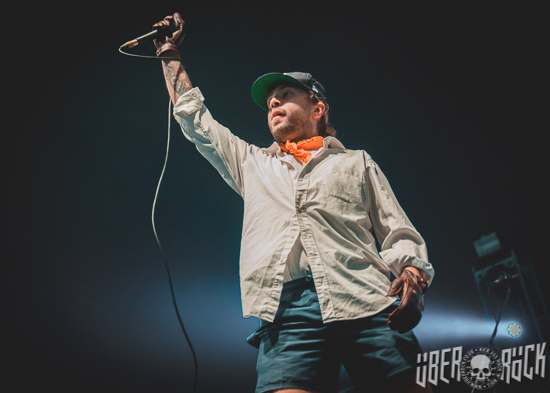 After the successful redemption of Zebrahead, I took to bouncing around the stages to try and catch as much as possible before my next bucket list band. First stop was the Jägermeister Stage to catch the end of Your Demise who were busy absolutely killing it with one hell of a performance, I was a little bit gutted to only catch the last couple of tracks, but it did mean I got to witness vocalist Dappy bouncing all over the stage and a cameo from Malevolence's Alex to join forces for some vocal carnage! Next was my first trip to the Key Club stage to catch this year's secret act… McFly! There's clearly still serious nostalgia for these guys as the stage was far more packed than it ever managed to be for the rest of the day, it was near impossible to weave my way to a spot where I could see but I managed eventually. Fortunately, it was just in time for 'All About You' but I couldn't tell you how well the band sounded as the crowd were belting out the song word for word, and amazingly managing to nail all the vocal harmonies! The atmosphere was incredible and managed to give a real deep sense of unity which, frankly, I think everyone needed.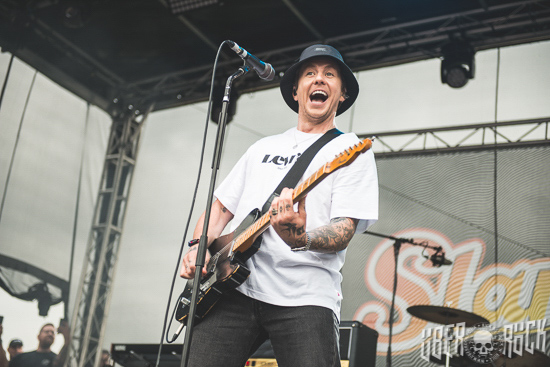 I'd intended to catch some of Welsh rockers Funeral for a Friend next but, after seeing the hordes of people surging towards the Jägermeister Stage with the same intention, I realized I didn't have much hope so headed back to the Key Club Stage to catch A for the second time this year. These guys still know how to put on a good show, although I have no idea how Jason Perry chooses his outfits as he was sporting a jacket and bobble hat in the scorching sunshine – mental! The little crowd gathered, myself included, all belted out the set closer 'Nothing' with as much passion as we did way back in 2002 when it first hit the radio.
My main purpose for heading back here was to catch [spunge], a band I'd wanted to see for about 15 years but never quite managed. It was certainly worth the wait as there was skanking galore from the small but dedicated crowd that had gathered for some ska action. Really, I think these guys could have fit in quite nicely on the Punk in Drublic stage, but then I don't think we would have had the same dedicated atmosphere so I'm happy with where they ended up. The highlight for me was that the band were without a horns section for 'Kicking Pigeons' and instead asked the crowd to fill in for them which was pretty entertaining and surprisingly did the job pretty well!
I caught the end of Anti-Flag on the Punk in Drublic Stage on the way to the Jägermeister Stage for my next stop of the day. Fortunately, this means I got to hear 'Brandenburg Gate' and 'Die For The Government', which was delivered with just as much aggression as it was when it dropped in the mid-90s! I couldn't resist sticking around for the whole of Skindred's set on the Jägermeister Stage though: it may have been the third time I'd seen them this festival season, but it never gets old! Like I was saying with someone at the bar earlier that day, no one goes to a Skindred gig and comes away declaring it boring… never! This Slam Dunk set was no expectation as it was completely wild as Skindred tore the roof off the tent (figuratively) with a bombastic performance! All the big hits were here; 'Nobody', 'Doom Riff, 'That's My Jam', 'Stand for Something'… you get the point. They did have me a little worried when they left the stage without playing 'Warning' but, of course, it was all a ruse and they bounced back to nail this fan favourite. It was possibly the most disciplined Newport Helicopter I've seen to date and all you could see throughout the tent was countless shirts spinning in unison!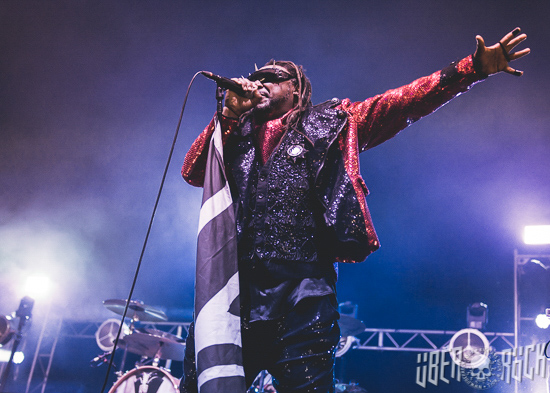 Next it was time to revisit Vukovi after they landed firmly in my favourite bands after the Download Pilot. Despite declaring that she was "fucked", Janine put on a fantastic performance that was on par with the DL Pilot set for sure!  Unfortunately, this was another set of which I only managed to catch a short section but was there at the right time to catch Milkie Way of Wargasm getting involved, much to the surprise of the crowd. Getting close to the end of the day, it was time to firmly plonk myself at the Punk in Drublic stage for my final two bands of the day. The clashes this year forced me to make a decision between Don Broco and NOFX as my headliner of choice, for me it was a no brainer as a punk kid at heart.
But before we get to that, there was one more act to see first: the man, myth and legend known as Frank Turner. Frank's set at Slam Dunk South was his third in 48 hours as he managed to squeeze in a set at the Moseley Folk Festival (Birmingham) in between SD North and South, how many musicians can claim to have enough diversity to sandwich a folk festival in between punk festival performances? Frank Turner managed to pull in a huge crowd for this set and it was a crowd that knew pretty much every word to every song which is a pretty impressive feat! The set started with more electric-driven tracks like 'Get Better' and new track 'The Gathering' before moving onto the acoustic-focused "campfire punk" that makes Frank pretty unique. Particularly impressive was the solo acoustic cover of NOFX's 'Linoleum' which, surprisingly, was not one of the covers on the 'West Coast vs Wessex' split album! The whole set was just song after song with the crowd hanging off every word even where I was standing, a fair way back by the disabled platform, everyone around me was singing along. Considering it was his third show of the weekend, Frank was all over the stage and clearly loving every second of being back on stage. It's clear that Frank Turner is a man who absolutely lives for live music and his fans; it shined through his performance like a lighthouse in the night.
The headliner clash decision divided the monstrous Frank Turner crowd into two, with half of them heading over to the Rock Scene stage to watch Don Broco (including our tame photographer) who by all accounts put on a pretty stellar performance but for me, today was all a build up for NOFX. NOFX are a band who are dead serious about being completely not serious, their tiny little NOFX sign hanging from the rafters looks distinctly amateurish in comparison with the huge Frank Turner backdrop it replaced, and I wouldn't have it any other way. Hell, Fat Mike even announced his arrival to the stage with "I hope you're ready for a big disappointment!" The set was interspersed with plenty of Fat Mike banter, of which I probably can't put a lot of into writing (that's probably deliberate to be fair…) but there was definite mention of felching and snowballing, attempts to get cancelled in the ÜK, Jewish jokes, berating a parent who made the bad parenting decision of bringing their kid to a NOFX show, and that's just the stuff I can mention…
The music itself was seriously tight, with a set list with plenty of classic tracks, 'Dinosaurs Will Die', 'Franco Un-American' and 'Eat the Meek' all found spots; but notably absent were 'Don't Call Me White' and 'Bob' – but that didn't matter a huge amount as the set was pretty killer as it was! Frank Turner joined the band to cover his own song 'The Ballad of Me and My Friends' which was given the NOFX treatment on the split album; he did a pretty good job of keeping up though so definitely earned himself some points there. That's not the only cover to make it into the set though, with a surprise cover of Rancid's 'Radio' making an appearance too.  Fat Mike tried to instigate a mass walkout during set closer 'Kill All the White Man', by trying to get everyone to storm off with their middle fingers, unfortunately the crowd weren't really playing ball so it didn't look anywhere near as cool as he planned it.
So, it was certainly a massive day for my very first time at Slam Dunk and an experience I'll be repeating for sure! If something could be done about the clashes for next year that would be great, or I could just work on cloning myself to make sure I catch everything I want to see! Highlights of the day have to go to NOFX and Frank Turner (who has successfully converted me!) and the redemption, in my eyes, of Zebrahead. Although there are plenty of others who deserve notable mentions too!
Slam Dunk 2022 will take place over the weekend of 3/4 June.
PHOTO CREDIT: Photographs taken @ Slam Dunk North on 4 September 2021 and © Emily Coulter/Über Rock. You can view our full gallery of photographs HERE.
All content © Über Rock. Not to be reproduced in part or in whole without the express written permission of Über Rock.