By Bona Pjarren
Sunday morning, bright and early… well, about one o'clock and time for lunch. Notice the brazen lyric quote there? Well, it is Prog. And, so to kick off:
Witney's answer to the prog rock scene, openers Semper Vera – which means "always true" for those whose Latin is a tad rusty – bring elements of grunge and '70s rock into the modern era. A tight little three piece with great technical ability. There were some interesting chord voicings and a neat breakdown on the first song. Max, their drummer, is top drawer and very tight with his rolls and transitions. Joe is like a human dynamo as he marches across the stage while thumping out his bass lines. Ben is a good frontman and I suspect that, with more experience, they are all going to develop into a great little rock 'n' roll band. They finish with 'Overture' and 'Can't Spin Forever.' Good luck and keep it up lads.
The brainchild of multi-instrumentalist Peter Jones, Tiger Moth Tales' name derives from Peter's radio show, entitled 'Tales From The Tiger Moth'. The latest album is titled 'Still Alive' and is Peter's thoughts on the lock down situation. What a great addition to Prog X line up. Peter brings his excellent musical skills to Tiger Moth Tales' sound. His keyboard playing is big and extravagant and really defines their essentially English sound. Peter of course has been in Camel, since 2016 and I could see why they wanted him. I also have a rather special connection to Peter as he kindly contributed a load of jingles to my 'Spirit Of The Wapentake' radio show: his involvement was before I joined the show, so sadly I never got to meet him in person. However, the jingles amply showed his wicked sense of humour, also evident throughout his set and particularly in the song 'Three Cheers For The Merry Vicar'. There was also a nice nod to his childhood memories when he started to play the theme music to Camberwick Green. All in all, Peter is a rare talent and an absolute joy to watch. Great music with lots of audience participation. If you're still unconvinced check out his 'Still Alive' album or the latest 'The Whispering of the World.' albums.
Franck Carducci is another multi-instrumentalist whose band has a theatrical take on performing their music. He has gained quite the reputation including supporting one of his heroes Steve Hackett. It was Hackett who encouraged Franck to concentrate on his own music and Franck consequently produced the album 'Oddity' with the aid of several guest musicians. The only way to truly appreciate Franck's music is to see him live. It is truly a marvellous experience. With various bandmates adding to the theatrics, Mary, (dancer,guitar and vocals), was shooting laser beams out of her fingers and reflecting them off of parts of her mirrored costume. She also sang wearing a large angel wing construction with lights for none other than a song called 'Angel'. The theremin dance was also extraordinary.
Franck joined in with various costume changes of his own and the whole show had almost an Alice Cooper feel to it. They are such an entertaining band. Add to that stunning musicianship and you have a show that will stick in my memory for years to come. I absolutely loved their humorous and quirky performance of 'Alice's Quirky Dream' from the 'Oddity' album. Gordon also felt that the drummer was excellent. They concluded their set with a completely beautiful acoustic number, one guitar and four harmonising vocals that ended with an acapella part that really drove home just how talented this band are.
So, why haven't we had a Lithuanian band yet? Oh! Wait a minute… The Skys have just hit the stage. Established on 10 November 1995 they have had a few changes of personnel over the years. They are now a five-piece performing their own unique form of progressive, alternative hard rock. They have performed extensively on the European continent at various festivals. Their most recent release was 'Colours of the Desert' in 2011.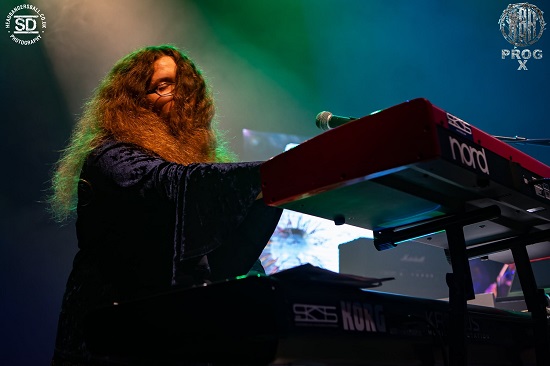 Huge proggy riffs are delivered with flowing precision as the march themed 'Atomic Minds' is skilfully recreated for an appreciative audience. Followed by 'The Guardian of the Water Tower' it is a fine start to their set. Bozena's keyboard playing is exceptional and evocative and compliments Johanas' at times structured, at time soaring guitar. An exemplary rhythm section is led by some extraordinary drumming from Ilja and pounding bass from Justinas. Subtle time signature changes are delivered seamlessly into their fine collection of numbers. They combine 'Wings Of The Night' and 'Walking Alone' to produce one great track. Their final song, 'When the Wind Blows', has a desolate American western feel about it. The Skys are a thoroughly entertaining band. Gordon felt that these were the best band of the weekend for him and thought they displayed driving keys with passionate guitaring
Another big name in the progressive rock field, Colosseum fuse blues with jazz to give their signature style. They first started playing in 1968, while having various breaks over the years they have repeatedly reformed, most recently in 2020. Their most recent three albums are all live compilations. Their last studio album was in 2014 entitled 'Time On Our Side'.
From the opening bars it could only be the mighty Colosseum. From the Hammond-style sound of the keys, so evocative of their '70s sound, to the soulful soaring sax. With a back catalogue of songs including 'Elegy', 'Blues To Music', 'Walking In The Part' and 'Lost Angeles', it should be a great night. The jazz and blues fusion that so defined their sound is still evident from the first bars to the culmination of their set. And it is a tour de force of smooth accomplished musicianship that you just want to kick back and relax with. That doesn't mean to say that they couldn't notch up the impact when they wanted to. Like all good rock bands, they create compelling musical landscapes. It is pointless to liken Colosseum to anyone else as they have become iconic over the years. But there are certainly musical nods to some of their peers, I am sure I heard a part in one of their songs that was quite reminiscent of Cream. All in all, Colosseum are a great example of the fact that their music is timeless and will never grow old.
One of the all-time great instrumental space rock bands, Ozric Tentacles' experimental approach has given them a distinctive and instantly recognizable sound. Formed in 1983 in Somerset they are a hard-working band releasing over 30 albums including last year's 'Space For The Earth'. Guitarist and founder member Ed Wynne has remained a constant amid numerous line-up changes.
Utilizing drum machines and arpeggiators to mould their sound and create that classic free festival space dance sound that they are so well known for, they are a formidable presence on the scene.
While I was aware they not everybody's cup of tea I really enjoyed the clever fusions of dub, psi trance, and space rock that the three musicians have become known for. The crowd at the front were soon enjoying themselves and moving their bodies to the irresistible beats. Ed Wynne is laying down nice guitar licks interspersed with atmospheric synths. Silas Neptune also on synths is triggering various samples and loops to add to the ever-changing vibe. With tracks like 'The Throbe' or '0-I' and 'Mooncalf' they are a unique band that has to be experienced first-hand. They generate a really powerful party atmosphere. They also incorporate various guests which also adds flute and more synths to an already heady mix.
What a conclusion to the weekend…. Mostly Autumn, since their formation in 1995, have very much forged their own path. Through constant gigging and inspired writing they have got where they are today without having to sign to a major record label. They have an epic take on progressive classically inspired Progressive Rock with big nods to fantasy writers such as J.R.R. Tolkien. I was lucky enough to get my hands on a copy of their latest album 'Graveyard Star' which is a deep and heartfelt documentation of the experience of living through the pandemic. I sit here hoping that they will play some of this incredible new material. Sadly, they will not be performing anything from this album tonight as it is not released until the 24th of this month. Having said that there is still quite a back catalogue to choose from.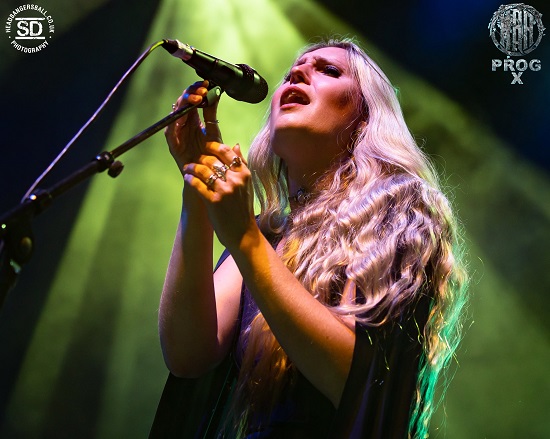 Mostly Autumn are arguably one of rock's best kept secrets and in my opinion should have a much bigger fan base than they have, particularly with the very high quality of their composition and their hard-working attitude to touring. They have an evolving and modern approach to progressive rock/metal and have at times linked up with members of other bands like Nightwish. I'm not going to say too much more about that at this stage: check out my review of 'Graveyard Star' and get the album when it is released, you won't be sorry.
For anyone who has not seen Mostly Autumn they have a massive sound that is carefully crafted round poetic story telling lyrics. While Angela Gordon swaps between flute and keys Ian Jennings is the mainstay keyboard player, and they both wield intricate and compelling patterns around Bryan Josh's incredible guitar work. They flawlessly reproduce tracks like. 'Nowhere to Hide, and 'Into the Stars' and 'Forever and Beyond.' My favourite song of the night was however 'Evergreen' as it really shows off Olivia Spearman's astounding vocal capabilities. The only downside to a memorable night was that they did not have time to do an encore despite the crowd calling for one. Great band, superb night, let's hope Mostly Autumn return to Sheffield soon.
And, so, concludes another fantastic experience that was HRH Prog X. It has been an exciting weekend with so many memorable bands, in fact there wasn't a bad band amongst them. I am already looking forward to the next event.
Photo credit: All photos taken at the O2 Shepherds Bush Empire on Sunday 5 September and © Simon Dunkerley/Hard Rock Hell. Copyright remains with the photographer.
HRH Prog XI, headlined by Rick Wakeman and Wishbone Ash, takes place at the O2 Academy in Sheffield over the weekend of 2 and 3 April 2022.
All written and audio content © Über Rock. Not to be reproduced in part or in whole without the express written permission of Über Rock.