By Bona Pjarren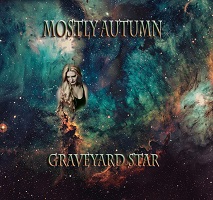 I have been aware of Mostly Autumn for about twenty years after seeing them perform at The Boardwalk in Sheffield, sadly no longer open. They made a lasting impression, as even back then they were impressively epic. I bought their album 'The Spirit of Autumn Past', I was so impressed.
I was somewhat excited to get my hands on the new album, 'Graveyard Star which was conceived in 2020 and represents the heartfelt documentation of living through the pandemic of the last 18 months; and, yes, it is very moving, from the slowly building massive initial track 'Graveyard Star' to the poignant and beautiful piano introduction to the evocative 'Turn Around Slowly'. As well as that there are guests in the form of Troy Donockley of Nightwish and Chris Leslie of Fairport Convention. Listening to the album, I definitely noticed the Nightwish influence. I have to say, great choice of guests, that was inspired. I suspect I may well have to listen to this a few more times to really comprehend the full wonder of this master work. To put this in context I am also a radio DJ and have in the past given some tracks from other bands only a cursory listen. I am on my third listen of this album already, that says a lot about its appeal. 'Graveyard…' is a 12-minute story and dare I say overture for this entire album. It is wonderfully crafted with addictive hooks and epic breakdowns that keeps the listener attention throughout the entire track. There is a definite element of Pink Floyd to this track.
I immediately liked 'Plague Bell', it's only two minutes long but a nicely crafted piece of atmospheric rock/metal. Mostly Autumn do bring some very modern aspects to the traditional progressive rock of days of yore.
I was then transported into a cowboy western feeling track called 'Skin of Mankind', which sounds out of kilter with the album so far but strangely works as it also combines a classic traditional folk feel to another moving track, I'm guessing this is the Chris Leslie connection. And the ever soaring female vocal, oh my god! What a track. 'Shadows' certainly has its work cut out to top 'Skin of Mankind'. It does give a bit of breathing space but continues the intensity with the epic Hammond organ sound. I am increasingly taken back to the first time I heard 'Dark Side of the Moon' or 'The Wall' because it is a concept album with each song a part of an intricate jigsaw of storytelling and emotion.
'The Harder That You Hurt' couldn't be anything else but a heartfelt ballad with the delicacy and durability of Jeff Wayne's 'Forever Autumn'. Continuing that theme, the next track, 'Razor Blade' is a compelling, almost acoustic, track, the sparseness of which adds to the melancholic feeling before again building with well-crafted vocal harmonies into something much bigger. I have to say I still have not heard a bad track… no album fillers on this.
'This Endless War', with its E bowed sounding guitar intro, played by Bryan Josh I'm guessing, leading into another delicate piano piece, really twists the knife into my soul; the whole album has brought numerous tears to my eyes, and I felt myself welling up on more than one occasion such is its power and beauty. It's been a cathartic experience.
'Graveyard Star' is a maelstrom of feelings that carefully guides you through sadness and moments of elation amongst other emotions. As shown by 'Spirit of Mankind', a defiant track that marches bravely forth spreading an aura of hope. 'Back in These Arms' continues the hopefulness and is full of love. Unashamedly it stomps through the intricate storyline. And, again, it is cleverly filled with hooks and levitates to a point where the Irish pipes take it to a whole new level. I absolutely adore this track.
'Free To Fly' seems like the only track that they could have followed 'Back In These Arms'. It has a musical box feel and it is heart rending and uplifting at the same time. 'The Diamond' really needed to up the tempo and it does with its simple but compelling acoustic guitar and single female vocal setting the scene before slowly building again into something epic that reminded me in parts of Clannad in their heyday. It also reminds me of 'Imaginarium' by Nightwish, as there is not a bad track on that album either.
'Turn Around Slowly' is the final track and it is a 12-minute finale with almost a Tony Banks (Genesis) feel to it. There is a hell of a lot to take in on this album. I think I would just like to sit down quietly and read the lyrics on their own without the music as there is some lovely poetry being exhibited in this masterwork, particularly on 'Turn Around Slowly'.
While the album 'White Rainbow' was nominated for The Progressive Music Awards in 2019 I think this album certainly tops it. All the musicians are obviously at the top of their game this and it is a triumph in so many ways. You can be the best musician in the world, but this album is greater than the sum of its parts. Mostly Autumn were rated as one of the top 100 best progressive rock bands of all time: I think its fairer to say they probably rate as best in the top ten on listening to 'Graveyard Star'.