By Jim Rowland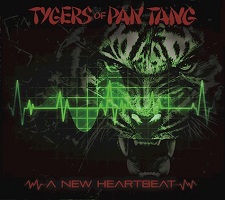 There are few names more synonymous with the New Wave of British Heavy Metal that the North East's Tygers Of Pan Tang, with albums like 'Wild Cat' and 'Spellbound' up there with the best of the era. That original band may have disbanded a long time ago now, but guitarist and founding member Rob Weir has been keeping the Tygers flag flying with differing line-ups since first re-forming the band back in 1999. As we hit 2022, the Tygers are back with a new guitarist, Francesco Marras, a new bass player, Huw Holding, and a new EP, 'A New Heartbeat', that contains both something old and something new.
Title track 'A New Heartbeat' contains many of the trademark Tygers traits – a hard hitting, traditional heavy metal attack complemented by a vocal, courtesy of now long-standing vocalist Jack Meille, strong on melody and with a very strong, catchy chorus. 'Red Mist', the other brand new track on offer here, is a harder hitting heavy metal belter, perhaps not quite hitting the same heights of the title track as a song, but very decent never the less.
Joining these two brand new tracks are two tracks that will be familiar to Tygers fans of old. 'Fireclown' and 'Killers' are perhaps two of the lesser celebrated tracks that originally appeared on the debut Tygers Of Pan Tang album 'Wild Cat', back in 1980. Here they get a contemporary re-recording with the current line-up, and certainly highlight what a good vocalist the Tygers have in Jack Meille. It may be because I'm very familiar with that debut album from all those years ago, but the attack and sheer quality of the trademark Tygers riffs in both tracks may be something that is slightly lacking in the new material to a certain extent. Having said that, the new material on offer here, especially 'A New Heartbeat', show that today's Tygers still have plenty to offer in terms of new material, and having seen them live, there's no doubt at all that they are still a very potent live proposition.
The 'A New Heartbeat' EP comes initially as a digipak CD and will only be available in physical form from the Tygers website and directly from their record company Mighty Music/Target Group. A vinyl version will follow, with a world wide release scheduled for next month.
'A New Heartbeat' is released on 25 February. You can get your copy HERE.
www.facebook.com/tygersofpantangofficial
All content © Über Rock. Not to be reproduced in part or in whole without the express written permission of Über Rock.