By Jonny Bakes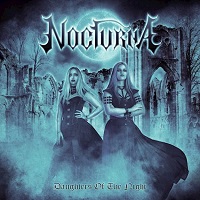 Duality is today's word of the day as I get to grips with up-and-coming new band Nocturna who are set to unleash their debut album 'Daughters Of The Night'. Founded by the mastermind Frederico Mondelli (Frozen Crown/Be the Wolf), who provides the artwork for the album but is not a performing member, Nocturna's key focus is the combination of the two vocalists – Grace Darkling and Rehn Stillnight. Rocking a heavily symphonic influenced style that promises to appeal to fans of Nightwish and Within Temptation combined with the pedigree backing of Mondelli, there's enough here to convince me to dive in and check it out.
The first thing that stands out is that there is a clear focus on the vocal strengths of the two vocalists which dominates the songs and it is clear that it's this that draws the comparison to the likes of Within Temptation. At times they will harmonise together and at others they will work independently to bring different aspects to the tracks which gives a decent variety.. What this does mean is that while all of the songs broadly fit into the symphonic metal banner, each one takes a very different slant on genre ranging from the more epic to the soft and melancholic.
However, there are times when this doesn't quite work for me. It was the second track 'New Evil' that really rubbed me up the wrong way, almost to the point where I didn't want to continue. Now I don't know whether it was a product of the equipment I use (although I suspect not as the rest of the album sounded fine) but the way that the voices are combined in this track creates something that was almost tinny and grating, a bit like nails on a blackboard. Fortunately, I did persevere to find that this was not a running theme for the rest of the album, but it did leave a bit of a sour taste that I couldn't shake.
Putting that to one side though, the rest of the album had a good balance of highs and lows that gives a great opportunity to see the different sides of this relatively new band. For me, the tracks that placed focus on the Grace and Rehn independently were the more pleasing ones, and I wasn't quite so keen on the ones that tried to combine them too closely as I felt the combination was not as strong as the sum of its parts. But what we do need to remember is that this is a debut release from a band that are trying to shake things up a bit, and there are aspects here that are genuinely exciting so I would consider Nocturna worth keeping an eye on as they develop moving forward.
Fans of symphonic metal could do a lot worse than to check out 'Daughters of the Night' and I expect that their strong imagery and branding will draw attention from across the metal sphere. But for me, it's not something that I can see myself adopting into my record collection just yet as it just didn't float my boat, sorry!
'Daughters of the Night' is released tomorrow (Friday 21 January). You can get your copy HERE.
www.facebook.com/officialnocturna
All content © Über Rock. Not to be reproduced in part or in whole without the express written permission of Über Rock.