By Jase Walker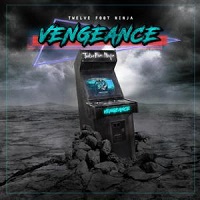 So far, 2021 has seen some absolutely fantastic releases this year with many bands finding time to mess with often more eccentric ideas over the course of 2020's pandemic lockdowns affecting many countries around the world, but definitely none more so than Australia. Genre-bending Aussies, Twelve Foot Ninja returns with their third full length album, 'Vengeance', an album that's been teased for a while with a slew of bizarre music videos to support their singles.
It's no secret to many who know me personally that I am a very big fan of these guys, it's been a long time since 'Coming For You' caught my attention with its smash cuts across different genres yet somehow maintaining coherence and 'Vengeance' is absolutely no exception with their fusion of different genres in the same songs.
The album begins with the two main singles they'd released prior to the whole album, 'Start The Fire' and 'Long Way Home' (the first of the releases to win our #VideoOfTheWeek award), both showcasing the deft ability to change gears and keeping things interesting along the way. Cutting riffs into NIN territory? Check. Face melting breaks into lounge jazz and then mixing it up with a bit of reggae? CHECK.
This is by no means a formulaic sort of "heavy, then soft" set up, 'IDK' shows off a bit more of a jazzy side, of course with a couple of small heavy passages thrown in but it's more for effect than anything. Then with songs like 'Shock To The System' showing a more zany side of them with something that starts closer to Earth Wind and Fire before hitting those signature ripping TFN riffs and a bizarre spoken word passage.
By the halfway point you've already had a journey through all sorts of influences, because why not? These guys have got the chops to effectively use this sort of style without it feeling too much or disjointed which is nothing short of great. I mean even on 'Culture War', this song is angry and Slayer-ish in its frantic nature – but suddenly, Latin jazz? No wait, back to groovy riffs, what a ride!
One of the final tracks that really stands out, only because it's a surprising collaboration that I wouldn't have expected by any stretch, which is Tatiana Shmayluk from the rather brilliant Jinjer guesting on most recent single – and their second #VideoOfTheWeek award winner – 'Over And Out', a collaboration which I believe came about when they both met each other playing on the same stage at Download Festival in 2019; it's a banger.
The one thing that definitely stands out with this album also is how well the mix is done, nothing seems too loud, every niche is occupied well to the point where I can even pick out what the bass is doing amongst the busy guitar and drum work and Kin's vocals sound better than ever and if I wasn't living in an apartment complex with paper walls, i'd be cranking the volume up on this as far as I could bloody get it.
On the whole, this album is definitely what you'd expect from Twelve Foot Ninja if you've heard any of their previous works, and more than a worthy follow-up to 'Silent Machine' and 'Outlier' and I can't wait to hear these new tracks live and maybe pester Stevic a bit more about his fascinating Shuriken guitar.
'Vengeance' is out now. You can get your copy HERE.
Twelve Foot Ninja play a series of eight shows in the ÜK and Ireland in February.
www.facebook.com/twelvefootninja
All content © Über Rock. Not to be reproduced in part or in whole without the express written permission of Über Rock.