By DJ Monk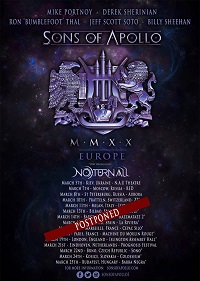 Prog rock supergroup Sons Of Apollo have pulled the remainder of their current European tour, due to the ongoing coronavirus (COVID-19) crisis.
In a comprehensive statement on their Facebook page, the band – who had performed just three dates on the tour and were due to play in Ukraine tonight (Thursday 5 February) – said:
"Sons Of Apollo are absolutely devastated to announce that we have no choice but to stop our currently ongoing tour in Europe, Russia and Ukraine and postpone the remaining concerts.
"The Corona Virus epidemic has escalated to a point where governments have decided to shut down venues, restrict events, limit flight destinations, with no certainty for us and our promoting partners and that our shows can be guaranteed to happen.
"Obviously these European wide emergency precautions have been taken to protect the safety and health of all fans in attendance and artists and crew alike. We do agree that this is a time where health comes first and we will not endanger band and crew, nor fans.
"Furthermore, on top of the potential health implications and obstacles, the economical impact and potential financial risk for a tour from overseas like ours has forced us, to take action to limit the possibility of devastating financial losses in such a force majeure situation.
"Nobody is more disappointed then we are in this moment… We are really looking forward to playing each and every show once the situation has cleared, as the momentum and excitement we experienced at our two sold out opening nights in Germany and our shows in Norway and Sweden have been by far the best the band has ever experienced!
"We will ABSOLUTELY be rescheduling these dates as soon as it is safely possible to return. Details of honoring existing tickets and refunds will be announced locally. Procedures for existing VIP package holders will be announced on SOA website and our social media
"Thank you for you understanding and we see you as soon as we possibly can!"
At this stage, it is unclear if any other current or scheduled tours are affected, although it is almost inevitable that there will be cancellations as the virus spreads. Obviously, we are keeping a close eye on the situation, and will update our readers with developments as and when they occur. It is also unclear if there will be any effect on major festivals, if the crisis continues into the summer, although it is almost certain that should the situation continue as it is such events may well be in jeopardy, especially in light of the latest UK Government action plan published earlier this week, which refers to reducing large-scale events as part of possible "population distancing strategies". Über Rock has contacted a number of UK festival organizers to ascertain their thoughts, and again we will bring you updates as and when we get them.