By Monk
ÜK prog legends Marillion have announced a string of dates for November 2021.
Dubbed the 'Light At The End Of The Tunnel Tour', dates are as follows: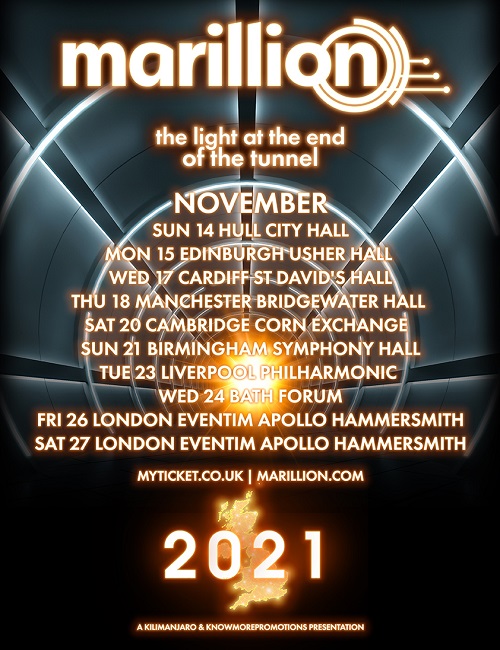 The first of the Hammersmith shows will be an all-seated affair, with the second date standing. Tickets for all shows go on sale this Friday (23 October).
Marillion vocalist Steve Hogarth told us:
"We're currently writing album number 19 and, as you might imagine, looking forward with every sinew to getting back on the road and playing it to you. Not as much as my wife's looking forward to getting me out of the house though…
"We are extremely fortunate, we had set aside this year to make our [new] studio album and so we saved up a bit and we budgeted for a year on the ground, before this plague broke."
Keyboard player Mark Kelly also spoke to us about the success of last month's Couch Convention, which saw them take their annual fan get-together online and raised more than £31,000 for the band's crew ho, like so many others, have not worked since the C-19 pandemic hit this past March:
"What a weekend it was! We were totally stunned and knocked out by everyone's involvement in everything that went on, from Steve Rothery's late night cocktails to Pete's bass masterclass, Ian's drum Q&A and my early morning fun run and all the music, chat and fancy dress in between.
"It was fun for us to be in the audience, too, reading and reacting to all your comments as the shows were streamed. The crew tip-jar was overflowing with your generosity, you raised a substantial sum for our wonderful crew. The money will go a long way to helping them survive a difficult year. Thank you!"