By Monk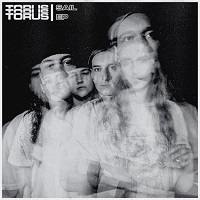 I've been to Milton Keynes. Once. I went to see Marillion play in a field that passed itself off as a stadium… and that wasn't yesterday. And, to be honest, since I left the next morning, I've never really felt any inclination to return. However, in the intervening years, MK has produced some rather damn fine rock 'n' roll exports, which has meant that while I may have no inclination to visit their birthplace they seem more than willing to head in my direction. Power duo Torus are the latest such exemplar…
The opening, title, track of this, their well-worked debut EP, very much ploughs a post-grunge furrow that looks very firmly over to its shoulder to Nirvana, while follow-up 'Did It Again' re-affirms that legacy with a very Foos vibe to its main riff and vocalist Alfie Glass' intonation, which also reminds of a cross between Matt Bellany and Josh Homme, the latter comparison emphasized even more by the track's slightly stoner-ish background feel, especially in Harry Quinn's dense bass, which drives both this and the other three tracks forward with power and grunt.
The Nirvana comparisons are inevitable, especially when Glass asks "how long" at the beginning of 'Clone', evoking the spirit of Kurt Cobain in a way that is so eerie it could be the man himself reincarnated, right down to that country-style squeal he inflected at the end of each line and which Glass mimics to superbly surreal effect.
One thing which Torus know to do, and deliver to great effect, is build atmosphere, which is emphasized by the intro sections of 'Sail' and 'Clone', which deliver that all important sense of anticipation for what is to come… and that is a damn fine slice of retro-grunge which, while it may sail (sic) a little too close to the Nirvana mien for the comfort of many, nonetheless is a worthy opening salvo and one which will keep this reviewer interested in future developments.
'Sail' is out now. You can get your copy HERE.
Torus head out on the road at the end of July/beginning of August. They then play the New Blood Stage at Bloodstock on Sunday 14 April.