By Jase Walker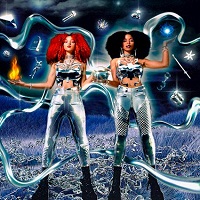 Provided you haven't been living under a rock for the past couple of years, chances are you'll have at least heard of Nova Twins or saw their name pop up somewhere. For me, my first contact with them was a feature on Bring Me The Horizon's 2020 EP, 'Post Human: Survival Horror' on the track, '1×1' and I got my first taste of their live show back in 2021 as the opening act for Enter Shikari's ÜK tour on their Manchester date.
The pair absolutely blew me away with their ballsy funk/punk-styled sound which carried the same sort of raw energy delivered by the likes of Rage Against The Machine or Beastie Boys yet very distinctly draped in the brash London punk vibe.
So, imagine my joy when I'm offered the chance to get my teeth stuck into their forthcoming album before anyone else, how could I possibly resist? The album clocks in at 11 tracks, with one being the opener so essentially ten songs…
After a brief intro of 'Power', it's time to get right into 'Antagonist' and that grinding synthy bass is massive, drums are meaty but my god that chorus, it's every bit as pop as it is punk. How could you not want to jump up and down to this live? Catchy as hell too, no qualms about using effects to flesh everything out too, off to a great start already.
'Cleopatra' leans a bit more heavily into the hip hop/RnB side of things with an infectious beat to boot, again the chorus is a complete earworm, Nova Twins putting on full display that they know how to live in your head rent free. In a word? Bombastic.
'K.M.B' leaning much more heavily on the synths against massive slamming drums, having seen these live it's really crackers that they manage pulling off songs that sound like this without much extra backing. Only on the third actual song on this album and we're still going full speed with the bangers.
'Fire & Ice' going all in with charged feminine energy, kicking and screaming at being told to fit in a small, tight mould when they want to do whatever the fuck they want. Also, my God, that breakdown towards the end. I've seen bands that love waxing lyrical about being brutal but a breakdown like this is insanity fuel.
'Puzzles' pulls back with that dirty riffage that would make Tom Morello gurn something awful. Dark, atmospheric but above all, heavy as shit. The thing is with the album so far is every song is incredibly dynamic, rarely sitting on anything that'd be close to repetitive, every part has a reason to be there, and it oozes style.
'A Dark Place For Somewhere Beautiful' is an abject maelstrom of raw attitude and noise that genuinely makes me want to see these on the same bill as someone like The Prodigy. Something about that bass synth lead just going bloody nuts on the chorus makes me feel the same way that Prodigy's 'Diesel Power' does and I just want to slam my feet into the ground to the tune so hard it makes my shins hurt.
Passing the halfway point, we're into the final few tracks of what's been a fantastic album so far with 'Toolbox' and the juxtaposition of the verses against the chorus is a change in speed so drastic it'll give you whiplash. A chorus so outright angry that it makes some of the riffs I love Northlane for seem almost tame!
'Choose Your Fighter' channels a bit more of that Prodigy energy I mentioned earlier. There's something about the way that the bass guitar gets made into such a strong, meaty synth lead for a lot of their songs is incredibly characteristic of Nova Twins writing on this album.
As we near the final track of the album, the step before is 'Enemy', another fine example of Nova Twin's outstanding chorus writing going straight for the jugular. The riffage in this song easily rivals even the biggest names in metal and if you think for a second that Nova Twins aren't going for the top then they'll be flying up the ranks so fast it'll make your head spin.
The album finale of 'Sleep Paralysis' feels slightly more at odds with the rest of the album and I suspect this might end up being a bit more of a sleeper hit for them if they play this live frequently enough. Something about the super funky chorus mixed with heartbeat sounding kick drums is a hell of a mixture, incredibly catchy and I do hope this makes it into their sets going forward, I think it's my favourite song on the album!
Listening through this album it's pretty plain to see that Nova Twins are onto something incredibly unique and ferocious. I don't doubt for a second they'll be doing a hop, skip and a jump to much bigger venues over the next couple of years and I feel like this is going to grow into a far greater cultural phenomenon than I think most are anticipating.
An absolutely outstanding album, which will be on my repeat list pretty solidly when it drops!
'Supernova' is released on Friday (17 June). You can get your copy HERE.
Nova Twins play three headline shows in November, at St Luke's in Glasgow on Thursday 10, the Academy 2 in Manchester on Friday 11 and the Electric Brixton on Saturday 12.
www.facebook.com/NovaTwinsMusic
All content © Über Rock. Not to be reproduced in part or in whole without the express written permission of Über Rock.