By Monk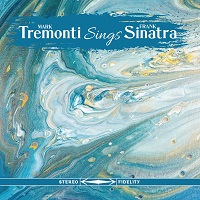 When it was announced that Alter Bridge guitarist Mark Tremonti was going to release an album of Frank Sinatra covers, many in the rock and metal communities undoubtedly drew a deep breath, scratched their receding hairlines and wondered what the actual feck to expect. Was he going to do a Pistols and punk up 'My Way'? Was he going to replace those glorious horn sections with crashing guitars? Well, the questions were answered when Tremonti first teased the album with an incredibly faithful cover version that showed a completely different side to the man: a man dedicated and defiant in his consideration of one of the greatest showmen of the 20th Century.
I must admit that, like Tremonti, I'm a massive Sinatra fan. I have original pressings of more than 20 of his albums, not that I dare ever play any of them (that right is reserved for the cheap re-issues or CDs), so I approached this release with some degree of trepidation. After all, next to Elvis the godfather of Vegas is one of the most imitated and incinerated artists of all time. But, I need not have worried, as what Tremonti has produced is something that is not only faithful and worthy of appending the Sinatra name to it, but something which showcases an artist himself not afraid to push both his own boundaries and our expectations…
Of course, the big Ol' Blues Hit are all present, from opener 'I've Got You Under My Skin' through 'Fly Me To The Moon', 'Luck Be A Lady', to 'Fly Me To The Moon', 'That's Life' and, inevitably, 'My Way'; but Tremonti is not afraid to explore the deeper cuts and, indeed, some of Sinatra's more difficult tracks, songs that imitators such as Harry Connick Jr and Michael Bublé haven't dared approach…
But, maybe that summarizes what Tremonti has done his entire career, having already stepped out of the shadow of not one but two charismatic and extremely different vocalists and take them on at their own game (and, IMHO, beaten them). Hence we get gems such as 'Wave' (later re-imagined by different composers in 'Girl From Ipanema' and the horrible 'Itsy Bitsy Teeny Weeny Polka Dot Bikini', both of which are referenced in Tremonti's interpretation), the beautifully poignant 'Nancy (With The Laughing Face)' and a cheekily vibrant 'You Make Me So Young', each done with subtle little twists that emphasize Tremonti's desire to do things… well… his way.
While 'TSS' is very much a tribute to one of the greatest crooners of his or any generation, it is no mere "tribute album". A more appropriate description would be an homage to an incredible, timeless talent, delivered with a genuine love of the man and the music he brought to life. Tremonti's attention to detail is precise: he recorded the album in the same studios in which Sinatra recorded the originals, with his musical director and the surviving members of his band, with Tremonti warming up his vocal chords in the same dressing room as the great man himself.
This is a bold step, but one which is rewarded by its bravado. Hopefully it is not a one-off, as what it also serves to do is prove how good a singer Mark Tremonti really is. His tonality is spine-tingling in places. Mark Tremonti is an incredible artist and talent in his own right, but if he was decide to ditch his guitar and louche around back street bars with an untied dickie bow telling drunken women how easily he falls in love and begging luck to be a lady, then I'd be propping up the end of the bar with a ridiculously priced cocktail in hand every night.
'Tremonti Sings Sinatra' is out now. You can get your copy HERE.
Tremonti return to the ÜK and Ireland later this month: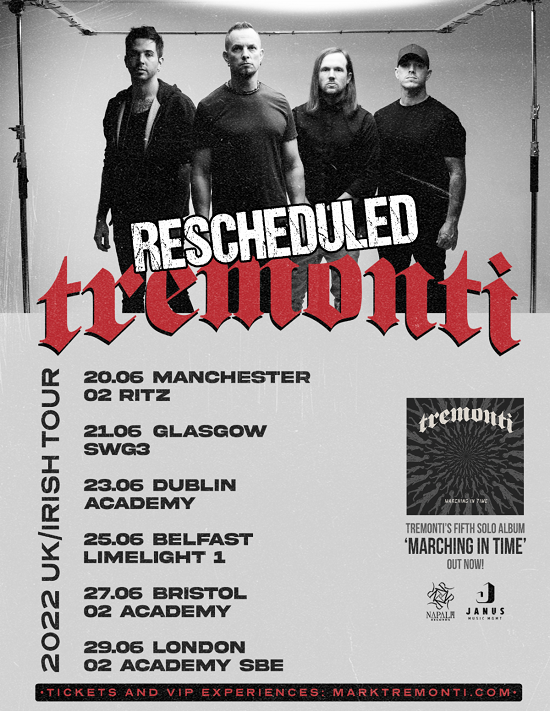 All content © Über Rock. Not to be reproduced in part or in whole without the express written permission of Über Rock.