By Jonny Bakes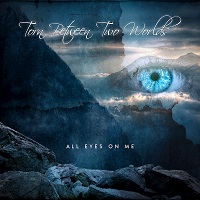 Cast your mind back to 15 years ago when the debut album of metal project Antgoria, 'God Has a Plan for Us All', was unleashed unto the world. It was the result of the joining of two significant forces, Sarah Jezebel Deva (Cradle of Filth, Therion) and Chris Rehn (Evergrey), and was full of symphonic gothic promise. Unfortunately, as with many things, life just sort of got in the way and we were left waiting for a follow up to that album, but now the wait it is over…
Joining forces once more, and bringing with them a tease of a release featuring two new tracks, they're most definitely back but this time sporting a different name – Torn Between Two Worlds. And what a return this is, the pairing of Sarah's vocals and the Chris synthesizer mastery once again produces something pretty special. There's an interesting juxtaposition between the relatively fast-paced symphony and the gentle and serene vocals that results in a pretty chilled out vibe.
'The Beauty of Deception' has already been out on the streets for a while and is the opening track of this release but for me, it's the second track that really hit me hard! 'All Eyes on Me' starts out with a gentle piano melody before launching into a pretty hard-hitting symphony, rich with synths and hard-hitting drums. The vocals come across really melancholic and drop some pretty hard-hitting truths too, like "time waits for no man". There was just something about this track that absolutely resonated with me in a way that's almost hard to explain. With the sheer amount of passion that is portrayed in this song it's hard not to get caught up in it.
Overall, it's a very welcome return for this pairing! I just hope that we don't have to wait another 15 years before we get any more new music from Torn Between Two Worlds as it's clear that none of the magic of Antgoria has been lost over this length of time. I can quite happily listen to these two tracks on repeat for a little while yet just to tide myself over. This will appeal to anyone who is already hooked on Sarah Jezebel Deva's vocals through any of her previous projects and for those that aren't, I can imagine this will appeal to fans of Delain and Leaves Eyes too.
'The Beauty of Deception'/'All Eyes On Me' is out now. You can get your copy HERE.
www.facebook.com/SarahJezebelDeva
All content © Über Rock. Not to be reproduced in part or in whole without the express written permission of Über Rock.