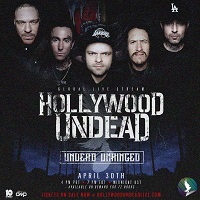 'Unhinged' is the second major live stream event to be held by the LA rock-rap band Hollywood Undead during lockdown. It follows their 'HU House Party' which was shown in December. The band have promised unprecedented intimate access to the band via pre-recorded interviews and commentary, special guests and a different angle on the usual in your face performances.
In true Hollywood style, the 'Unhinged' live stream begins with a 'pre-show' – a pre-recorded one on one chat with each member of the band. They talk a bit about their love for music and how much they've missed live shows as they drive around LA. It's been over a year-long lockdown and just seeing someone, even the crew, react to their music brings back the love of playing together. Now, they invite the fans to join them. So, as Johnny 3-Tears says: after being away so long "you gotta let everybody know what time it is…"
The stage bears the bands' adopted logo of dove and grenade, peace and war as Charlie Scene rips into 'Whatever It Takes', a song about perseverance and making it the hard way. He's never struck me as looking like a typical frontman, but as the gig goes on, I can see his talent, he has some vocal range. One by one the rest of the band end up on stage until by the end they all join the 'raise the hands up high' chorus. In a narrative afterwards J-Dog describes how the song came together in Venice on a day off drinking wine and free-styling to the beat.
Next up is 'Day Of The Dead', which Charlie quips emanated from being in the john and thinking of the lyric ''Hold on to your Holy Ghost''… Cheers, I really don't want this image in my head. There are some great riffs at the start of this and Johnny steps in with amazing presence and forceful lyrics. Don't know what Danny's on as he is completely bursting with energy. The band works really well together working the vocals between Danny, Charlie, Johnny and J-Dog.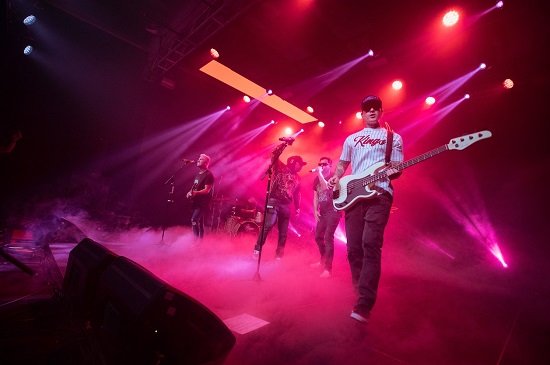 I begin to think there's a bit of a Twilight theme here as 'Bad Moon' comes on. More melodic and mainstream than some of the rest it reminds me a little of Five. Not the album, the band. I don't get rap-metal from this as Danny takes the lead. However, when Funny Man steps forward he's deadly serious. J-Dog tells the fans, confusingly, that he was listening to a lot of 'trap music' at the time (southern hip-hop) but when he says it reminds him a little of Michael Jackson I can see that.
Now the energy level increases tenfold for 'Another Way Out' and the band are getting warmed up as they jump around the stage together. It's a song that keeps your interest as it switches from melody to melody, winding up the energy. There is even a cheeky Rammstein reference flung in there by Charlie Scene: ''Du hast mich''. Apparently the Rammstein worship is a common thing for HU.
The ultimate party song 'Coming In Hot' about booze babes and ehm… bud encourages you ''If you got Jack in your cup just raise it up'' and the atmosphere, for a livestream event, is amazing. Danny, wearing the biggest shades around, is vibing but Funny Man owns the stage, up at the drummer, hands in the air. I can see how the crowd would go for this.
To big fanfare a special guest is announced for 'Undead', the song with the Ozzy riff (Crazy Train). The chat is hilarious as no-one seems to have a clue who the guest is. In the narrative, J-Dog explains the aggression in this song as directed at their old label Interscope and their then producer who shelved the band for a year over a disagreement on whether the album Swan Songs was ready to be released. They wrote 'Undead' as a "fuck you" – but, in retrospect, the experience led them down the path of the heavier industrial sound that they credit with being part of their success today.
This is where things get turned on their head. The cameras pan to a string quartet as happy sounding suicide song 'Bullet' begins. It strikes a chord with many fans who fill the chat with emotional comments, sending virtual hugs, sharing that they're crying, talking about how this song helped them through dark times. Sat on stools now (like Five) they perform 'Bullet' beautifully. The lyric "my legs are dangling off the edge" was in one of Charlie Scene's first lyric books.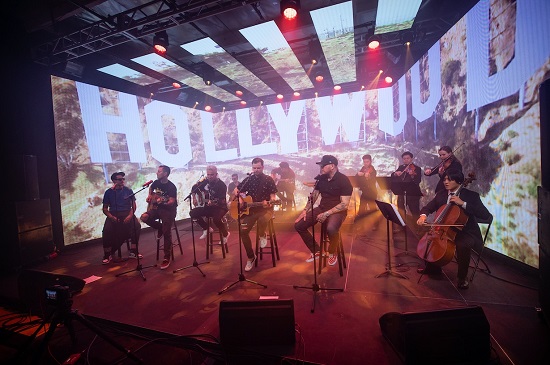 Float into the evocative 'Rain', a song the band have never played live before. Charlie and Johnny tell the tale of shared pain and learning to accept life. Life can be uncomfortable, accept it and embrace it because it cannot be outrun. J-Dog explains that it was part of the bands progression, one of the first songs they made that was not really aggressive. While Johnny talks about escape from or avoidance of pain being impossible and the realisation that painful times teach us valuable lessons.
Continuing with the acoustic set, 'Been to Hell' is a song about Hollywood, a community of ''self-serving transplants'' in Johnny's words, in which you are used up and discarded. Off the American Tragedy album where the band were trying to find their feet after a long break and under pressure to perform in terms of creating album two.
The smile on my face was almost as big as that on Funny Man's when the band next play 'Regulate' by Nate Dogg. They do an amazing cover between Charlie and Funny Man, even using the string quartet to their advantage: ''Next stop is the Eastsiiide Moteeeeyyylll''. Brilliant. Fittingly, Funny Man appears on screen to explain the cover, off his face on the 'incredible edible' and near horizontal on the couch. 'Hear Me Now' is followed by Creedence Clearwater cover 'Have You Ever Seen The Rain'. Charlie used to be in several cover bands and rates CCR as his third favourite band after the Beatles and Tom Petty. Cut to Funny Man: "why wouldn't we choose that shit to be a cover man…everyone loves that shit! And if you don't, you're square". Haven't heard the use of that term since secondary school. Loving it.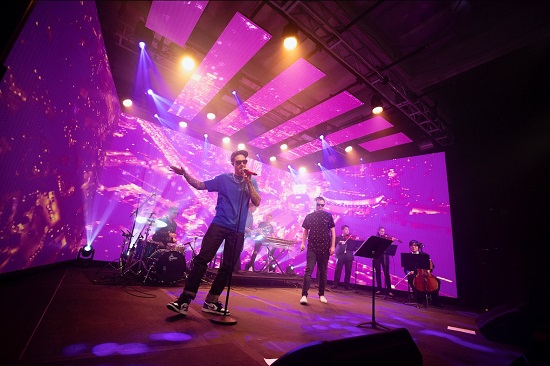 I've loved this bit of the set, but now the volume is racked back up as the band launch into 'Dead Bite' (See, you can't escape the twilight references…). The band are happy to be back on their feet and they're on fire. Everyone's energy is up. It's a fun, in your face song, if you're not too poker faced. A chance for the band to ''cut loose''. Johnny explains that Hollywood undead go their own way musically, love it or hate it.
'Gravity' is about the way people hark after the past despite looking to the future when young while 'Levitate' is a real rock song with multiple meanings. The girls are salivating when Danny screams 'I can make your body levitate if you let me' eyes straight to the camera, but it's a song about cocaine. Cracking song. Pardon the pun. 'Coming Home' is an emotional one about coming back to people you truly care about. Who are you really, a musician or a family man? It's about being torn.
If you're going to end, why not do it with some debauchery. Make it interesting. 'Everywhere I Go' says J-Dog ''Was written in my sleep when I was 18''. Whatever, hen. Based on the doors 'Five To One' Charlie wanted to write a party song with a similar driving beat. Think that possibly that's where the similarity ends, but being a fan of the Doors myself… respect where due.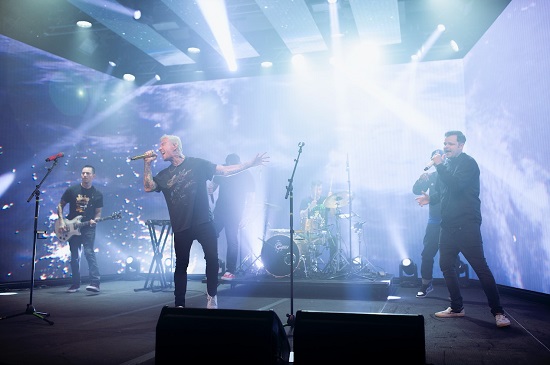 At the end of it all, the band have delivered nearly two hours of live footage for those who bought tickets. They've given fans the old, in the box Hollywood Undead and the new. They've shared their stories, they've taken it out of the box and in the end they tore that box apart (CCR!). The fans in the live chat are completely 'stoked', as stoned Americans might say, with the performance. Although many of them are women screaming about how 'cute' one or other of the band members is, others are busy laughing at Funny Man's antics in the background while the majority are still trying to work out who the special guest was in 'Undead'. He screamed well is all I know. There's an appreciation for the acoustic aspects of the set as well as the opportunity for nostalgia. It's been a really good night.
I can't help but think that despite the stories about where they're from, the gang lyrics about ''pulling out the nine'' and the obsession with weed, cocaine and 'ladies' that they come across visually like a bit of a boy band. All LA pretty, tan, tattoos and teeth, hands in the air. Some of the songs such as 'Day Of The Dead' or 'Bad Moon' can feel cheesy and disingenuous but to be fair Johnny addresses this perception of the band directly in the commentary, saying simply you haven't been where we've been you can't judge. You're not from where we are from and the image of Hollywood is a veneer. There's something else to consider… Like many bands, Hollywood undead has helped many of their fans through tough times. Many talk about being saved from suicide, about using the music to work through depression. To them, Hollywood Undead's music is serious and life changing.
Hollywood Undead are a band that you'll either love or hate but it has to be handed to them, they've put their all into this livestream. It was well thought out, performed with feeling and they shared their souls and their story with their fans. The masks are well and truly off.
PHOTO CREDIT: Photos courtesy of Cameron Nunez/Hollywood Undead. All copyright remains with the photographers.
All written content © Über Rock. Not to be reproduced in part or in whole without the express written permission of Über Rock.