By John Bedard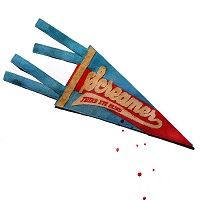 Third Eye Blind is a classic. Plain and simple. You would be hard pressed to find someone that has not heard 'Semi-Charmed Life'. Even people who are not fans of the genre will tell you that they still like that song. 'Jumper' was another song that pretty much everyone knew. Their sound was a staple of the time period. Instantly identifiable as the late '90s/early 2000s and what was good about music back then. Third Eye Blind fit right in to the music of the time then and they do now as well.
For some of you what I just said is great news and for others you may be cringing. You see, they fit in with the music of the time great. The time however has changed and so is what is popular on the radio. Just about every track here would fit right in between Selena Gómez and Taylor Swift on the radio. The same could not be said about these songs if it was still the early 2000s. It is good for a band to evolve and succeed in the current industry. However, if you were a fan of them before and have a hard time with modern pop like I do, then you will be disappointed here. If you love the music today and don't really know Third Eye Blind then you will probable enjoy this.
The music is comprised of rather simple repetitive beats with very simple, repeated lyrics. Most of the songs are about drugs and money, like most R&B these days. The track '2X Tigers' is even heavily auto-tuned. It is unfortunate that they sound like a totally different band than what we knew. I could see this being very successful with the teens of today but it is definitely not for me. Its not all bad though I did rather like 'Ways' and 'Take A Side' I don't think they are a massive stand out but they were decent.
In closing, this album is not for the fans. This album is made for today's market and as that it will fit right in. However, if you were looking for something that would remind you of the old days, of the band you once knew and loved, something like 'Semi-Charmed Life' you will be absolutely disappointed. Third Eye Blind is simply a different band these days. They are a band for now and that is good for them but unfortunately it might not be so good for the fans.
'Screamer' is released next Friday (18 October). You can get you copy HERE.
Third Eye Blind play the following dates later this month:
Monday 21 – Dublin, The Academy
Tuesday 22 – Glasgow, The Garage
Thursday 24 – Manchester, Ritz Manchester
Friday 25 – London, Forum Kentish Town
www.facebook.com/ThirdEyeBlind
All content © Über Rock. Not to be reproduced in part or in whole without the express written permission of Über Rock.