By Rich Hobson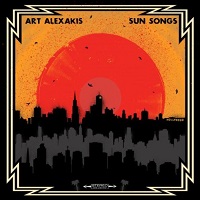 Striking out solo for the first time in a 30-plus year career, Everclear frontman Art Alexakis has opted for the bare bones approach on debut album 'Sun Songs'. Not quite acoustic, 'Sun Songs' nonetheless bears the hallmarks of the "one man and his guitar" approach, stripping away the punk-adjacent '90s rock angst of his main band to go for something that feels a little more reflective… kind of. See, Alexakis has never struggled to express himself throughout his career, Everclear's discography sometimes doubling as therapy and autobiography both as it exposes some of the biggest demons and instances that have beset him over the years. Instead, this is more like the spotlight Alexakis has always stood in now shines more intensely, offering less a snapshot of his thought processes and life and more a detailed portrait, warts and all.
Stylistically, 'Sun Songs' feels closest to the warm acoustic stylings of 'Song From An American Movie Pt. 1: Learning How To Smile', finding Alexakis in a similar space of seemingly wanting to move on and heal, shining a light on beauty while ugliness creeps in at the edges. Opener 'Sunshine Love Song' sets the pace early on, its gentle picked notes highlighting a short, sweet and inherently fragile sentiment that prevails throughout the record. There's no bluster or artifice here; this is simplicity set to a guitar, pure expression with little thought put to putting on a production.
Even when getting away from the straight-up singer-songwriter set-up (introducing a full band set-up, as with 'California Blood') this record feels entirely unencumbered from the usual nous of trying to get the right rock mix, instead focusing on the characters, feelings and scenarios each song concerns. It's not all simple guitar twiddling though; 'A House With A Pool' opens almost like a country ballad, its twanging guitars and stories of ne'er do wells striving for the good life (all related back in to its lovelorn narrator) about as close to Everclear as Alexakis cares to get on this record, not so much offering a light/dark contrast as something unerringly human.
Few songwriters can write with such a convincing nuance as Alexakis, fewer still without coming off as impartial entities. The truth is, Alexakis as narrator is every bit the character as the subjects of his songs, possessing his own opinions and setting the tone the whole way. This is expertly expressed on 'Orange', a song which sits somewhere between minimalist rock ditty and modern folk ballad – think Hamell on Trial meets Bruce Springsteen. Follow-up 'The Hot Water Test' takes a much more personal route to telling Alexakis' own story, in this case dealing with his recent diagnosis of Multiple Sclerosis, building a tale of warmth and support around the tale that turns an ostensive tragedy into a tale of enduring love and positivity.
And that's the beauty of 'Sun Songs' in a nutshell. Its songs don't possess the catchiest choruses, nor does it offer anything in the way of soaring melodies or crushing riffs; this is an intimate release concerned entirely with taking negativity and turning it into positivity, much as Alexakis has always done throughout his career. The choice to go down the solo route (playing every instrument while he's at it) also serves as further proof that Alexakis is determined to still do things on his own terms, whilst also reinforcing the inherent intimacy of the record. If 'Sun Songs' is Art Alexakis plain and simple, it serves as an affirmation that, 30+ years into his career, he still has plenty of yarns to spin, and an inimitable way of doing it.
'Sun Songs' is released tomorrow (Friday 11 October). You can get your copy HERE.
Art Alexakis plays the following dates next week:
Monday 14 – Manchester, Night & Day Café
Tuesday 15 – Norwich, Epic Studios
Wednesday 16 – London, O2 Academy Islington
Friday 18 – Glasgow, Broadcast
Saturday 19 – Birmingham, Actress & Bishop
Sunday 20 – Dublin, The Sound House
www.facebook.com/artalexakisofficial
All content © Über Rock. Not to be reproduced in part or in whole without the express written permission of ÜberRock.