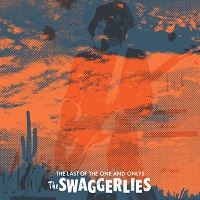 It was just over three years ago when The Swaggerlies released their debut song "All I Want for Christmas (Is To Be Left Alone)" and it pretty much summed up how a lot of people feel this time of year. Somehow it seems appropriate that almost exactly three years later, the Seattle rockers are back with a brand-new album 'The Last of The One and Onlys.' And though this time you won't find any holiday music, you will find nine punk rock infused tunes that show case the best of what The Swaggerlies are all about.
Formed in 2018 by Earle Thunders of Guns of Nevada and Ron "Rontrose" Heathman of Supersuckers, along with bassist Jeremy Leonard and drummer Rob Olsen, The Swaggerlies are definitely not strangers to the rock world. After a short tour in early 2020, they were definitely finding their groove and becoming a must-see live act when COVID hit, and The Swaggerlies' plans, along with the rest of the world, came to a screeching halt. As the band hunkered down and waited, they were hit with a devastating loss as founding member and legendary guitarist Rontrose passed away in August of 2020. The band took some time and after much consternation decided to press on and move forward with the new record. They enlisted "Captain" Ron Stohr of Jilly Rizzo and Swedish Legal System to take on lead guitar duties and a new iteration of the band began.
This all brings us full circle in a way to 'The Last of The One and Onlys', a brilliant and wild ride through crunching riffs and driving rhythms. The record is all about having fun with the opening track "Pretty Good at Being Bad" kicking things off. You're not going to find songs full of political strife and hidden messages here. Everything about The Swaggerlies is down to earth and their songs are a reflection of real life. From the hypersonic opening of 'Mannequin Bones' to the quintessential party song 'Drunk in London,' The Swaggerlies don't miss a beat with a raucous rhythm section and memorable melodic hooks.
Just when you think you have the band figured out, they throw in a few surprises like the instrumental 'March of the Swaggerlies', pure rock and roll cacophony at its finest or the more mid-tempo track 'One and Onlys', which is almost balladesque in nature. Closing out the record is the reflective 'Letter To A Friend,' a pure acoustic number which will pull at your heartstrings and have you shedding a tear or perhaps raising a glass to friends no longer here.
The Swaggerlies may not be reinventing the rock and roll wheel with this one, but they do a pretty good job at keeping that wheel rolling and the result is a fun, punk rock record that will stand the test of time.
'The Last of The One and Onlys' is out now. You can get your copy HERE.
www.facebook.com/profile.php?id=100063592445877
All content © Über Rock. Not to be reproduced in part or in whole without the express written permission of Über Rock.