By DJ Monk and The Dark Queen
Two iconic bands and one iconic venue. It had been just shy of 11 months since The Stranglers had last graced the stage of the Grand Dame of Bedford Street (and itself their second visit to Belfast in a little more than six months), and here they were again, kicking off the latest tour, on which they aim to prove that they are most definitely 'Back On The Tracks'.
In 2017, they had played a massive outdoor show, supporting Stiff Little Fingers at their 40th anniversary homecoming show. Last April, they had another group of local heroes, Therapy?, in tow. And they obviously like keeping good company on these regular visits, as this time around they are accompanied by a bunch of even more grizzled veterans, in the shape of Dr Feelgood, themselves returning to ÜR's home city after just seven months since their last visit.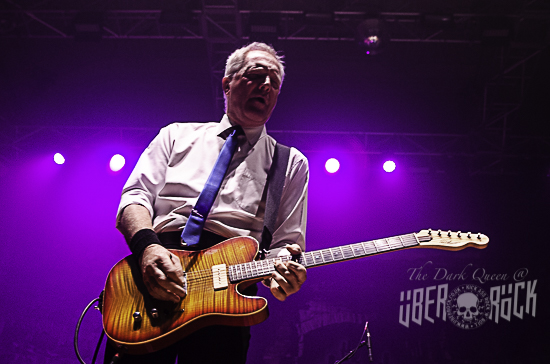 The arguments will undoubtedly continue to rage about the validity of a band without a single founding member, but the current incarnation of Dr Feelgood is currently celebrating a decade together – and one thing is for certain: they know how to put on a damn good show. And, that they do, as they display plenty of first night energy as they plough the band's copious back catalogue, going right back to the title track of their debut album, 'Down By The Jetty' for an early pop.
Frontman Robert Kane definitely knows how to work the big stage, covering almost every inch of its historic planks, and has an easy rapport with the large number of fans who have turned up early. "I want to hear you singing along," he encourages, and the crowd eagerly reciprocates during 'Back In The Night', 'Milk And Alcohol' and 'Down At The Doctors' before the singer apologizes for it being "a short set tonight – take it up tonight" before the band, tighter than a rusted nut on the Titanic's hulk, brings the curtain down, figuratively anyway, with 'Mad Man Blues' (even though Kane mistakenly introduces it as 'Give Me One More Shot' before correcting himself). There are a few comments afterwards about the perceived brevity of the set, but 45 minutes is a lot more generous than many support bands are allocated, especially these days: it maybe seemed a lot shorter because the band raced through it faster than Lewis Hamilton over the finish line at Silverstone.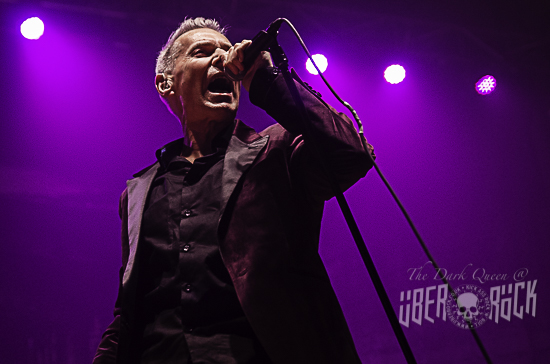 After what seems like an eternity of a half hour-plus changeover, that familiar organ swell swaggers out of the PA and into the now jam-packed arena, before JJ Brunel's massive bass sound washes over both the room and the faithful. The bass initially dominates the mix but by '(Get A) Grip (On Yourself), Dave Greenfield's keys have started to come to the fore, alongside Baz Warne's riffs, which stab and pierce as effectively as the house spots.
It's an eclectic set, as we are taken to the 'Baroque Bordello' where they 'Bring On The Nubiles' before returning 'Uptown' to enjoy some 'Peaches', the first massive pop and singalong of the evening.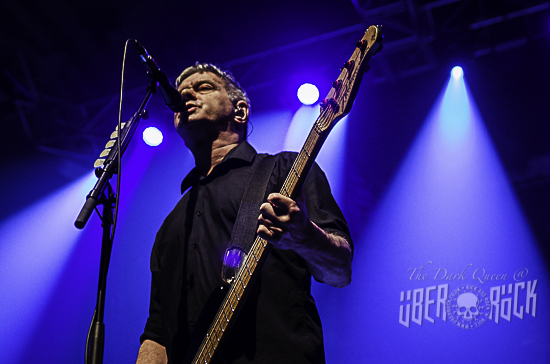 On last year's 'The Definitive' tour, The Stranglers had debuted a new song, 'Water', and in a recent interview Brunel had talked effusively about their plans to record their first album in seven years. So, it's understandable that more new material would be premiered this evening, and the first to come our way is 'Man On The Moon', which possesses a cool, cowpunk style swagger with a dark gothic tinge: however, it doesn't seem to please all of the fans, as a heckle of "bring on The Stranglers" is clearly heard at the back of the auditorium.
But, as they've already proven, they know they have to include the crowd-pleasers, and so, after encounters with both the 'Duchess' and the 'Princess Of The Streets', the next big pop soon comes in the form of 'Always The Sun', which produces another massive singalong which stretches right to the very back of the arena, before the unmistakeable opening strains of 'Golden Brown' turns this Victorian hall into a good old-fashioned ballroom of romance, complete with rotating mirror ball.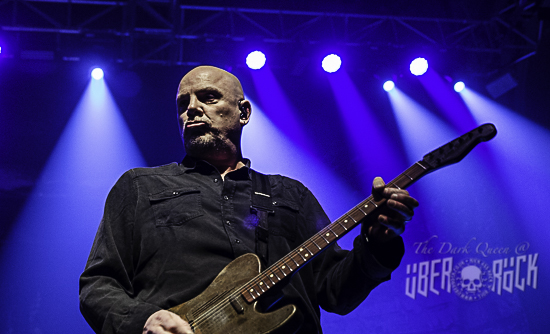 Even though the band seem to be in fine form and mood, and the songs are as immaculately presented as their trademark black suits, there seems to be something missing: they just seem unable to capture the energy shown by their support act, and Brunel and Warne are extremely static. Hopefully, however, it's just ring rust after four and a half months squirreled away writing that new material. Nevertheless, a world without the original men in black would be a much duller place indeed.
The 'Back On The Tracks' tour continues at Baths Hall in Scunthorpe on Tuesday (5 March) and then as follows:
Thursday 7– Aberdeen, Beach Ballroom
Friday 8 – Dunfermline, Alhambra
Saturday 9 – Glasgow, O2 Academy
Monday 11 – Nottingham, Rock City
Tuesday 12 – Reading, Hexagon
Thursday 14 – Newcastle Upon Tyne, O2 Academy
Friday 15 – Leeds, O2 Academy
Saturday 16– Birmingham, O2 Academy
Tuesday 19 – Gulidford, G Live
Thursday 21 – Southend, Cliffs Pavilion
Friday 22 – London, O2 Academy Brixton
Saturday 23 – Cambridge, Corn Exchange
Monday 25 – Bournemouth, O2 Academy
Tuesday 26 – Brighton, Dome
Thursday 28 – Bristol, O2 Academy
Saturday 30 – Manchester, O2 Apollo
The Stranglers also play the Wychwood Festival in Cheltenham on Wednesday 29 May, Caerphilly Castle (with Ruts DC) on Friday 5 July, the Kubix festival in Sunderland on Saturday 6 July, the Rewind Scotland festival in Perth on Sunday 21 July, the Rebellion festival in Blackpool on Friday 2 August and the Beautiful Days festival in Devon on Friday 16 August. They then support Alice Cooper on his 'Ol Black Eyes Is Back' arena tour in October.
PHOTO CREDIT: All photos © The Dark Queen/Über Rock. You can view our full gallery of photographs HERE.
All content © Über Rock. Not to be reproduced in part or in whole without the express written permission of Über Rock.