By Rich Hobson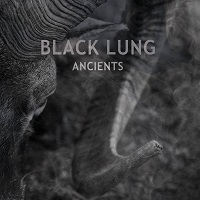 Stood in the increasingly fertile grounds between modern stoner/doom crossover and '70s rock revival, Black Lung's 'Ancients' is the exact kind of record that retro-lovers pine for right now. Produced by Frank Marchand, the record retains the kind of fuzzy imperfect quality that classic rock releases utilised to great effect, meeting this head on with massive, earth-moving riffs and cosmic vocalisations. Cast your mind back a couple of decades, to before stoner rock became an overly macho contest to see who could play the same damn riff the longest, and the first major wave of stoner was built upon such ardent rock n roll worship… And it was good.
Soulful, impassioned and just plain brilliant, those first bands set a precedent for what others could do with down-tuned guitars and monolithic riffs, limitations only coming later on when bands started trying to ape the formula of acts like Corrosion of Conformity or Kyuss. You'll find none of that mindless lip-service here; Black Lung come out swinging on 'Ancients' with a sound which draws on both the psychedelia of neo-60s acts and post-Sabbath heaviness to build a moon-temple of their very own, capturing the cosmic energy of a band like Monster Magnet whilst not becoming trapped in a cycle of replication.
'Ancients' is a sonic odyssey, going from the outer-space ethereal quality of 'Mother of the Sun' to more grounded rock fare further in the record on tracks like 'The Seeker' and 'Badlands', keeping the odd space-brain in to keep things from getting too one-dimensional. Only the band's second record, this still very much feels like a band finding their feet but doing so by exploring the wider grounds of classic rock canon. It comes off as exceptionally respectful and authentic, if a little hesitant to go full-strut just yet as the band figure out just how much swagger they can get away with without becoming a caricature pastiche of the larger-than-life excesses of '70s rock.
When done to the best of its ability, there is an almost effortless swagger that the band conjure which almost lets the record soundtrack its own seedy '70s movie. The opening riff of 'Voices' feels like it could come from a pulpy detective flick, while the general shape of the song takes on something more akin to Wolfmother in ploddy, sometimes-strutting rock fare. Too strange to ever stay tied down to one part of their sound, the band continually switch things up as 'Ancients' progresses, injecting their psychedelia in big doses to create a more amorphous image of what their capabilities are.
Though done admirably here, there is a suggestion that more extremes could exist on the band's litmus scale. The heavier parts never truly hit full earth-smashing levels, and the psychedelia is kept restrained enough that we never truly leave the tether of the band's earthy rock sound, the closest we get coming on 'Badlands' where the building atmosphere suggests an interstellar adventure waits just beyond the next jam session. In higher dosages, the expansive explosion that opens 'Vultures' could push a listener's comfort levels to the very edge before softening the blow on a softer verse. What we get certainly isn't bad – think Queens of the Stone Age/Mark Lanegan crossover, with all the soulful and powerful energy that such a combination entails.
Coming towards the end of the record, 'Vultures' brings the tone towards its dour, wailing conclusion, an effect which is carried off into the sunset by closer 'Dead Man Blues'. As the title suggests, there is an inherent sense of cowboys on the plain style Americana to the track, taking the blueprint from Lanegan and fellow doomy-bluesman Nick Cave and giving it a full stoner-band treatment, its expansive instrumentals building to a night in the desert haunted by mescaline dreams, the ethereal tones of guitar once again proving to be a highlight of the record, giving the band renewed vigour as they hit the final comeback and the music all comes together so much more potent than it did before.
As big as the adventure of 'Ancients' is, the true suggestion from this record is that it is just the start for Black Lung, the sound of a band moving from their comfort zone and starting to forage in territories they've only heard described to this point. It is a record which will please the purists and put a smile on the face of anybody who has been wondering where stoner's more jam-friendly elements went, particularly as so many of its tracks build to satisfying crescendos which hint at wider sonic experimentation – something the genre was originally built on but seems to have forgotten in recent times.
'Ancients' is released on Friday (8 March). You can order your copy HERE.
https://www.facebook.com/blacklungbaltimore/
All content © Über Rock. Not to be reproduced in part or in whole without the express written permission of Über Rock.