By Tim Bolitho-Jones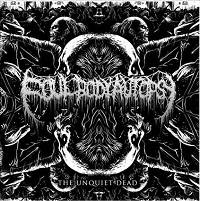 The band are called Foul Body Autopsy, they've released work on Grindscene Records, the cover art is black and white, and their logo is almost unreadable. So, it stands to reason that this EP will be a constant barrage of pulverising riffs and raw fury, right? Almost as soon as it starts though, expectations are dashed. It rides into town on a precision engineered guitar riff and the next ten minutes is a textbook exercise in the art of shredding.
It's all the work of Tom Reynolds, who could best be described as a bit like Jered Threatin, only he isn't making it up. He's a multi-instrumentalist from Leicester who handles literally everything himself; song-writing, recording, promotion…all of it. He's delivered two full length albums and multiple EPs in the past eight years, as well as playing Bloodstock and sharing stages with Thy Art Is Murder and Evil Scarecrow.
He's a dedicated metalhead then but is this any good? Well if you like gravel throated death metal with a rich melodic streak and perfect guitar work, look no further. These three songs are straight from the At The Gates/Black Dahlia Murder school of metal; high speed fretwork guiding the listener through a post-apocalyptic zombie nightmare of blood and horror. Reynolds clearly loves his pre-millennium Scandinavian metal, and this will go some way towards easing the pain of all the heartbroken In Flames fans yearning for the good old days.
Inevitably, it's over quite quick but as a taster for a full length it does the job nicely. If anything, this could be considered the dessert to last year's 'This Machine Kills Zombies' album and it does make a nice thematic follow-up. The fact it's been created from scratch by just one guy is impressive too. The living dead are overdone but there's mileage to be had from those rotting cadavers yet.
'The Unquiet Dead' is released on Wednesday (6 March). You can get your copy HERE.
www.facebook.com/FoulBodyAutopsyofficial/
All content © Über Rock. Not to be reproduced in part or in whole without the express written permission of Über Rock.