Words by Alison Hacker. Photographs by Mistress Of The Moonlight
Well once again me and my partner in crime head out into Liverpool on what is set to be a fabulous night. We are headed off to Liverpool's famous M&S Bank Arena (once known as the Echo Arena), here we are set to watch the man who is well known for his famous Robin Hood sound track – Mr Bryan Adams!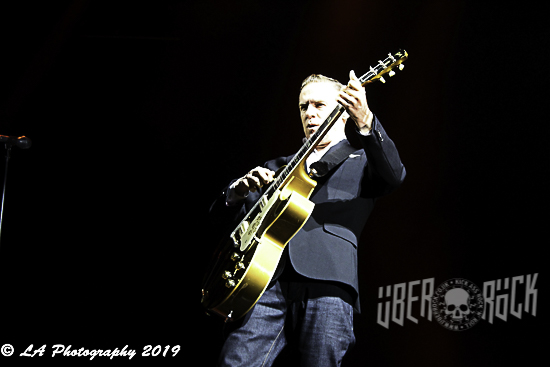 We are here to listen to his new songs from his 14th studio album 'Shine A Light', just released on Friday past via Polydor Records. Are we excited about this? Just a little! It's no secret that we are both huge fans of his and we wouldn't miss his show for the world!
As my photographer heads down to the pit, I take my front row seat with excellent view and await the start of the show. With a huge screen filling the back of the stage it shows us various promo shots of Bryan, the arena atmosphere beginning to buzz with excitement before the guys step out onto the stage.
With no support acts the guys kick off the night with 'Ultimate Love', a song from his 2017 album 'Ultimate', which wows the crowds from the get-go. It is without question a truly magnificent song with tasteful compositions from lead guitarist Keith Scott this song went down so well with the crowds it was a great way to kick off the night.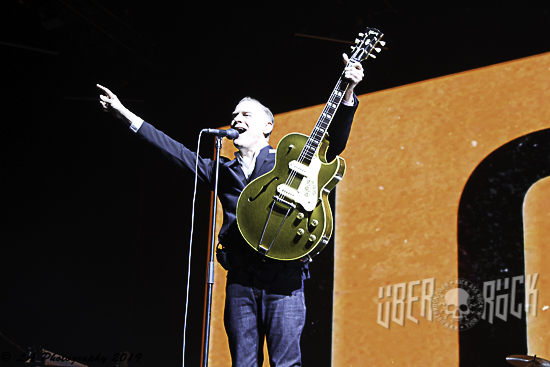 Next up 'Cant Stop This Thing We Started', from Bryan's 1991 album 'Waking Up The Neighbours' which was nominated for a Grammy Award for best Rock Song and Grammy Award for Best Solo Rock Vocal Performance in 1992. This great hit had the crowds chanting along in unison.
With no signs of the band slowing things down, they hit us with 'Run To You', off Bryan's 1984 album 'Reckless', this album known for being nominated for many awards over the years including various MTV awards. This personally for me being one of my favourites of all his albums, this song being an absolute classic! Absolutely magnificent to watch these guys play this live and performed pitch perfect!
'Go Down Rocking' is next which Bryan describes as his anthem song off his 13th album 'Get Up'. The song pretty much describes the venue at this point as the crowds were lapping up the chorus rocking along with the guys on stage. The next song Bryan allowed the crowds to sing the chorus as he watched on in amazement, must be an incredible feeling for such a talented artist watching his followers singing one of his magnificent masterpieces which is 'Heaven' which is also taken from his 'Reckless' album.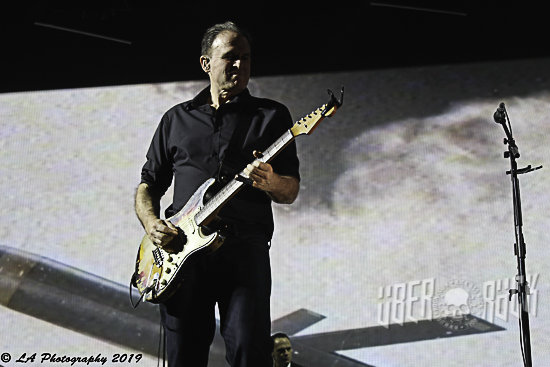 The next song he tells us that he co-wrote it with Ed Sheeran, the title track to his new album which will be his 14th album. He tells how this is a tribute to his parents who both took ill last year and taken into hospital at the same time, with his father sadly passing away. His mother being a fighter at 91 is thankfully still here. This song 'Shine a Light' brings a tear to my eye as he's telling the crowds how he came to writing this song. Such an inspiring man. Beautiful lyrics and harmonies.
Next up from his 1998 album 'Live Live Live' is one we all know and love which he performed back in his hey day with the magnificent Tina Turner, that's right its 'Its Only Love'. This being one of those songs that definitely defined his career that will be a song people remember in many years to come. The crowds now in full swing here at the arena.
Next up is one of Bryan's most beautiful ballads, 'Please Stay'. With beautiful piano compositions this one hits you right in the feelers. Next up is one of my partner in crime's fave songs 'Cloud 9', with this song echoing round the arena, I bet this is one that can be heard outside as everyone is stood singing along for this, a song which is well known with all his fans.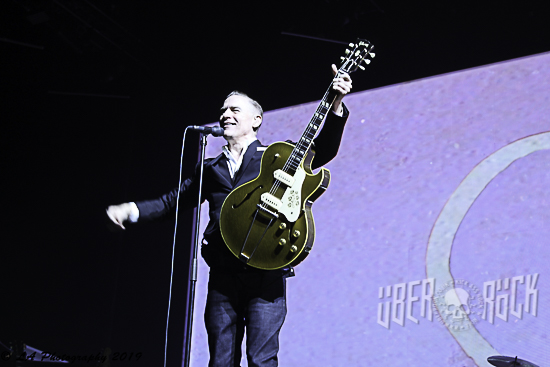 'You Belong To Me', with a very rockabilly vibe, got people up dancing in the aisles. A real feel good song which automatically makes you smile as you sing along. Next is a song which I have been waiting all night to sing along to, a song which is known across the board with all classic rock lovers no matter what age, this is one that will keep on going and never die. 'Summer of 69', what a brilliant classic, one which never grows old, you can never get tiresome listening to this song ever.
After this song the band goes off stage, leaving Bryan behind with the keyboard player. Bryan performs 'Here I Am' acoustically along with his keyboard player. This song taken from his 2002 soundtrack album/ninth studio album 'Stallion of the Cimarron' which was used in the animated movie 'Spirit'.
The rest of the band then return to the stage to join Bryan for the joyous 'When You're Gone' which Bryan originally sang with Sporty Spice Mel C from his 1998 album 'On A Day Like Today'. This upbeat pop rock song brought a new age of  fan base to Bryan's door teaming up with the eclectic Spice Girl. You can see that here in the crowds today as there is a diverse age range that has come out to see him tonight.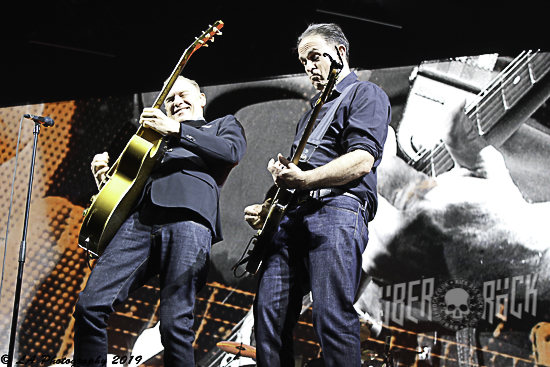 Next is the world renowned classic which was on soundtrack to Kevin Costner's classic 'Robin Hood Prince of Thieves', 'Everything I Do, I Do It For You'. With thousands of fans holding their mobiles in the air with their lights on they show tribute to this masterful classic. Performed so beautifully by the man himself Mr Adams. You can certainly feel the crowds passion for Bryan's music with this song as everyone sings along.
Next from his 1997 album 'Unplugged' is the totally amazing 'Back To You', swiftly followed by another classic from his 'Reckless' album, 'Somebody'. With 16 songs into the gig you wonder what the band could possibly come up with next. Keith Scott on lead guitar switches his instrument for a Spanish guitar, and he and Bryan do a song they rarely do, just the pair of them – the beautifully romantic 'I'll Always Be Right There'. What a performance, one of the highlights of my night.
The crowd's not getting tired yet, and we are thrown another great song from this album 'The Only Thing That Looks Good On Me Is You'. This Canadian rocker has the crowds eating out of the palms of his hands with this groove laden song. 'Cuts Like A Knife' is next to which the crowds participate with the 'Na Na Na Na' part of the song.
Next, strobes fill the stage for the infamous '18 Til I Die', the crowd now bouncing along with a major buzz in the air here tonight. Next song from the 1987 album 'Into The Fire' is Bryan's 'Hearts on Fire, which he performs solo. Another classic from his Reckless album wows the crowds next as he hits us with 'One Night Love Affair'. The next song Bryan dedicates to the heckler in the crowd that keeps shouting out to Bryan, to which he tells him to politely "shut up",  before he then rolls into 'Please Forgive Me' from his 2010 album 'Bare Bones'.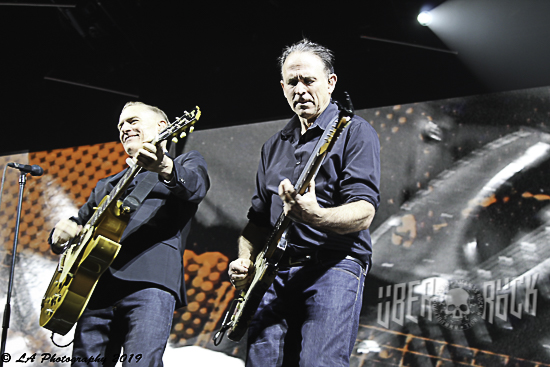 He steps up the game as his first encore song of the night is'Brand New Day', and the crowd's pumped to get even more tasty delicacies from the band. Next he hits us with a song from his new 'Shine A Light' album 'I Could get Used To This', which has a slower and more bluesy and deep vibe to it than his earlier songs. His vocals a lot moodier with this song than those im used to.
The band then goes off and leaves Bryan alone. He then performs 'I Fought The Law', then goes onto doing 'Whiskey In The Jar' playing both harmonica and guitar. The crowd's swaying along to this incredible cover.
He then goes on to do a song he wrote after he dropped out of school when he was 15; his parents bought him a piano for $1000, which they had originally saved to put him through college: from here his parents believed in him and encouraged his love and passion for music. From his 1983 album 'Cuts Like A Knife' he shows us his true ability performing 'Straight From The Heart', absolutely flawless!
Bryan ends the night with a song he did with Sting, 'All For Love', from his 1993 soundtrack album 'The Three Musketeers', to which everyone sings in unison.
What a fabulous night, with great audience interaction and banter, great stage presence, fabulous musicians who were note to note perfect with their performance here tonight. This was a show not to be missed!
Bryan Adams' 'Shine A Light' UK tour continues at the Motorpoint Arena in Cardiff tomorrow (Tuesday 5 March) and concludes at the Bournemouth International Centre on Wednesday (6 March).
PHOTO CREDIT: All photos © Mistress Of The Moonlight/Über Rock. You can view our full gallery of photographs HERE.
www.facebook.com/bryanadamsofficial/
All content © Über Rock. Not to be reproduced in part or in whole without the express written permission of Über Rock.