By Juan Pablo Mazzola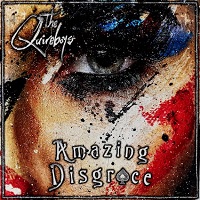 We live in the 21st century, it's about selfies, it's about shallow stuff, it's about indie bands playing ukeleles. People to go see their festivals with a zillion bands with no hits, it's about the festival itself rather than the music. At least when it comes big media acts.
Some of us were lucky enough to live a different time, and some guys older than I got to live an even better music period. Such is the case of Spike and his buddies.
I was always a Quireboys fan. I remember when I bought 'A Bit Of What You Fancy', it completely blew me away, in a way like Faces, The Rolling Stones and Aerosmith always did. Their new album, 'Amazing Disgrace', affected me in the same way. Just like they did when I was 14 years old and I had their posters on my wall.
The albums kicks off with 'Original Black Eyed Son', a classic Quireboys song with awesome genuine rock drums from the very beginning, winds and keys pave the way to Spike's vocals, which are completely intact, still to this day he manages to sound like the best Rod Stewart (didn't you tell me you swear Spike is Rod's bastard son – Ed). The album is filled with classic '70s rock and roll music arrangements, songs like 'Sinner's Serenade' and 'Seven Deadly Sins' are a great example of it, infectious riffs and attitude. 'Amazing Disgrace' (a personal favorite) is an instant hit song, the bass line resembles Tom Hamilton's touch and the chorus is poppy and sleazy.
Of course there was gonna be some ballads or slow tempo songs, so is the case of 'Eve Of The Summertime', 'This is It' (in which Spike sings "this is it, you don't get better than this" and maybe he's right) and 'Dancing In Paris'. Songs like this makes me wanna smoke again; it's romantic in a rebellious way, glamorous and 100 per cent real. It comes from the heart of guys who have been playing Stones-like music for decades. They know how to tell a story, they always did, you can be sure of that.
'Feels Like a Long Time' and 'Slave Number One' are proof of this, sometimes what emphatize this is they backing vocals wall, it's always contagious. The album ends with 'Medusa My Girl', another gem, it sounds country and western with beautiful classic hammond arrangements.
'Amazing Disgrace' is another brilliant album by a band that seems to keep the real Rock and Roll spirit alive, real musicians paying tribute to their heroes, it's classy!! If you want to go back in time, then this can be your time machine. Don't forget to bring some red wine, cigarettes and cool clothes.
Rock and roll is alive and well.
'Amazing Disgrace' is out now. You can get your copy HERE.
The Quireboys play a series of 'Unplugged' shows in May:
Tuesday 14 – Newcastle Upon Tyne, Riverside
Wednesday 15 – Bathgate, Dreadnaught Rock Club
Thursday 16 – Edinburgh, Cabaret Voltaire
Saturday 18 – Aberdeen, The Tunnels
Thursday 30 – Harpenden, Music Hall
They then play the following shows in June and July:
Saturday 8 June – Coalville, The Victoria
Sunday 9 June – Storubridge, The River Rooms
Friday 5 July – Bradford, Nightrain
Saturday 6 July – Rotherham. Cutlers Arms
Thursday 11 July – Stroud, Subscription Rooms
The Quireboys then headline the opening night of the Über Rock-backed SOS Festival in Prestwich on Friday 12 July, final night of the Rock & Bike Fest in South Normanton on Saturday 13 July, and Bapper's Gig at The Hill Of The O'Neill in Dungannon on Saturday 3 August.
All content © Über Rock. Not to be reproduced in part or in whole without the express written permission of Über Rock.