By DJ Astrocreep
Brighton may well be the far end of the country for me, but when a one-off show such as tonight's, featuring Herman Rarebell of The Scorpions, Ginger Baker of Cream and Pete York of The Spencer Davis Group, is there, it's almost guaranteed to be worth the journey. Eight hours after setting out, I finally arrive and prepare for the entertainment.

All three drummers take to the stage first, to rapturous applause from the audience, playing with each other, as well as at times against, as each takes an early opportunity to showcase their talents to 'Drum Summit'. A few minutes later and Ginger and Pete leave Herman to open the first half of the show properly.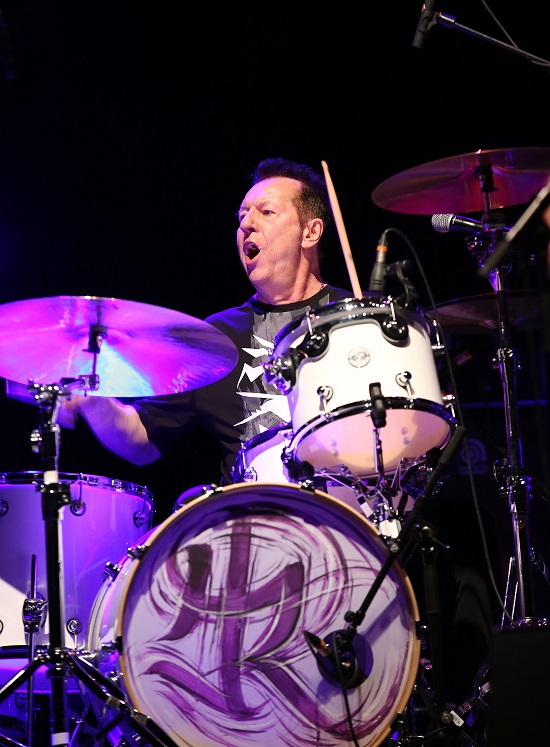 Herman is a good public speaker as well as both the long term drummer and songwriter for The Scorpions, with his time living in Brighton a clear indication of his affection for the place, as he acts as compere for the evening, starting his own set with 'Rock You Like A Hurricane', with his musical accompaniment taking turns to showcase their talents. James Moncur, the Scottish member of Herman's league of nations doing a particularly good job taking turns with some vocals and joint guitar duties.  'Passion Rules The Game' follows this, before a three song medley leads on to  'Winds Of Chang'e, performed immaculately to the applause that they have all earned. A new Herman creation, 'Drum Dance', which gives us our first big drum solo of the evening, performed with the high level you would expect of someone of his stature in music, ends the first segment of tonight's performance.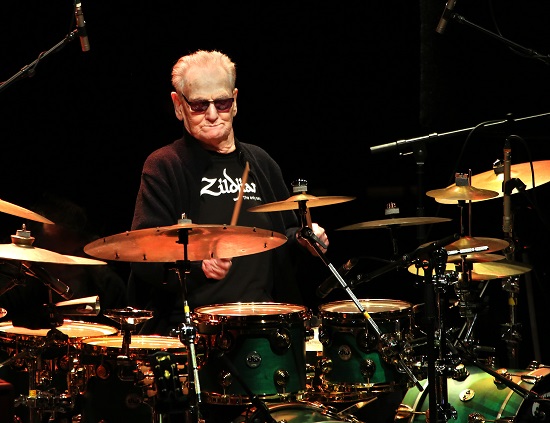 Next up was the bit I had both longed for and was worried about, as Ginger Baker comes on stage for the first of his two solo cameos. With Ginger's health not being particularly good as well as also being 79 now, I was worried after seeing videos of his more recent performances, so was fearful of what was to come. In the main, I needn't have done so. With Abass Dodoo and Alec Dankworth helping on backing percussion and bass and Bernie Marsden on guitar and vocal duties, we launch straight into 'White Room', one of my personal favourite tracks, with 'Toad' coming straight after – both performed to a high standard, though it's noticeable that Ginger gets a bit more into it as he warms up a bit more during 'Toad'. My main fears for the evening allayed, I sit and watch as they perform well together on the couple of tracks before we get a short interval.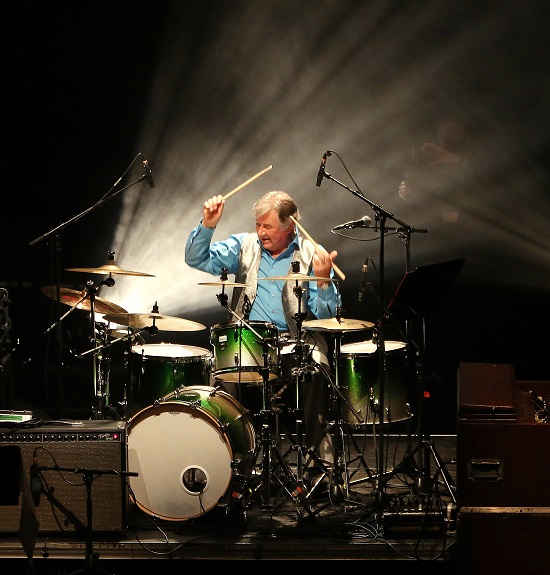 The second half of the evening starts with Herman introducing Pete, who himself is quite the conversationalist. Pete launches straight into fan favourite 'Keep On Running' – a staple of many of my DJ sets across the years – performing most of the vocals as well as drum duties, belying his years with a good start to his segment.
A cover of 'It's All Over Now' – covered by The Rolling Stones – leads on to another cover in 'Cute', by Neal Hefti, before we get our second Spencer Davis Group track in 'Gimme some Lovin' – again with both tracks performed exceptionally well and virtuoso guitarist Torsten Goods helping on vocals, when required, on top of the exceptional guitar skill he shows. Pete now mentions some of the drum greats we have in the room and some musicians we have lost, making mention of the widow of one being sat four seats to my right, dedicating the next to her as he does a Beatles medley from his past.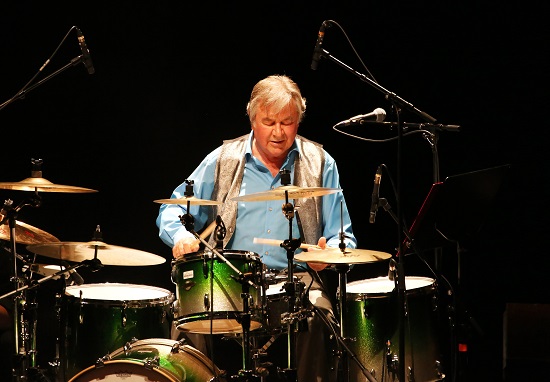 It's at this point that the music reaches its true pinnacle, as Pete performs a drum solo in the middle that leaves many open-mouthed – myself included – as his sheer ability and passion shine forth in a manner that men a third or a quarter of his age would not be capable of getting near. At times, I even close my eyes, being so intent on focusing on the sound spilling forth towards us all. This solo rightfully earns our first standing ovation of the evening at the end of the medley, before we even get to the end of Pete's set with 'I'm A Man', once more performed to an incredible standard, with Herman joining Pete to co-drum the song with him.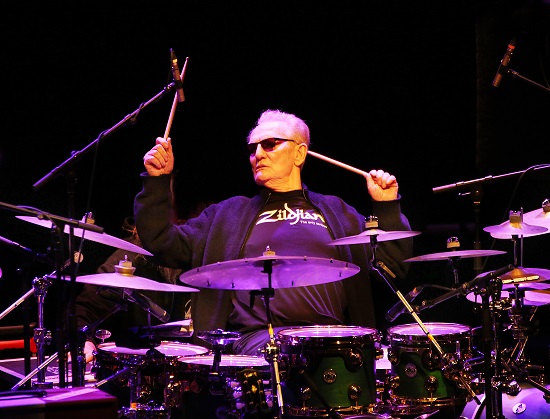 At this point, Ginger comes back out with his band, giving Pete and Herman another break, as he has two more of his own tracks to perform, in the form of 'Sunshine Of Your Love', with Ginger clearly feeling more into it now, seeming to move a bit more freely than he had earlier in the evening and 'Crossroads' as his final song of the evening. Ginger gets a well-deserved and loud round of applause for his efforts despite his health concerns, as well as for the band playing with him.
With Ginger taking his final bow, Herman and Pete take back to the stage with their bands, as well as Ginger's backing band, for the curtain call of the evening as they pay tribute to the lost drum greats. A medley of 'Whole Lotta Love', 'Purple Haze' and 'My Generation' are a very fitting conclusion, performed to the standard we have come to expect over an evening of ridiculously talented performers. An evening that will stay in my memory for a long time.
PHOTO CREDIT: Photographs courtesy of Jud Totton.
Check out our interview with Herman Rarebell HERE.
All content © Über Rock. Not to be reproduced in part or in whole without the express written permission of Über Rock.